Between Cross and Resurrection: Life and Death and Hope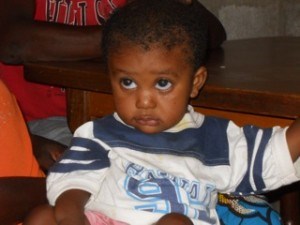 I wrote a few weeks back about a little boy from Zambia who died wearing William's clothes. His name was Francis. Our friends Holly and Eric Nelson, founders of the Special Hope Network, cared for him. They recently wrote to say that another little boy, Gabriel (who has been featured in a Perfeclty Human post on this blog in the past), died too: "Such a Surprisingly Sad Morning."
Holly and Eric moved to Zambia with their family–three adopted children with Down syndrome–in order to offer care for children with disabilities. Some of that care is practical: braces and therapy and food and medicine. But some of it is spiritual: prayer and presence, a willingness to be with people as they suffer, to serve and love and care for them even unto death. This Easter, I was thinking about Holly and Eric for two reasons. One, because their lives are inexplicable aside from the Gospel of Christ. There is no way for me to describe what they do or why they do it other than their recognition that God has called them to serve "the least of these," other than their understanding of what it means for all human beings to be worthy of love and care, other than their reception of Christ's sacrificial love which inspires them to love others. Their lives challenge me to consider whether my life is inexplicable aside from the Gospel too.
The other reason I was thinking about Holly and Eric is because of the sorrow they've experienced in Francis' and Gabriel's deaths. On Easter, we celebrate the resurrection of Christ, and yet we also recognize the reality that the fullness of the resurrection is not yet our experience. We live between the cross and the resurrection, between sorrow and joy, between death and full life. We hope for Easter, but we live on Holy Saturday, waiting, with faith in what is to come.
For those of you who pray, please consider joining me in praying for Holly and Eric, for their children Maggie, Mollie, and Sam, and for Beth, who works with them. For those of you who donate money, please consider joining us in supporting Special Hope Network financially. And for all of us–let's consider what our lives have to say about who we are and what we believe. Holly and Eric and Beth are living out the sacrifice of the cross and the hope of the resurrection. Living it out doesn't necessarily mean moving to Zambia, but it does mean a willingness to listen and follow, even when it means following into unknown and painful realities.
Support our work. Subscribe to CT and get one year free.
To add a comment you need to be a registered user or Christianity Today subscriber.
Recent Posts
Between Cross and Resurrection: Life and Death and Hope