A Good (if not exactly perfect?) Christmas Gift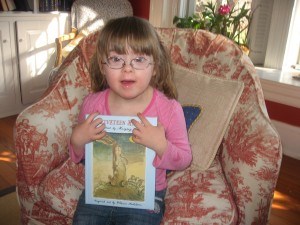 My sister-in-law and I tried to make Christmas a little simpler this year. At first, we thought we'd give family presents, but then we realized that it's awfully hard to buy gifts that make everyone from a 10-month old to a 5-year old happy. So we settle on books. They're relatively inexpensive. They last a long time. And if they're good, they transport you somewhere–to a world of new ideas, new people, new places, new emotions. Yesterday, we gathered together and everyone was happy to find new books inside the packages.
So I'm a little reluctant to do this, but I figure some of you are thinking about Christmas shopping right now, and I thought it might be appropriate to remind you that A Good and Perfect Gift is a great, inexpensive, gift for friends and family.
Two recent reviews made the same point. The first comes from a former seminary classmate of mine, Andy Nagel. Andy and his wife Bethany are in the process of adopting a little boy with Down Syndrome. They have two typically developing sons already. You can read more about their story on their blog, Adopting Matters. (You can also read more about them and their friends/neighbors who have adopted two girls with Down syndrome after they gave birth to a daughter with DS. The Washington Post recently ran an article in their magazine: Adopting a New Purpose.) Anyway, Andy read A Good and Perfect Gift, and as I said on Facebook last week, his review captures what I would have written if I had a chance to review my own book. He writes:
You might think that a book about raising a child with Down Syndrome is not really relevant to your life.  You would be wrong.  This book is about that, and much, much more . . .

Surely this is not just instructive for parents of children with special needs, but a word of challenge and truth to every parent who brings home from the hospital a little person with unique strengths and weaknesses, and an amazing ability to expose these parental attitudes of pettiness, judgment, and bias.
The second from another friend, Jessica Bigby. Jessica has written for this blog before about learning to walk and learning to ski. She has cerebral palsy, and as a result, she walks with canes. With that said, her canes and her "disability" define her about as much as my having green eyes defines me. I appreciate her perspective on my book, however, as someone who has lived in a world that doesn't generally understand what it is like to have a disability. She writes:
. . . as a person with a disability I loved this book and want everyone to read it. This book beautifully articulates the struggles many people with disabilities feel. Fully able people often think the biggest challenges a disabled person face are physical or intellectual, depending on the nature of the disability. The truth is the physical (or intellectual) challenges are not high on our worry list. If we don't know how to do something, we will either try to do it a different way or don't know what we are missing anyway so it doesn't really matter. I would argue the greatest obstacle a disabled person faces is getting the world to see them as they see themselves: as a person with a disability rather than a disabled person.

In A Good and Perfect Gift, Becker takes the readers on her personal journey from seeing her daughter as a disabled person to a person with a disability.
I hope A Good and Perfect Gift is a book with a compelling story for a wide array of readers. And I hope you'll consider passing it along this Christmas season.
(P.S. Although I said I would only be posting once a week, since this is largely what other people wrote, I will have another post tomorrow, so come on by...)
Support our work. Subscribe to CT and get one year free.
To add a comment you need to be a registered user or Christianity Today subscriber.
Recent Posts
A Good (if not exactly perfect?) Christmas Gift