All the Things I Meant to Write, and a Nice Mini-Review of A Good and Perfect Gift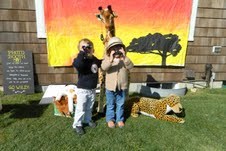 Here's a list of the blog posts I meant to write this week (the picture, by the way, is fun enough that I had hoped to come up with some creative something to say about it. I never got that far, so you just get the picture instead):
"What's wrong with my daughter? I'm no long sure how to answer that question..."
"Your limitations are your possibilities..."
"What it means to know you are loved by God..."
"Teaching our kids that they aren't so great sometimes..."
And a few more that don't have titles yet.
But it is 10:30 at night, and our household woke up at 5 a.m., so there is no more blogging in me tonight. I'll be packing our bags (Peter and I have the weekend sans children–first time since December) and hanging out with Marilee in the morning, so I wont' be writing anything profound then either.
I did get word today of a nice review of A Good and Perfect Gift from Hearts and Minds Books. You can read the review in full (alongside other recommended titles) by clicking here. I'll leave you with my favorite excerpt:
The back cover says, "sometimes joy shows up when you least expect it" and the cynic might wave her hand and assume this is saccharine.   Not a chance.  This will bowl you over, take your breath away and give you new courage to live.
Have a great weekend!
Support our work. Subscribe to CT and get one year free.
To add a comment you need to be a registered user or Christianity Today subscriber.
Recent Posts
All the Things I Meant to Write, and a Nice Mini-Review of A Good and Perfect Gift