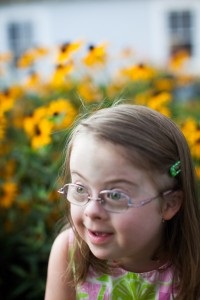 When Penny was born and we found out that she had Down syndrome, one of my earliest emotions was fear. In time, some of my specific fears abated. She didn't have any serious health problems or physical complications as an infant. We lived in New Jersey with easy access to the Children's Hospital of Philadelphia's Trisomy 21 Clinic. We quickly discovered a network of peers with children with Down syndrome. Within a month, Penny had been evaluated by therapists provided through the state's program, Early Intervention, and over the course of her early years we grew to love the physical therapist, occupational therapist, speech therapist, and play therapist who visited our house weekly.
Although I still wrestled with concerns about Penny's future, I gradually came to trust that she would receive the care she needed. Moreover, I gradually came to realize how much she had to teach me, how much she had to offer those around her, and how her doctors, teachers, and therapists helped enable her to offer herself to others.
When Penny was almost a year old, I heard "O Little Town of Bethlehem" at the Christmas Pageant. Singing about Jesus, the hymn reads, "the hopes and fears of all the years are met in thee tonight." And I realized that Jesus is the one who holds my fear so that I might instead have hope. My fears about Penny were slowly dissipating, which enabled my hope for her to grow. My hopes for her have only increased through the years, but my fears for other children like her around the globe remain.
I continue to fear that children with disabilities will not receive medical attention, therapy, and education. I fear that they will not be equipped to live into themselves as God's image-bearers, gifted for service in their families and communities. I fear that they will suffer and die young. I fear that they will experience heartbreak.
But organizations like Special Hope Network allow me to hope for these children. SHN allows me to hope that families and communities will be equipped to care for the individuals with disabilities in their midst. It allows me to hope that they will also be able to receive care from the individuals with disabilities in their midst. It allows me to hope that suffering will be replaced with thanksgiving and heartbreak with joy.
We have supported Special Hope Network—through prayer and regular financial contributions—since its inception. This December, we will continue to invest in hope.
This post also appears on the blog of the Special Hope Network, where they are highlighting individuals who have invested in the specific hope their ministry offers. Please check out their website for more information on how you can invest in hope this year.
Support our work. Subscribe to CT and get one year free.
To add a comment you need to be a registered user or Christianity Today subscriber.
Recent Posts
Investing in Hope