Penny at the Hospital, or What I Love About Our Daughter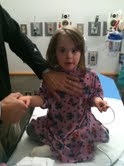 I woke up this morning because Penny came barreling into our room. "I want to cuddle with you, Mom," she said, glasses perched on her nose, wearing her footed pajamas, a barrette already in her hair to pull back the bangs she's growing out.
I tried to convince her to let me go back to sleep, but I finally agreed that today was a good day to cuddle. "How are you feeling, Pen?" I asked.
"A little nervous," she said, with my arms wrapped around her. "A little nervous about surgery."
We had a long wait ahead of us. It was 7:00. We wouldn't leave for the hospital until noon, and she couldn't eat anything between now and then.
We went through a pretty normal morning. I heard her practicing her recital dance in the hallway, "out out in in, clap, 2-3-4..." Around 10:00, she asked, "May I have a snack, Mom?"
"No sweetie, not yet."
She pinched her lips together and nodded. "I know. After my surgery."
We got ready to go–packed her blanket and bear, some stickers, a bracelet a friend had sent in the mail, and a series of books, including Franklin Goes to the Hospital.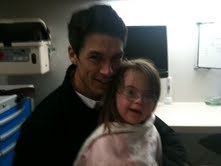 We took a trip to Target to distract her from the rumbling in her belly. She looked up at me and said, "I don't need to ride in the cart, Mom. I can control my hands." She selected Dora's Ballet Adventure to watch before surgery. And we talked it through, over and over. "You and Dad will come with me to the hop-is-tal. When I wake up, I be a little bit sore on my eyes." And then, I heard a child's voice call her name. Penny whipped around and cried, "Jonathan!" They almost knocked each other over with their hug. It was a friend from school, also at Target on this day off from school.
From the outside looking in, today should be a hard day. As I type, my daughter is lying on a table with a breathing tube as a doctor cuts the muscles in both eyes so her eyes can regain symmetry. Another doctor will then insert tubes in both ears. Today should be one of those days when I wish she didn't have Down syndrome.
But it hasn't been a hard day. It's been a day with laughter. A day of reminders of just how lovely and loveable she really is. This little girl who trusts me and waits patiently when I tell her she can't eat. Who makes sure she hugs her brother and sister before we drive to the hospital. This little girl who loves to dance and read and adores her friends from school. This little girl who asks the anesthesiologist, "Can my mom come with me to the operating room?" and who says, already woozy from the medicine, "I'll see you in the recovery room, Mom."
Tonight might well be hard, when Penny wakes up and her body struggles through the process of healing. And of course I wish she hadn't needed to endure it. But as I sit here waiting for the news from the surgeons about how it has gone, I feel, again, grateful. As we approached the surgery, I felt grateful that we live in an era where these types of corrections happen easily. But today my gratitude is for Penny. For the reminders of who she is and what she loves. I am grateful for dancing. For friendships. For reading. For a little girl who loves to cuddle. I am grateful for my daughter.
***Update: We just heard from Penny's eye surgeon that the surgery went well. I will post more over the weekend if I'm able...
Support our work. Subscribe to CT and get one year free.
To add a comment you need to be a registered user or Christianity Today subscriber.
Recent Posts
Penny at the Hospital, or What I Love About Our Daughter