Be Still and Know, Spirituality and Religion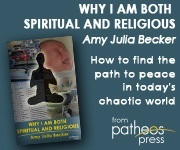 There's a verse from Psalm 46 that summarizes the relationship between the practice of religion and the practice of spirituality: "Be still, and know that I am God." It's a prayer, an admonition, an encouragement. The two poles of this verse – be still, know God – together they offer a different way than the frenetic pace of my daily life. They offer the promise of rest as a result of trusting in someone greater than myself.
But it's hard to be still. My children embody (and create) this difficulty for me. We have a green and yellow painted table where Penny and William are supposed to eat breakfast. They sit in their little chairs for all of three minutes, and then one of them pops up. "I need to give you a hug," Penny says. Or William, carefully carrying his cereal bowl, announces, "I would like to eat on the floor." Or they want to open the microwave or feed Marilee a spoonful of baby food or run into the playroom "just for a minute." They aren't being intentionally disobedient. They get distracted. It's hard to be still.
If I'm honest, I know the same is true for me. Whenever I try to turn my undivided attention to a writing project or reading to my children or praying for five minutes or even to a simple task like cooking dinner, my mind jumps around just like my kids at breakfast. I fault my iPhone explicitly for taking away some stillness in my life. I used to pray when I found myself with a few unstructured moments. Now, I pull out my phone. I can scan my e-mail, glance at the most popular articles from the New York Times and possibly even check a few blogs. Prayer takes more concentration, more energy and, well, more stillness.
To continue reading, click here. (This post was published in full on the Huffington Post Religion page, and it was taken from my ebook Why I Am Both Spiritual and Religious, available for $.99.)
Support our work. Subscribe to CT and get one year free.
To add a comment you need to be a registered user or Christianity Today subscriber.
Recent Posts
Be Still and Know, Spirituality and Religion