A Good and Perfect Gift Available for FREE Today Only!
For one day only, A Good and Perfect Gift is free for Kindle, Nook, or any other e-reader. Please help spread the word!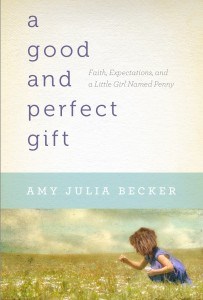 I am terrible at hawking my wares, but this really is a good offer. For one day only, today, January 24th, A Good and Perfect Gift (a spiritual memoir about coming to recognize our daughter Penny for who she is, a gift) is available for free as an ebook (if you are ordering within the United States). For Kindle. For Nook. And if you don't have one of those devices, you can download an app (for free) to your phone or computer which will then allow you to download the book for free.
Let me just remind you that lots of people thought this was a good book. Certainly people with children with special needs, but also parents in general who are thinking about what it means to receive children as gifts and not as products, people who are thinking about how to press on spiritually when God seems far away or life is filled with unexpected twists and turns, people who enjoy stories of honest struggle and honest hope. It won a Christopher Award, and it was named one of the Top Books of 2011 by Publisher's Weekly.
So–if you haven't bought it, here's your chance. If you haven't told other people about it, why not now? Tweet, email, Facebook, whatever. Today's the day.
And just in case you need a little more convincing, click here to read an excerpt and here's what a few people had to say about it:
This excellent and moving book about Penny as a wonderful gift should be read not just by parents of people with disabilities but by all of us who should discover the beauty of those who are different.
-Jean Vanier, author, founder L'Arche
Amy Julia Becker has the courage and grace to tell the truth. Whether you are a parent or not, whether the children in your life are "typical" or not, her story will shake you, change you, and encourage you. In a world obsessed with achievement and perfection, A Good and Perfect Giftopens the door to a much more excellent way.
-Andy Crouch, Author, Culture Making
It takes faith to turn an unmet expectation into something delightfully exceptional, and Amy Julia Becker learned to do just that when Penny was born. Poignant and powerful, the world needs more stories of inspiration like this one!
-Joni Eareckson Tada, Joni And Friends International Disability Center
Do not be fooled. This is not a typical book about disabilities, sorrow and triumph. This is a book about a mother who loves her daughter. "I needed to see her as our little girl, not as a diagnosis, not as an obstacle to overcome." This is among the best books I have read about the true power of the powerless.
-Christopher de Vinck, author, The Power of the Powerless
Support our work. Subscribe to CT and get one year free.
To add a comment you need to be a registered user or Christianity Today subscriber.
Recent Posts
A Good and Perfect Gift Available for FREE Today Only!