Getting to Know My Daughter
How a double ear infection and six doctor's visits became an answer to prayer...
Earlier this spring, I set my alarm for 6:00 so I could make a cup of tea and sit in our dining room and read and pray and spend some time with God. I began to jot a few prayer requests down in my journal. They began: "For help paying attention to Marilee. I worry that she gets less of us than she deserves."
Approximately two minutes later, I heard crying from upstairs. Marilee was awake, an hour earlier than usual.
My first response was irritation. She was interrupting my special time with Jesus! She was getting in the way of my spiritual disciplines!
And then I laughed out loud. She was also an answer to prayer.
Not long thereafter, I discovered Marilee had a double ear infection. Come to think of it, the double ear infection might have been what woke her up early. So we went to the doctor and Marilee took antibiotics for ten days. Two weeks later, she had a high fever. I brought her back in. Double ear infection still present. Another round of antibiotics, this time with a checkup scheduled. At that checkup, both ears were still infected, so our pediatrician sent us to a specialist 45 minutes away. We went to the specialist, who prescribed round three of antibiotics. Two weeks later we came back and the infection was gone but there was still fluid in her ears, which led to a third visit to the specialist two weeks after that, at which point Marilee was finally pronounced healed. Six doctor's visits. Two and a half months. I spent a total of  seven hours in the car and six hours in doctor's offices and I will tack on a few more for going to the pharmacy.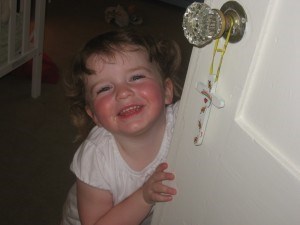 On those car trips, we sang and talked about her friends at school and she asked me questions like, "When I gonna get older, Mommy? When I gonna dwive a cawah?" We went to the mall and I took her out to lunch at Panera.
And every time I resented those drives, every time I bemoaned the belabored ear situation, I remembered that prayer from months earlier. I remembered how often I have bypassed opportunities to be alone with Marilee. I've sent her to extra hours of school when I've had too much work to do. I've gotten together with friends on mornings when she and I are together. I've done housework and parked her in front of an Ipad.
But on those Friday morning trips to the doctor, it was just the two of us. Not exactly idyllic mommy-daughter time–our minivan, a parking lot, a doctor's office, the mall–but dedicated mommy-daughter time nevertheless.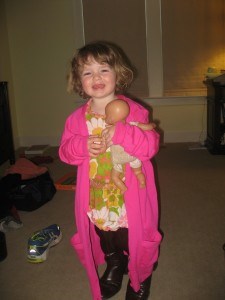 Time to hold hands and listen to her count to ten. Time to let her push the button on the elevator without competing with her older siblings. Time to wrangle her into her carseat even though she desperately wants to be four years old and sit on a booster like her brother. Time to blow kisses. Time to get to know my daughter.
And the funny thing was that our time together started to spill over into the rest of our life. I started to watch her more. I noticed her eagerness to attend to the needs of people around her–running to grab William's giraffe when he banged his head and cried, offering water to Penny when she said she felt hot. I noticed her determination to do everything herself. And I noticed the ways she loves me–dressing up in my fancy clothes and saying, "When you are older I will change your diaper and put on your dress, Mommy" after I've done the same for her.
I never thought I'd find myself grateful for a lingering double ear infection and fifteen hours of related doctor's appointments. And I never thought I'd consider a double ear infection an answer to prayer. But here I am, adoring our daughter as she sings about fire trucks and takes care of her baby dolls and grows up so fast.
When she woke up from a nap earlier this week I said, "I love you Marilee."
She said, "Love me so much?"
"So much," I said.
"This so much?" she asked, arms outstretched.
I love you even more than that.
Support our work. Subscribe to CT and get one year free.
To add a comment you need to be a registered user or Christianity Today subscriber.
Recent Posts
Getting to Know My Daughter