When Heaven and Earth Meet--Experiencing a Thin Place
When was the last time you experienced a thin place, a place where heaven and earth seemed to touch, if only for an instant?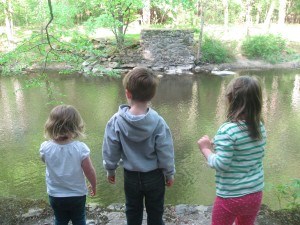 Every so often it seems right to remind myself and those of you who read this blog that it is a place that is loosely ordered, a set of posts that should hold together, even if only by a single thread. Yes, I write about faith and family and disability, with some cultural commentary and books I love thrown in, but the name of the blog is Thin Places because I want it to be a place of unexpected connections. Some of you have probably read the sidebar before, but just in case you haven't:
This blog is about discovering and remembering thin places, places where heaven and earth touch, where God seems more readily present, more easily accessed. It is meant to uncover ideas, relationships, points of connection, and moments of deep beauty that draw us towards one another and towards the Holy One.
I've been reading My Bright Abyss: Meditation of a Modern Believer, Christian Wiman's spiritual memoir. I love it. I've underlined and starred dozens of passages so far, but last night as I was reading of Wiman's return to church after his diagnosis with cancer. He writes about sneaking out of the church at the end of the service in order to avoid the pastor, and then exchanging some emails with the same pastor and then learning from a doctor that his cancer was terminal. Wiman writes:
That was the cloud I was walking under early one bright winter morning, maybe a week after the exchange of e-mails with the preacher, when I heard my name. I turned around to see im half running down the street toward me as he tried to pull a flannel shirt on over his T-shirt, careful not to trip over his untied shoes. I was in no mood to chat, especially not to an enthusiastic preacher, and all my thoughts were hostile. But I stopped, and we had a kind of introduction as he tied his shoes, and then he asked if he could walk me to the train station. Those days are a blur to me, but I remember two things from that morning very clearly. I remember Matt straining to find some language that would be true to his own faith and calling and at the same time adequate to the tragedy and faithlessness–the tragedy of faithlessness–that he perceived in me. And i remember when we parted there was an awkward moment when the severity of my situation and our unfamiliarity with each other left us with no words, and in a gesture that I'm sure was completely unconscious, he placed his hand over his heart for just a second as a flicker of empathetic anguish crossed his face. It sliced right through me. It cut through the cloud I was living in and let the plain day pour its balm upon me. It was, I am sure, one of those moments when we enact and reflect a mercy and a mystery that are greater than we are, when the void of God and the love of God, incomprehensible pain and the peace that passeth understanding, come together in a simple human act. We stood for a minute in the aftermath, not talking, and then went our suddenly less separate ways.
Wiman doesn't use the words thin place, but he describes a thin place, a moment of connection in which God showed up, in which two human beings became suddenly less separate.
I highly recommend My Bright Abyss, and may we all have eyes to experience thin places today.
Support our work. Subscribe to CT and get one year free.
To add a comment you need to be a registered user or Christianity Today subscriber.
Recent Posts
When Heaven and Earth Meet--Experiencing a Thin Place