The Days are Long, but the Years are Short
Are you happy or sad that your kid has gone back to school?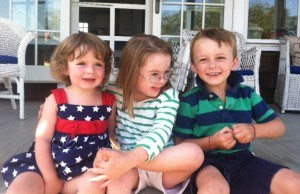 When my kids were younger, older parents would see us in public and say things like, "Cherish every moment. It goes by so fast." Or, "I remember those days like they were yesterday. I miss them." Or, "Be thankful for the time you have with them. Before you know it, they'll be in college."
I would always smile and murmur some socially-appropriate response, but I found the comments annoying at best and guilt-inducing at worst. Because I wasn't able to cherish every moment when "every moment" seemed to involve another squabble or tinkle-accident or spill. When I needed another Diet Coke right now because I had been up three times at night. When a trip to the library became a public brawl. When 4:30 pm arrived and I wanted to go ahead and put them in their pajamas because I had exhausted every ounce of creative energy I had. And there were three hours to go.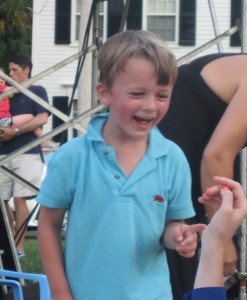 But one day someone said, "The days are long, but the years are short." Her words still didn't quite resonate with me. But I could imagine a day when they might. Back then, Penny and William were in preschool a couple of hours a day. I still saw PLENTY of them, and the days, weeks, months, and years all trickled past. The days were long, and the years were too.
But then Penny started kindergarten, and her years began to speed up. It still surprises me that she can tie her own shoes and pack her own backpack and add numbers and read chapter books and say, "Whatever, Mom" as if she will be entering middle school any day now. As soon as she left our roof for six or seven hours a day, the years sped up, and I have been racing to catch up with her ever since.
William starts kindergarten this week, and as much as I have been eagerly anticipating this day, there's also a little pang of longing. I will miss the walks we took together this summer, when he asked me about the osprey nest in the marsh near our house, when he said, "Oh Mom, look! I like the cloud that looks like an angel on top of a kite!" I will miss the way he made me laugh every time he was surprised by something and then said, "Oh my. No more pie."
I still have some long years left with Marilee, though she is so eager to follow in her older siblings footsteps that she might slip away from me early. A few weeks back, she asked me, "Mama? When I gonna get oldah? When I gonna getta dwive a cawah?" I want to capture her intonation, the way she phrases things–"I did be very careful" ... "Can I plug it out?" ... "Sank you, Mama." But I know that holding onto who she is today is as elusive as catching William's kite-angel cloud. And I know that I will always want to hold on to exactly who they are even as they, and I, strain towards who they are becoming.
And so I start this school year grateful for the long days of summer, days of collecting toenail shells and lying in the hammock in the backyard and pulling weeds out of the garden. Days of cuddling on the sofa with a book for each child because there's time and we don't have anywhere else to be. Days of family and friendships and bike riding and ice cream eating and watching the sunset from the third floor deck.
The days are long, but the years are short.
Support our work. Subscribe to CT and get one year free.
To add a comment you need to be a registered user or Christianity Today subscriber.
Recent Posts
The Days are Long, but the Years are Short