What I'm Reading and Tweeting
The books on my bedside table and recommended articles from the past week...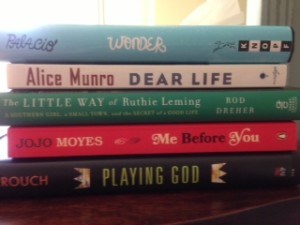 I finished reading Wonder, by RJ Palacio, which I loved. I won't take the time to review it in full right now, but it is the story of a young boy named Auggie with a severe facial deformity who enters 5th grade at a local private school in Manhattan. You can imagine what it's like, and Palacios does a wonderful job moving from different characters' perspectives and weaving together a story of that year. This book is many things, but one major theme is that of kindness. One character comments that "the universe was not kind to auggie pullman." Another character addresses the school on the subject of kindness and quotes from a book that reads, "It was in moments such as these [small acts of unnecessary kindness] that Joseph recognized the face of God in human form. It glimmered in their kindness to him..." I'm of the opinion that God's kindness wins out over the universe's unkindness, but you can read it for yourself and see if you agree. You can also read Ellen Painter Dollar's reflections about the book, Wonder and the Paradoxes of Living with a Disability.
Otherwise, I just started Me Before You by Jojo Moyes. Jury's still out on this one. Compelling writing but the story seems contrived at the moment. Looking forward to Andy Crouch's new book, Playing God and Alice Munro's Dear Life. And then The Little Way of Ruthie Leming by Rod Dreher for my next book club meeting. (When I was a kid, I would finish a book and wander around my house looking for something else to read. I often fell back on favorites and read them again and again. Now I can't keep up...) Oh, and I almost forgot. I've also been listening to Anne Lamott's Plan B: Further Thoughts on Faith. Loving it.
Tweets this week (which is to say, articles related to faith, family, and disability that I think you might also enjoy):
"We owe it as a society to help them succeed"ow.ly/oRJFH #Sequester Hits#SpecialEducation Like 'Ton of Bricks' @disabilityscoop
"Shouldn't the cost of #FindingGod be priceless?" #Spirituality #WellBeing ow.ly/oRLah @natscript @TheAtlantic
National database helps #DownSyndromecommunity to store & share #healthinformation- Find out more! ow.ly/oRJZZ@disabilityscoop
"I Didn't #Love My Wife When We Got Married" @PopChassid ow.ly/oVy5T #Relationships #Giving
Assisted #ReproductiveTechnology fails more often & leaves more scars than we are led to believe http://ow.ly/oVytT @nytimes#Fertility
The #ColdCallPope & an example of grace - Find out how received his nickname: http://ow.ly/oVzKJ @GibsonWrites#SingleMom #Abortion
Milestones for students with#DownSyndrome #Inclusion #StartingSchool#Diversity http://ow.ly/oWL1v@RachelAdams212
Support our work. Subscribe to CT and get one year free.
To add a comment you need to be a registered user or Christianity Today subscriber.
Recent Posts
What I'm Reading and Tweeting