A Ministry for Parents at the End of Their Rope
Jill's House President Cameron Doolittle talks about a rhythm of respite for families in need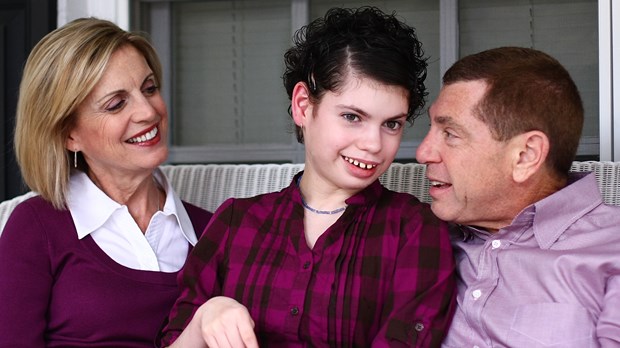 I first learned about Jill's House—a respite care facility for children with disabilities—at a Q Conference in 2012. I've stayed in touch with Cameron Doolittle, Jill's House's President, since then, and I'm running an interview with Cameron today and tomorrow in which he reflects on the ways Jill's House has grown and the ways God has used this ministry for everyone involved. Keep reading for a story of how one church's experience has grown into thousands of families receiving care and hundreds of volunteers receiving transformational experiences.
Can you tell us about how Jill's House was founded?
In 1992, the senior pastor at Mclean Bible Church, Lon Solomon, and his wife Brenda were busy with the church and raising three boys. Then their daughter Jill was born with a seizure disorder that left her with irreversible brain damage. She needed constant care and supervision, and her parents began to feel physically, emotionally, and spiritually exhausted. One of their friends organized a group of caregivers to care for Jill and give her parents a break. Brenda sometimes says, "Respite gave us hope. It changed our lives." They don't know where they'd be today if they hadn't gotten it. Lon and Brenda experienced the gift of respite and they wanted to offer it to families like theirs. There are more than 40,000 children with special needs in the DC metro area, but only a handful of overnight respite care facilities in the entire nation. In 2010, Jill's House opened its doors for its first weekend.
What does a typical day or week looks like at Jill's House?
Every weekend about 30 kids spend the weekend at Jill's House. Their parents drop them off on Friday evening and pick them up on Sunday evening. Tuesday through Friday, we host about 10-15 kids each night through our weeknight program. The kids enrolled spend one school night per week at Jill's House. We pick them up after school, bring them back to Jill's House for the night, and drop them off at school the next morning.
During their time at Jill's House, the kids enjoy our gym, moon bounce, art room, playground, computer lab, music room, library, chapel, and indoor pool. Under the 24 hour supervision of our amazing childcare staff and nursing team, each child is served 3 healthy meals every day and given their own room and bed.
How many families are served through Jill's House? Do families return on a regular basis?
Last year, Jill's House served 345 families. This year, we're on track for more than 400. A new family registers to stay at Jill's House every day. The average family spends one night a month. We believe in the "rhythm of respite." When a family receives respite on a regular basis their stress level comes down and stays down. The whole dynamic changes when a family can say, "OK, today is a disaster, but my next Jill's House night is two weeks away and I'm going to make it." Giving parents a regular rest from the intensity of caring for their children gives them hope even when things are hard. We provide a light at the end of the tunnel.
Are all the families involved in Jill's House members of your church?
We are reaching an overwhelmingly unchurched group. In our most recent survey, 90% indicated that they hadn't been involved in church prior to Jill's House. Some of that 90% may actually be followers of Jesus. But having a child with severe disabilities turns a quick outing to church into a major logistical feat. And for families that struggle to get to the grocery store each week, church can feel like a luxury.
In what ways do you see God at work through Jill's House?
God is using Jill's House to renew families. In September 2009, Haji became a single dad when his wife took her own life. He has two daughters: Arden and Chloe, who has Down syndrome. Haji completely shut down. He lost his businesses, his home, and struggled to give both girls the love and support they needed. Jill's House helped to restore the balance this family lost. During Chloe's visits to Jill's House, Arden gets some quality time with her dad, and this incredible father gets a good night sleep. Haji is a practicing Muslim, but he will often say that Jill's House has become family.
Katie, another child we serve, sleeps less than 5 hours per night. Her parents were exhausted and ready to give up on their marriage. Now, during Katie's weekly visits to Jill's House, her parents have time to rest and reconnect with each other and their other daughter. Katie's mom recently told us, "Jill's House saved our lives."
There is a story like this for every family we serve. Through the ministry of Jill's House, an eleven-year-old boy was enabled to speak his first words. Parents have used their respite time to finish college degrees, receive chemotherapy treatments, and grieve over the death of a family member. Most importantly families are discovering– or rediscovering– Jesus. The Father of another child we serve recently became a Christian because he saw, in his words, the people of Jill's House "walking the walk and not just talking the talk."
(To hear more stories about how God is using Jill's House to restore families, click here.)
What do you think Jill's House might teach the church as a whole?
Jill's House cannot teach the church to heal intellectual disability, but it can teach the church how to best serve and support the families affected by it. Parents of children with special needs experience 60% more stress and are 80% more likely to get divorced than the rest of the population. Their stress level hinders their ability to care for their child, which further delays the child's development. These parents feel alone and unable to change their situation. Since we opened in 2010, we've been proving empirically that an overnight break drastically lowers a family's stress level. God hasn't taught us how to heal autism or genetic conditions, but He has given us this tool – overnight respite – that can eliminate the extra stress.
Cameron Doolittle is President & CEO of Jill's House, based in the Washington, DC area. Cameron is a graduate of Stanford University and holds a JD/MBA from UC-Berkeley. He lives with his wife Carolyn and their four young children in Falls Church, Virginia and worships at Redeemer Church of Arlington.
Come back tomorrow to hear more about how you might get involved in a ministry like Jill's House.
Support our work. Subscribe to CT and get one year free.
To add a comment you need to be a registered user or Christianity Today subscriber.
Recent Posts
A Ministry for Parents at the End of Their Rope