Why I'm Grateful for Mainstream Media
Fair treatment for Christians by secular journalists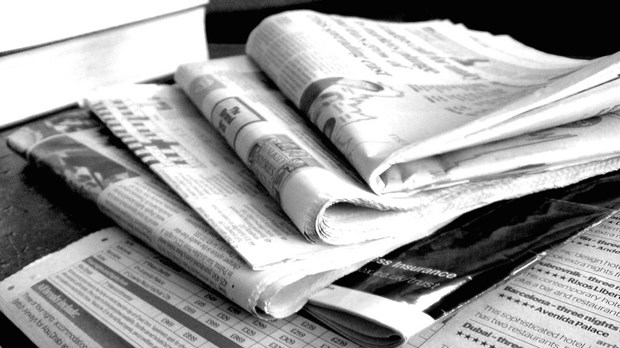 Image: NS Newsflash/flickr
I read and listen to a lot of news. NPR plays in the background as I'm making breakfast and dinner. We subscribe to Time, The Atlantic, and The New Yorker (as well as to Christianity Today, Books and Culture, and Critique). I scroll through The New York Times' headlines and most-emailed list on my phone every day, and most days I check The Wall Street Journal and The Atlantic as well. And that's not to mention the podcasts and books. Both explicitly Christian content and content from avowedly secular sources inform my take on our world every day.
Many Christians worry that the mainstream media demonstrates a persistent bias against Christianity, and certainly examples of this type of bias exist. But recently I have been struck by the number of mainstream outlets in which an evangelical Christian perspective (not to mention mainline Protestant and Catholic positions) is given fair treatment and earnest engagement. Some of this writing comes from Christians writing for those publications—Ross Douthat for The New York Times, for example, or Rod Dreher in Time this week. But just as often, it comes from writers who aren't Christians and who are simply doing their jobs with integrity.
In the past week alone, I've noted Time's cover article—with equal space given to "The Attack on Gay Rights" and "The Attack on Believers." Conor Friedersdorf of The Atlantic, has once again defended the religious freedom of Christians who feel morally obligated not to participate in gay weddings (although he personally supports gay marriage). Not only that, he has argued that such Christians are not bigots but that they are often loving and lovely people who are following a religious conviction to its logical conclusion, even though he disagrees with that conclusion.
Also this week, The Wall Street Journal has covered the gospel-centered ministry of Jean Vanier, founder of L'Arche. The Atlantic has offered positive coverage about the Southern Baptist Convention's conversations about racial reconciliation. The Atlantic has also featured a commentary about Sufjian Stevens and Christian music, and this month's magazine includes a portrait of GK Chesterton by James Parker. Not only is the portrait largely positive, but Parker concludes his piece with this paragraph:
Late last year, I walked into a Catholic church in Stowe, Vermont, and found on a table near the entrance a stack of cards inviting me to pray for Chesterton's intercession "so that his holiness may be recognized by all and the Church may proclaim him Blessed." In other words, I should ask him for a miracle. All right then, Gilbert, here it is: grant me a flash, just a flash, of your double-natured vision, the intuition that I, James Parker, have been summoned out of an "almost nihilistic abyss" into a world of radiant ordinariness, that my existence depends second by second upon the creative gesture of a loving God, continually renewed, and that I should be astounded and grateful. Make that happen, you rocketing squirrel in a fat man's body, and I'm down for the cause.
Is it just me, or did James Parker just ask for prayer in the pages of a national news magazine?
And that's just last week.
Christians can be ignored and pilloried by the press. But some of the most reputable news sources in the country seem to be trying to represent evangelicals fairly. And that's something to applaud, with gratitude.
If you liked this post and you want to keep up to date on what I'm reading each month, subscribe to my newsletter, follow me on Twitter @amyjuliabecker, or check out my Facebook author page.
Support our work. Subscribe to CT and get one year free.
To add a comment you need to be a registered user or Christianity Today subscriber.
Recent Posts
Why I'm Grateful for Mainstream Media