The Magazine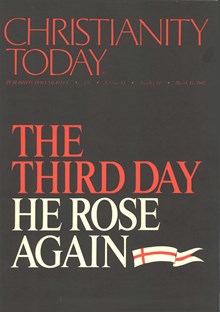 Read CT online anywhere you go.
Subscribers get full print and digital access, including:
10 award-winning print issues
PDFs of each issue
Full web access to ChristianityToday.com
60+ years of magazine archives
Table of Contents
The CT Archives are a rich treasure of biblical wisdom and insight from our past. Some things we would say differently today, and some stances we've changed. But overall, we're amazed at how relevant so much of this content is. We trust that you'll find it a helpful resource. - Mark Galli, editor-in-chief
Also in this Issue:
Churchmen Bid for Public Funds
Dogmatic When It Matters
Editor's Note from March 17, 1967
Reviewing the Restoration at Abilene
The Passover Ploy
The Religious Issue—1968
The Third Day He Rose Again …
Are We Burying the Gospel at the Grave?
Affirmations of the Atonement in Current Theology
The Dead and the Undying
Eutychus and His Kin: March 17, 1967
Distinctives of the Christian Life
Amos Goes to Washington
Issues Posed by a Common Bible
The Minister's Workshop: The Joy of Preaching
Book Briefs: March 17, 1967
Still Adolescent?