The Magazine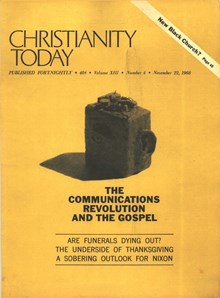 Read CT online anywhere you go.
Subscribers get full print and digital access, including:
10 award-winning print issues
PDFs of each issue
Full web access to ChristianityToday.com
60+ years of magazine archives
The CT Archives are a rich treasure of biblical wisdom and insight from our past. Some things we would say differently today, and some stances we've changed. But overall, we're amazed at how relevant so much of this content is. We trust that you'll find it a helpful resource. - Mark Galli, editor-in-chief
Also in this Issue:
A Separate Black Church Ahead?
A Sobering Outlook for President-Elect Nixon
Are Funerals Dying Out?
Editor's Note from November 22, 1968
The Election: Who Was for Whom
Was Jesus Meek and Mild?
The Communications Revolution and the Christian Gospel
Man's Search for Truth
Theology of Missions, Covenant-Centered
Eutychus and His Kin: November 22, 1968
Creator-Redeemer
The Underside of Thanksgiving
Book Briefs: November 22, 1968
A Theology of Violence?