To many Americans, Thanksgiving is anything but. It is largely a day of feasting, football, and Santa Claus parades. God scarcely rates a few words of grace at the overladen table.
In genuinely Christian homes there is, one hopes, a more sacred and meaningful celebration. But even among the devout the concept of gratitude has been steadily eroding. The very word "thanks" has undergone change; now it is increasingly used to convey blame. "Thanks a lot," we say, expressing mock gratitude or even resentment. "Thanks a lot, God," thinks the bitter Christian confronted by adversity. Thanks-saying is not necessarily a sign of thanks-giving, especially as the habit of saying one thing and meaning another become more firmly entrenched among us.
The idea of thanksgiving has also been undermined by association with festivity, sentimentality, and pietistic veneer. Much of the sacredness has gone out of the celebration, and Christians are less and less aware that Thanksgiving is a deeply spiritual exercise. The biblical essence of Thanksgiving, unencumbered with social trappings, needs rediscovery—not only on one day in November but every day of the year.
As we become more and more sure that we know what is good for us and what is not, we find less and less to thank God for. But Thanksgiving has an underside many Christians have not seen. There is more to it, and more to be thankful for, than most of us think.
We all know we should be grateful for God himself, for creation and redemption, for the necessities of life that North Americans have in such abundance. But how many of us are truly thankful for things we have been able to avoid through God's benevolent working in what we regard as circumstance? Thomas Wentworth Higginson wrote,
An easy thing, O Power Divine,
To thank Thee for these gifts of Thine,
For summer's sunshine, winter's snow,
For hearts that kindle, thoughts that glow.
But when shall I attain to this—
To thank Thee for the things I miss?
Although the poetic values are questionable, the thought expressed is not.
Thanksgiving 1968 is marred by incessant grumbling over problems in national and international life. The "murmuring" among Americans is reminiscent of that of the children of Israel in the wilderness. Yet when we realize what the human race is, what it deserves from God's perspective, we should hardly be surprised at how great our problems are. We might wonder instead how things have managed to be as good as they are.
It is past time to look beyond our problems and to express gratitude for blessings overlooked. Some specifics are in order.
We rightly sorrow over world hunger and oppression, but we need to thank God for our increasing ability to meet these problems.
Millions of Americans are dejected over the 1968 election results, but is there not more than small consolation in the very fact that there was an election?
We live in the continuing fear of nuclear holocaust, and we often deplore the psychological effects of this fearfulness, but can we not thank God that thus far the world has been spared the horrors of the H-bomb?
We lament the prolonged bloody struggle in Viet Nam, but can we not express gratitude that the conflict has not become World War III?
We deplore urban unrest and campus turmoil, but should we not be grateful that these movements have uncovered some of our deep problems and laid bare the extent of man's alienation from man and from God?
We are perplexed by the generation gap and embarrassed by the hippies, but should we not be glad that the rebellious young have helped us realize something of the extent of our hypocrisy and deceit?
Black-power agitators get under the skins of all colors, but ought not Christians to be at least somewhat thankful that they have pressed home genuinely moral issues, albeit through questionable means?
The far right, religious and political, often seems an albatross around the neck of evangelicals, but should not more reasonable men thank God that these extremists have helped us stay sensitive to the basic evils in Communism?
In discouragement we ask ourselves whether the efforts of men really accomplish very much, yet we still have the promise of God that even a cup of cold water given in the Lord's name shall not want for its reward.
Sadly we ponder church leaders who have forsaken the Gospel for the appeal of cultural accommodation, but can we not be grateful for the many thousands of persons in places of Christian responsibility who still proclaim and practice biblically oriented religion?
As churches come under severe attack for irrelevance and institutionalism, we can thank God for his promise that even the gates of hell cannot prevail against his church, and wait expectantly for him to renew and empower.
We easily become despondent over the weaknesses and failures of believers in places of influence and the mediocrity that seems to characterize so much evangelical effort, but is it not reassuring to note with Paul how "God hath chosen the foolish things of the world to confound the wise"?
In a depersonalized age in which technology is taking much of the drudgery out of life but is also contribuing to a sense of meaninglessness, is not thanks still in order for the One who never leaves nor forsakes us and who gives creative purpose to those who trust him?
Medicine and technology continue to move ahead by leaps and bounds, and the applicable moral criteria will become ever more difficult to determine; but will we not continue to have reason to be profoundly grateful for God's inspired revelation, the completely authoritative Word of God, our source of ethical guidelines?
And, though we are disappointed at the deterioration of the Thanksgiving celebration, can we not be grateful that we still have such a holiday?
John Henry Jowett said, "Gratitude is a vaccine, an antitoxin, and an antiseptic." What God prescribes is good therapy for man, and there is no danger of overdosage. Instead of implicitly blaming him for adversity by thinking, "Thanks a lot, God," those who truly hold to the sovereignty of God are challenged to rest assured that he knows better than we what is good for us, and to be thankful.
The Pilgrims And Their Posterity
"Our harvest being gotten in, our Governor sent four men on fowling, that so we might after a more special manner rejoice together, after we had gathered the fruit of our labours," wrote Edward Winslow to a friend in England to describe New England's first Thanksgiving Day.
But it was not the Pilgrims' first day of thanksgiving. When the Mayflower "fell in with that land which is called Cape Cod" nearly a year before, its passengers, William Bradford reported in his History of Plymouth Plantation, "were not a little joyful.… Being thus arrived in a good harbor, and brought safe to land, they fell upon their knees and blessed the God of heaven, who had brought them over the vast and furious ocean."
They arrived with "no friends to welcome them, nor inns to entertain or refresh their weatherbeaten bodies; no houses or much less towns to repair to, to seek for succour.… And for the season it was winter, and they that know the winters of that country know them to be sharp and violent, and subject to cruel and fierce storms.… Besides, what could they see but a hideous and desolate wilderness.… What could now sustain them but the spirit of God and his grace?"
Governor Bradford describes their hard winter: "In two or three months' time half of their company died …" In the spring a friendly Indian taught them how to plant corn in the new world.
When fall came, "they began now to gather in the small harvest.… All the summer there was no want. And now began to come in store of fowl.… And besides water fowl there was great store of wild turkeys … besides venison, etc."
"And thus they found the Lord to be with them in all their ways … for which let his holy name have the praise for ever, to all posterity."
Have something to add about this? See something we missed? Share your feedback here.
Our digital archives are a work in progress. Let us know if corrections need to be made.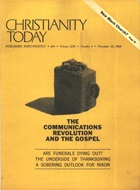 This article is from the November 22 1968 issue.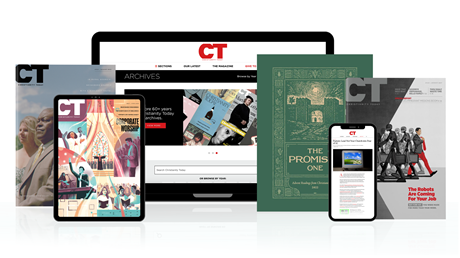 Subscribe to Christianity Today and get access to this article plus 65+ years of archives.
Home delivery of CT magazine
Complete access to articles on ChristianityToday.com
Over 120 years of magazine archives plus full access to all of CT's online archives
Subscribe Now
The Underside of Thanksgiving
The Underside of Thanksgiving