The Magazine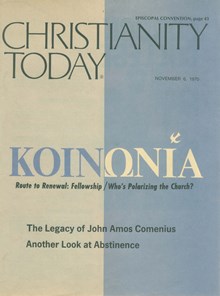 Read CT online anywhere you go.
Subscribers get full print and digital access, including:
10 award-winning print issues
PDFs of each issue
Full web access to ChristianityToday.com
60+ years of magazine archives
The CT Archives are a rich treasure of biblical wisdom and insight from our past. Some things we would say differently today, and some stances we've changed. But overall, we're amazed at how relevant so much of this content is. We trust that you'll find it a helpful resource. - Mark Galli, editor-in-chief
Also in this Issue:
'Talks Right, and Walks Left': The Episcopal Church Convention
Another Look at Abstinence
Editor's Note from November 6, 1970
Part I: The Bible as a Whole
The Fellowship of the Holy Spirit
Who Is Polarizing the Church?
The Legacy of John Amos Comenius
The Rise and Fall of SVM
Book Briefs: November 6, 1970
What a Challenge!
Eutychus and His Kin: November 6, 1970
Days for Searing Scrutiny
Drugs in Decline?
Billy Graham and 'Civil Religion'
Sensitivity Training: Touch and Grow?