The Magazine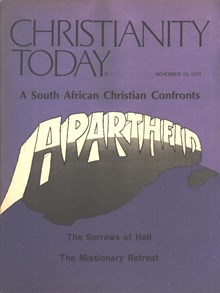 Read CT online anywhere you go.
Subscribers get full print and digital access, including:
10 award-winning print issues
PDFs of each issue
Full web access to ChristianityToday.com
60+ years of magazine archives
The CT Archives are a rich treasure of biblical wisdom and insight from our past. Some things we would say differently today, and some stances we've changed. But overall, we're amazed at how relevant so much of this content is. We trust that you'll find it a helpful resource. - Mark Galli, editor-in-chief
Also in this Issue:
Campers Stake Future
Closing Doors: Fact and Fiction
Editor's Note from November 19, 1971
Key 73: A Continental Call
Ministering in a Death-Oriented Culture
The Sorrows of Hell
A South African Christian Confronts Apartheid
Book in Review
Not Bread Alone
Ringing in the Sheaves
The Missionary Retreat
Eutychus and His Kin: November 19, 1971
Conservative Evangelicals?