Moviegoers were given lumps of coal at the multiplex this Christmas weekend, at least according to Christian critics, who found Hollywood's holiday offerings far from generous. New releases Any Given Sunday, The Talented Mr. Ripley, and Man on the Moon were all judged extremely shallow. Fellow newcomer Galaxy Quest wasn't exactly brain food either, but the genial comedy earned upbeat notices for its inventive silliness.
Any Given Sunday ($13.6 million)
Oliver Stone once again plays social critic in this football drama, in which an old-school, purist coach (Al Pacino) fights against a profit-driven owner (Cameron Diaz) and a bloated-ego quarterback (Jamie Foxx) to restore some dignity to the game he loves. In pulling back the curtain on the ugly reality of professional football, Stone was probably hoping to de-glamorize today's gridiron idols, but the unsavory elements (nudity, sex, drug use, drinking, violence, foul language, vomiting, and more) succeeded in turning off most Christian critics. "While Stone may be a technically brilliant filmmaker," writes Tom Neven, editor of Focus on the Family magazine, "and he may even make astute cultural observations and critiques from time to time, that counts for little as Any Given Sunday blasts moviegoers with a constant stream of profanity, full nudity and gratuitous sex scenes." Preview's Paul Bicking concurs: "Any good lessons are lost in a sea of filth." Michael Elliott of Movie Parables identifies several worthy themes in the movie—the development of leadership and teamwork and the devaluing of fame, money, and ego—that make Any Given Sunday "an interesting tale," but likewise feels that "Mr. Stone's directorial style works against the telling of it." A bigger problem for the U.S. Catholic Conference (and for a large number of mainstream critics) was its "strictly formula" story, propelled by a stereotypically grizzled coach who "philosophizes, cajoles, screams and whispers about team unity and the game's dignity."
The Talented Mr. Ripley ($12.7 million)
Oscar-winning talents Matt Damon, Gwyneth Paltrow, and Anthony Minghella collaborate in this Golden Globe-nominated film, which is probably why Christian reviewers were disappointed to find nothing more extraordinary than a by-the-numbers serial-killer movie. "Despite its sumptuous appearance and rich characterization," writes Movieguide, "The Talented Mr. Ripley ultimately becomes an overlong, hedonistic bore." The movie also drew criticism for a muddled message in which good and evil are ill defined: "It is really unclear what the point of this movie is," says Movieguide. The U.S. Catholic Conference agrees, categorizing it as "a chilling cautionary tale of materialism" but adding that the point of the tale is "ambiguous." Mary Draughon of Preview warns, "discerning viewers may not appreciate a story with no consequences." Movie Parables' Michael Elliott was the only critic to see some value in the film, by treating it "more as a character study than a genuine thriller. ... Ripley is a tragic figure. He is made tragic by his inability to recognize his own self worth."
Stuart Little ($11.8 million)
Reading the jubilant Christian reactions to Stuart Little made me wonder if there had been some sort of contest to see who could praise the film most highly. Movieguide calls the adaptation of E.B. White's children's classic "wonderfully nutty," noting the "excellent special effects" and "pro-family and redemptive messages." John Evans of Preview says it is "fabulously clever and funny," "will delight all ages," and stresses positive values like "the importance of the family." Focus on the Family's Bob Waliszewski also praises the values of the "strong, compassionate, and caring" Little family, concluding that the film "deserves to go really big." Criticisms were very minor, like Waliszewski's mention that "cats with flatulence are played for laughs." (This appears to be a favorite theme of director Rob Minkoff, who cut his teeth on flatulent animal flicks in his debut, The Lion King.)
Toy Story 2 ($10.4 million)
Most Christian outlets have already weighed in on this popular film, which steamrolled past $175 million this weekend, so I'll use this opportunity to share my take on it. Toy Story 2 has received such unanimously glorious reviews that the sourpuss in me wants to knock it down a few pegs by pointing out that, taken literally, the story is an ode to materialism that'll make you think twice about ever donating to Goodwill. But try as I might I just can't get grouchy about this brilliant piece of filmmaking, which matches its predecessor in sharp wit, keen intellect, and gorgeous artistry. What this installment adds to the mixture is a sense of depth, as we explore the unknown histories of the characters and new foils are introduced. This not only makes for better entertainment, but offers a rare chance for the avid moviegoer to be surprised. I, for one, get used to being able to analyze and classify movie characters in a scant two hours, and find myself carrying that practice into my everyday life. I have to fight the temptation to quickly categorize or even pigeonhole people. What a movie like Toy Story 2 does, in deepening characters I thought I knew, is remind me how little I really understand those around me, and prompt me to seek out fuller definitions of who they are. A majority of sequels don't offer this opportunity; they actually work against the idea by offering up the same stagnant character in different settings. But a handful, like Toy Story 2 and the Star Wars series, let you know there's a grander story being told here than just what's presently visible—just as people are always more complex than what meets the eye.
The Green Mile ($9.3 million)
This weekend brought another mixed bag of reviews for Stephen King's prison drama The Green Mile, which details a series of miracles that happen on Death Row in a Depression-era Louisiana prison. Hillari Hunter, guest reviewer for Christian Spotlight, liked the supernatural elements of the story, which "enhances the themes of resilience, repentance and faith." She, like most Christian reviewers, noted the film's Christ figure. "It is no accident that condemned prisoner John Coffey's initials are the same as our Savior." But other critics are more skeptical of the Christ connection. "Much has also been made of Coffey's Christ-like ability to heal," writes Michael Elliott of Movie Parables, "but unlike the numerous healings which are recorded in the scriptures, Coffey's powers are shrouded in mystery, taking on the feel of a circus trick, coupled with a voodoo-like 'I feel your pain' transference." He says the movie offers a false spiritual experience, "relying on a preternatural mysticism rather than a genuine and godly spiritual power. "Likewise, Jeffrey Overstreet of Green Lake Reflections felt less than inspired by the movie, especially because of one character's "speech about being tired of the evils of the world, a speech that might just as easily be used to argue a case for euthanasia or suicide. ... I don't find surrender in the name of exhaustion to be inspiring. I find it sad." For The Phantom Tollbooth's J. Robert Parks, the problem isn't the themes but its blunted storytelling. "There's not a trace of moral ambiguity in the film's entire three hours. The good guys are angels, and the bad guys have escaped from a place worse than Hell—the Hollywood directory of stock villains." If you're interested in further exploration of the spiritual threads running through Stephen King's stories, including The Green Mile, click here to read my profile of King for ChristianityToday.com.
Rounding Out the Top Ten
Man on the Moon opened in sixth place this weekend, the first Jim Carrey movie to fail to open at number one since 1993. More successful was Carrey's pursuit of respectability, as he received rave reviews and a Golden Globe nomination for his portrayal of eccentric comedian Andy Kaufman in this biopic. Christian critics also had ample praise for Carrey's abilities ("There is no doubt regarding ... Carrey's talents as an actor," writes Movieguide), but most questioned the purpose of impersonating Kaufman at all. "No insights emerge about the oddball entertainer," says the U.S. Catholic Conference, "and viewers may wonder why this marginal figure merited a major motion picture biography." Tom Neven of Focus on the Family expresses more revulsion, calling Kaufman "a prima donna and an all-around not-very-pleasant person." Watching the movie, he says, "is fascinating in the same way that a circus freak show is fascinating." Preview's Paul Bicking found Kaufman's raw comedy act itself too distasteful, "polluted with obscene and profane language, nudity and sexually suggestive elements." Only Movieguide defended the movie's premise, noting that although "Kaufman the man had many deplorable qualities such as womanizing and practicing transcendental meditation, ... [he] is not a hero, but rather an influencer, and so this biography is not meant to showcase a role model."
In seventh place lands Galaxy Quest, a spoof/homage to Star Trek that finds the cast of a '60s sci-fi show recruited for battle by an alien race who believe the TV space adventures were real. Christian reviewers were delighted by the movie: Gabe Rodriguez of Christian Spotlight enthusiastically calls it "a hoot and a half." Movieguide agrees, saying the movie mixes "action with comedy to create a funny, exciting movie," and points out "there are some key moral points about honesty and pride." Preview's Cliff McNeely even found a "lesson or two about blending fantasy and reality." McNeely also praises the film's relative lack of offensive material—a little inter-species nooky is as bad as it gets.
As with Stuart Little, critics were enthusiastic about the strong sense of family displayed in eighth-place finisher Bicentennial Man, which follows the 200-year journey of an android (Robin Williams) learning what it means to be human. Preview's John Evans calls it "a gentle, loving tale" that affirms "love, loyalty, and sacrifice for others." Steven Isaac of Focus on the Family says, "The beauty of individuality and the preciousness of family, friendship and love lie at the core of this film." But reviewers took more disparate positions over the android's quest to become human. Isaac found it inspiring: "His wish is to be treated as a human being brings to mind the speeches of Martin Luther King and others like him who have sought so valiantly to look their fellow man in the eye without flinching." But Movieguide was less enthralled, complaining that the android "gets pretty preachy about why he should be considered human." Movie Parables' Michael Elliott agrees, noting the android's quest deteriorates "into a self-important, new-age-minded movie equivalent of a warm and fuzzy group hug." Reviewers were united again in criticizing the low entertainment value of the movie, which was "somewhat bland, overly long" (Evans), "flawed by poor story development" (Movieguide), and "weighed down by its own pomposity" (Elliott).
For a sophomoric sex comedy, ninth-place finisher Deuce Bigalow continues to receive an unusual amount of leeway from Christian critics. Brad D. Francis, guest reviewer for Christian Spotlight, commends Deuce for never sleeping "with a woman for pay, preferring to simply make them feel special about themselves through other, more honorable means. He can't bring himself to have sex with a woman without meaning." Francis eventually warns, "for the vast majority of Christians this is one to avoid." But the U.S. Catholic Conference cuts the movie no slack, calling it a "pathetically unfunny comedy [that] dredges up lame double entendres and toilet humor when not mocking characters with assorted physical diseases and disabilities who resort to paying for male companionship."
The Los Angeles Daily News said the old-fashioned love story Anna and the King is "for all those people who say they don't make movies like they used to." And now we know why, as the film has quickly dropped to tenth place at the box office. The culprit seems to be pacing, which even the most enthusiastic reviews were disappointed with. "Weighed down heavily by its self-imposed epic nature, ... the movie's pace and length continually work against it and eventually do it in," writes Michael Elliott of Movie Parables. Christian critics were also uneasy with the film's portrayals of Buddhism and Christianity in this story of a British schoolteacher (Jodie Foster) who moves to Siam to tutor the children of King Mongkut (Chow Yun-Fat). Movieguide was satisfied that the movie neither endorsed Buddhism nor criticized Christianity, but Sarah Barnett of Culture@Home says this live-and-let-live spirit creates "a pluralistic approach to faith rather than dealing with conflicting beliefs." Despite these qualms, most reviewers found the true story of Leonowens' years in the royal court of Siam (made famous by the musical The King and I) to be captivating. Bob Smithouser of Focus on the Family sees Anna as a fine role model, exhibiting "compassion to the lowly and downtrodden while brazenly challenging people in power to behave humanely without regard for politics." Preview's John Evans notes themes of "understanding and respect for other cultures, family love and loyalty, and a king's willingness to sacrifice for his country." And, in a rare statement from a family-friendly reviewer, Evans says the film's considerable violence actually "adds some legitimate realism and impact to the film."
Beyond the Top Ten
Fans of the James Bond series were saddened to learn last week that Desmond Llewelyn, who has played gadget expert "Q" in 17 of the 19 James Bond movies, was killed in an automobile accident. In the most recent Bond film, The World is Not Enough, the writers introduced an assistant to Q who would presumably take over his gadget duties when the 85-year-old veteran actor retired. But his departure comes far too soon for fans, who have come to love the character's witty repartee with Bond. Two new reviews were available for The World is Not Enough recently, which dropped to eleventh place at the box office. World expresses the earlier Christian opinion of distaste for Bond's lack of morality, calling the movie "the Playboy Philosophy translated to celluloid: The handsome man with no conscience can do anything." The other is the first truly enthusiastic review of the film; J. Robert Parks of The Phantom Tollbooth says "the movie has enough chemistry, style, and spectacular action sequences to carry the day," adding that the film's tightly wound plot made it "nice not to have to leave my brain at the door."
This weekend Hollywood Jesus posted its review of Sleepy Hollow, which finished in twelfth place at the box office. As opposed to previous Christian reviews, which found the movie either a harmless ghost story or an uncomfortable foray into witchcraft, David Bruce finds a parallel to "the spiritual culture shift" of the late '90s: He notes that in the original Washington Irving story, Ichabod Crane was ruled by superstition, whereas in this movie he begins as a rationalist. "As Ichabod was a reflection of society in 1799," Bruce writes, "so Ichabod is now a reflection of society at end of this century." Ichabod further mirrors today's culture when his spiritual nature awakens. "He examines everything—the church, the occult, the Bible, his dreams, his past experiences. Like many do today, Ichabod begins to fashion his own personal form of spirituality," but is still left with unanswered questions.
Thirteenth-place finisher End of Days received yet another stinging blow from a Christian reviewer, this time from Boundless, a Focus on the Family Webzine primarily targeted at college students. Charles W. Jarvis charts the course of horror stories from the time of the novel Dracula, in which "evil exists and is clearly distinguishable from good and unalterably opposed to it," to the current slate of horror movies like Scream, in which "God is nowhere to be seen. Religion is impotent or absent. Goodness is not well defined." He commends End of Days for "trying desperately to recover some semblance of the Gothic horror framework. Here evil is definitely evil." But in the end, he finds the movie as spiritually bereft as its modern counterparts: "The filmmakers are emotional manipulators speaking to a theologically adrift audience." See our previous coverage by clicking here.
Steve Lansingh is editor of thefilmforum.com, a weekly Internet magazine devoted to Christianity and the cinema.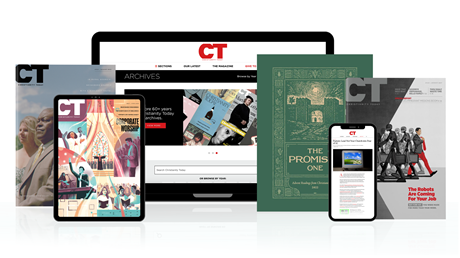 Annual & Monthly subscriptions available.
Print & Digital Issues of CT magazine
Complete access to every article on ChristianityToday.com
Unlimited access to 65+ years of CT's online archives
Member-only special issues
Subscribe
Christian Reviewers Reject This Sunday
Christian Reviewers Reject This Sunday