Cuban government censors filter details of the Elián González case broadcast on the island, but when Leoncio Veguilla visited the United States last month, he couldn't escape the news. Now Veguilla, president of the Western Baptist Convention of Cuba, has heard all the stories, rumors, and reports:
That Elián's father was an unfit parent who had abused his ex-wife, Elián's mother, who perished off Miami's coast before fishermen plucked their child from shark-infested waters.
That Elián's grandmothers told a Miami nun, who now wants Elián to stay, of their desires to defect to the United States.
That the same grandmothers had behaved in a sexually inappropriate manner with the boy during their visit with him.
That Elián's father knew his wife was planning to flee Cuba with the child and gave his blessing because deep down he truly wants his son to live in the United States.

So knowing now what he couldn't hear in Cuba, what does Veguilla believe should be the fate of this child?
"The boy should come back to Cuba."
Veguilla's opinion stands in stark contrast to opinions in Miami, where polls show that three-quarters of the city's Cuban-American residents believe the boy should stay. Just 90 miles across the Florida Strait, however, interviews with Havana pastors and national church leaders reveal that most evangelicals share Veguilla's opinion.
But don't the details censored from Cuban media shed important new light on the child's case? Not according to Veguilla, father of three and grandfather of six.
"There's no proof of any of these accusations," Veguilla says in the perfect freedom of his son's home in Miami, where no government censors monitor phone calls for counterrevolutionary speech. "In reality, there's not much foundation [to the accusations]. It's very important, this matter of proof.
"As a pastor, grandfather, and father, I'd want my children and grandchildren to be where I am."
What has shocked Veguilla most on his visit to Miami was not the revelation of details withheld from the Cuban public but the reaction of the Cuban-American community to the case. "I believed I was going to find opinion here as I did in Cuba, but it's very different," he says. "Here, there's no Cuban passion. It's a tremendous tangle."
Veguilla himself is no Castro cheerleader. In 1965 he began serving a five-and-a-half-year sentence for alleged ties to the CIA. In 1994, secret police arrested his son, Eliezer, and accused him of the same ties. Police ordered Eliezer Veguilla to confess or he would face a live bear he could see through a screen in his roach-infested cell. Later, state agents placed him before a firing squad for a mock execution. He was released and left Cuba in 1995 to live in the United States.
Veguilla's denomination is not a member of the Cuban Council of Churches, the progovernment counterpart to the U.S. National Council of Churches, which has lobbied for the United States to return Elián to his relatives in Cuba. Nor are the denominations represented by other pastors who spoke with Christianity Today.
What about the National Council of Churches' role in trying to reunite Elián with his father? Veguilla describes the NCC as left-leaning and supportive of liberation theology, in contrast to the conservative Western Baptist denomination Veguilla leads, but "It appears to me that [the NCC's] intentions aren't bad, that it's a good thing."
Hector Hunter, Cuban Assemblies of God superintendent, concurs with Veguilla. "It's the order of God that [Elián] be returned to Cuba," Hunter says. "For the good of the child, not for politics, it's better for him to be with his family. I think whatever person in the same situation would say the same, independent of who controls or governs.
"The father should be taking care of him. I believe that because of the trauma this child has endured, for the loss of his mother, he should be with his father to console him. I believe that most people in the church would say that."
"It doesn't make sense that he's there," says Juan Cuevas, a pastor with the Evangelical League of Cuba in Havana Province. "He's with a great-uncle he's only seen once in his life. It's terrible. He should come back to Cuba because his father is here."
Olguita Pérez, Cuevas' wife and mother of their three children, says she and her husband are dismayed by the politicization of the custody battle. "They've turned a simple problem into a political problem on both sides," Pérez says. "Elián should be with his father, not just because he's Cuban. He could be Japanese and it wouldn't matter. But we're talking about his father. If I were the father, I'd be grieved, because I'd want my son to be with me."
Pérez believes that bonds between Elián and his father trump all other arguments for keeping the child in the United States. "In the United States he's going to have economic opportunity, but people forget about the spiritual growth of the child," she says. "In Cuba, you have a hard time resolving economic problems. But what about the spiritual part? Only God and the family can develop a good life for a child. Most in Cuba believe this."
Elián's case strikes a chord for Pérez because her own father abandoned her when she was a baby. Though he lives in Cuba, she has never met him, and she still grieves the void in her life. "For this reason, although I may not have riches, I would have wanted to have been raised nowhere else but by my father," Pérez says.
Others agree that politics has taken precedence over what's best for the child. "We speak from the Christian humanitarian aspect," the Assemblies of God's Hunter says. "We don't accept the politics that has come into play on all sides."
Veguilla agrees. "When Elián grows up, let him decide what he wants to do," he says.
One pastor fears for the boy's emotional health following the harrowing voyage in which he saw his mother die and he spent two days alone tied to an inner tube. Fearing reprisals to his denomination for expressing his opinion, the pastor spoke on the condition of anonymity.
"Children ought to be with their parents, but I understand now if Elián comes back, he's going to suffer greatly because of the huge change," the pastor says. "If he had come back in those first days, it would have been good. But now it's been more than three months. I believe it's going to be very, very conflictive for him to return.
"It has to have affected him greatly. Also, these months of cameras, judges and journalists—it all has to have affected his life."
Photo by Mackie Landers
Related Elsewhere
See our earlier coverage of this story, "The War for Elián | Miami churches protest NCC efforts to return Elián González to Cuba" (Feb. 25, 2000) and "NCC Presses Case for Boy's Swift Return to Cuba | 'This is not a healthy situation for the boy,' says new general secretary" (Jan. 19, 2000)
For continuing coverage of the Elián González dispute, including links to news stories, opinion pieces, and related Web sites, see Yahoo!'s full coverage area on the subject.
Charles Lane, editor-at-large of The New Republic, looked at the spiritual overtones of the Elián González story in an article for Beliefnet.
Our earlier coverage of evangelicalism in Cuba includes:
Cuba's Next Revolution | How Christians are reshaping Castro's communist stronghold (cover story, Jan. 12, 1998)
Cuban Catholics Make Gains, but Protestant Rights Limited (Feb. 8, 1999)
Cuba's Evangelicals Come Up for Air (June 14, 1999)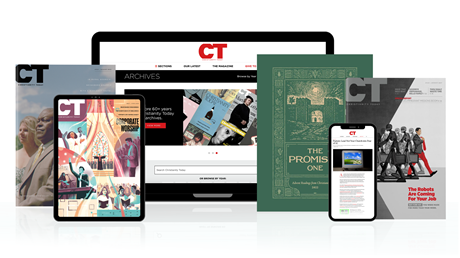 Subscribe to Christianity Today and get access to this article plus 65+ years of archives.
Home delivery of CT magazine
Complete access to articles on ChristianityToday.com
Over 120 years of magazine archives plus full access to all of CT's online archives
Subscribe Now
Send Elian Home Say Cuba's Evangelicals
Send Elian Home Say Cuba's Evangelicals