The Evangelical Alliance UK has released a report titled The Nature of Hell, which calls on schools, theological colleges, and churches to put a greater emphasis on the doctrine of hell. "Hell is more than mere annihilation at the point of death," the report says. "As well as separation from God, Hell involves severe punishment." Scripture depicts this punishment in various ways, using both psychological and physical terminology. Although this terminology is often metaphorical and we should be wary of inferring more details about Hell than scripture itself affords, Hell is a conscious experience of rejection and torment." (The Evangelical Alliance's press release is available online.)
That's the gist of a Chicago Sun-Times article that takes a very cursory look at the estimated 15,000 to 20,000 homeschoolers who entered college last fall. ""These students are not isolated here," Dan Crabtree, director of undergraduate admissions at Wheaton College, tells the paper. "They are socially mature. They are not shy, sheltering, negative types." For a much less patronizing article, check out The New York Times Magazine's February 27 article, " A Mighty Fortress | Abandoning the fight for a Christian America, fundamentalists are retreating into their own homes. But it's hard creating a world apart when the secular world keeps knocking." Homeschool proponents (particularly ones that aren't driven by fundamentalist separatism) won't agree with all of writer Margaret Talbot's conclusions, but at least there's some meat to disagree with.
Governors from 19 northern Nigerian states have announced they will not implement the penal code prescribed by Islamic law. They have also created a Muslim-Christian committee to investigate implementation of Islamic law not covered in the penal code. The announcement comes after riots over the implementation of shari'a left more than 1,000 Nigerians dead. (See also coverage by Reuters.)
"Sexuality, life together, community," due to start in December, will bring in the country's sexperts to "educate" Church of Norway bishops. "We want to have more contact with the real world," Odd Bondevik, head of the bishop's council, tells the Associated Press.
Now that the ruckus over the House chaplain appointment has finally been laid to rest, The Providence Journal (via the Fort Worth Star-Telegram) goes to the other side of the Capitol to see what the Senate chaplain is up to.
"This is not just a hobby," David Phelps tells the Chicago Tribune. "This is a ministry, which is Christ in song." Lead singer for the Phelps Brothers Quartet, his music has been recorded by The Oak Ridge Boys and others. He's also a prolife, pro-death penalty Blue Dog who says politics is like the music industry: "The people who pick the Top 10 wouldn't know a note from a rut in the road."
As "charitable choice" issues receive legislative attention (see yesterday's ChristianityToday.com article, "
churches continue to seek government funds for ostensibly secular purposes, like employment counseling centers, recreation centers, and geriatric care facilities. Some predictable church-state watchdogs are barking, but it seems like most government officials affirm such projects.
"South Holland is somewhat of an anomaly in Chicago's suburban landscape, where boosting sales-tax revenue is a religion and the word 'values' equates to property assessments," writes Tribune staff writer Lola Smallwood. "Basically, it's an atheist's nightmare." Looks like Wheaton has competition …
Related Elsewhere
See our past Weblogs:
April 4 | 3
March 31 | 30 | 29 | 28 | 27
March 24 | 22 | 20
March 17 | 16 | 15 | 14 | 13
March 10 | 9 | 8 | 7
February 18 | 17 | 16 | 15 | 14
February 10 | 9 | 8 | 7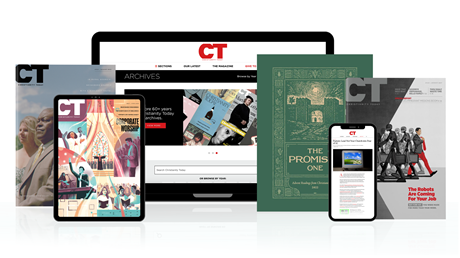 Annual & Monthly subscriptions available.
Print & Digital Issues of CT magazine
Complete access to every article on ChristianityToday.com
Unlimited access to 65+ years of CT's online archives
Member-only special issues
Subscribe
Hell: Yes Say British Evangelicals
Hell: Yes Say British Evangelicals