The New York Timesreported yesterday that Ralph Reed and his Century Strategies consulting firm had been hired by Microsoft "to lobby Mr. Bush in opposition to the government's antitrust case against the software giant." Reed quickly put out a statement saying the firm "should have been more sensitive to possible misperceptions, and it is an error that we regret." The statement said Century Strategies was hired by Microsoft in 1998 to "encourage consumers and grassroots citizens to make their views known to public opinion leaders, the media, and political leaders of both parties. Neither Ralph Reed nor any other Century Strategies employee has ever contacted the governor or his staff and asked him to take a position on the Microsoft litigation." That's nice, but the initial New York Times story makes it pretty clear that Microsoft thought it was hiring Reed to lobby Bush.
National Public Radio's Morning Edition looks at the Israel Museum's unique exhibit, " Cradle of Christianity." It sounds like a great exhibition: a re-creation of the Last Supper table, with real artifacts used at such celebrations, the only known artifact documenting the Roman practice of crucifixion, the burial ossuary of Caiaphas the High Priest, a full-scale reconstruction of a Byzantine-period church, and a 1,500-year-old skeleton of a monk wrapped in chains are a few of the displays. But NPR's Linda Gradstein notes an even more important feature of the exhibition: "For many Israelis, especially school groups, the exhibit will be their first exposure to Christianity." One Orthodox Jew Gradstein interviewed explains the only thing she knows about Christians: "Their goal was to kill the Jews, and of course that makes me uncomfortable. But I'm still interested in how this religion was created and developed here." In fact, notes Gradstein, "a survey conducted after the Pope left the Holy Land found Israelis were more open to Christianity than ever before." (Listen in 14.4 and 28.8 kbps RealAudio streams.)
"Many clergy and theologians say there's an increasing emphasis on this type of prayer," says Morning Edition's Bob Edwards introducing Laura Sydell's April 11 report. It's a strange assertion, and it's not really the focus of the segment. Sydell lists the benefits of intercessory prayer: it acts against American individualism, it helps mainline congregations have a sense of "relevant worship." It helps those praying feel better—and maybe could possibly perhaps have some kind of actual effect on people's illnesses. That people are asking God for something only he can provide isn't really mentioned. (Listen in 14.4 and 28.8 kbps RealAudio streams.)
If you believe Mark Joseph, author of The Rock & Roll Rebellion, the reason Christian artists have been banished to "gospel" or "inspirational" shelves in the record stores is their own fault. "Christians exiled themselves from pop culture," he tells The Washington Times, which also says that's why Christian bands were "absent from popular arenas such as Woodstock." (Woodstock?!) He draws the parallel between Amy Grant and columnist Cal Thomas, saying their success in the popular culture "proves that it was possible for serious believers, once they had disposed of silly separatism, to be accepted or at least tolerated by the culture." By the way, the article also mentions Christianity Today as an example of this silly separatism. One would think Julia Duin, who regularly covers religion for the Times, would have talked with someone who could shed some light on evangelicalism's supposedly separatist tendencies.
The Republican National Committee had a Mass and reception yesterday to honor Daniel P. Coughlin, the first Roman Catholic chaplain of the House of Representatives (who came into the post after a very long struggle). "What we are doing now is communicating issues, telling Catholics we have been on your side the whole time," Republican National Committee spokesman Chris Paulitz tells The Washington Times. Funny, Paulitz told the Associated Press "this is a completely apolitical event. … There is not going to be any effort to score political points with anyone. If some people want to play games with this, I'm sorry."
Related Elsewhere
See our past Weblogs: April 11 | 10 April 6 | 5 | 4 | 3 March 31 | 30 | 29 | 28 | 27 March 24 | 22 | 20 March 17 | 16 | 15 | 14 | 13 March 10 | 9 | 8 | 7 February 18 | 17 | 16 | 15 | 14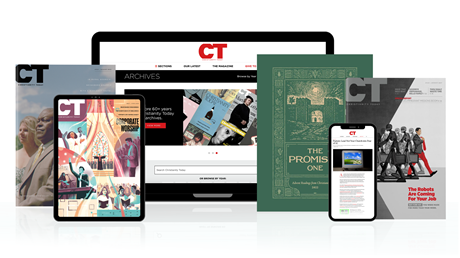 Annual & Monthly subscriptions available.
Print & Digital Issues of CT magazine
Complete access to every article on ChristianityToday.com
Unlimited access to 65+ years of CT's online archives
Member-only special issues
Subscribe
Ralph Reed 'Regrets' Microsoft Lobbying
Ralph Reed 'Regrets' Microsoft Lobbying