The West Allis (Wisconsin) Public Library refused a patron's request to hold a meeting in its public meeting room because his creation science workshop might include religious discussion, and library policy did not allow use of the room for religious services. "It may be that the exclusion of partisan political meetings and religious services or instruction is based on the library's desire to avoid controversy," wrote U.S. District Judge Lynn Adelman in a decision against the library. "However, the avoidance of controversy is not a valid ground for restricting speech in a public forum." (See more coverage at The Freedom Forum.)
The Russian Orthodox Church has been trying for ten years to regain control of Moscow's 1693 Church of the Intercession, now a "carefully-tended museum" in the words of Ian Traynor. It's pretty easy to tell from his article in Britain's The Guardian which side Traynor favors. "Having coped with the barbarities visited on it over 300 years, the church now faces a new threat," he writes. "According to some of Russia's architecture experts, incense and overcrowding could succeed where despots failed and destroy a precious national heirloom." An interesting take on priorities comes from Gennady Popov, director of the museum: "This is our cultural heritage and that is paramount. That's what we should be thinking about." In a related Russia story, University of Chicago sociologist Andrew Greeley told a religion conference at Oxford University that religious interest is skyrocketing in the country. "In a remarkably brief period of time, Russia has become one of the most God-believing countries in Europe," the Roman Catholic priest said. "Perhaps we were naïve … to expect that a thousand-year heritage would wither away in 70 years of inept socialist oppression."
"Pat and I do not disagree on many things, but on this one we do," Jerry Falwell told the Richmond Times-Dispatch Tuesday. "I don't think a moratorium is needed. … While courts do make mistakes, I do not believe the mistake level is at the point where we need to rethink our whole system, and I personally believe that we need to reduce the time between conviction and execution." Robertson said last week that a death penalty moratorium "would indeed be very appropriate." This apparent rift between the two religious leaders has received a moderate amount of media coverage, including an Associated Press article titled "Falwell, Robertson At Odds for Once." Please. Falwell has increasingly identified himself with the Southern Baptists, Robertson a charismatic. They aren't clones. They may not "disagree on many things," but they do disagree from time to time.
Once upon a time, Sojourners founder Jim Wallis was a voice crying in the wilderness. His message of social justice and evangelical theology separated him from potential allies on both the left and right (at times, it seemed he kind of liked it that way, as if isolation was the badge of integrity). Now he's packing out Harvard University's John F. Kennedy School of Government in forums about what churches and synagogues can do to stop poverty. "Some of us have been doing this work for a long time, and now it seems we've been discovered," he tells Religion News Service.
This year's hosting duties for the Gospel Music Assocation award show have passed from John Tesh to Kathie Lee Gifford. She and Dolly Parton will perform a duet of "Only My Pillow Knows." Other performers include Sixpence None the Richer, dc Talk, Steven Curtis Chapman, CeCe Winans, Jaci Velasquez, Alison Krauss, and Charlotte Church. The Associated Press article doesn't make any guesses about the actual awards, which apparently play a far distant second purpose to letting the world know there's such a thing as Christian music.
The general manager for the Mobile office of Lamar Advertising Co. says the " Jesus Was a Vegetarian" billboards "would offend all of the churches in our area," not to mention the city's restaurants and seafood industry. The Montgomery office says "It's a moral issue. Biblically, that wasn't correct." Other PETA ads will run instead.
"What's really amazing about Microsoft's decision to hire Reed … is not that a culturally liberal, cosmopolitan company like Microsoft would hire the cherubic former public face of the religious right," writes Joshua Micah Marshall. "What's really shocking is that Reed can still get clients to pay top dollar for his services even though his track record as a political consultant has been quite dismal."
Related Elsewhere
See our past Weblogs: April 12 | 11 | 10 April 6 | 5 | 4 | 3 March 31 | 30 | 29 | 28 | 27 March 24 | 22 | 20 March 17 | 16 | 15 | 14 | 13 March 10 | 9 | 8 | 7February 18 | 17 | 16 | 15 | 14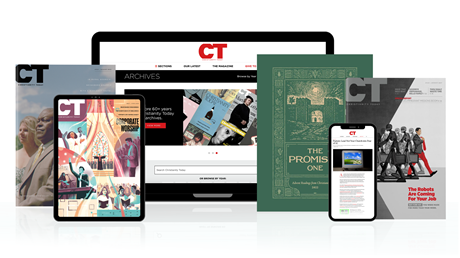 Annual & Monthly subscriptions available.
Print & Digital Issues of CT magazine
Complete access to every article on ChristianityToday.com
Unlimited access to 65+ years of CT's online archives
Member-only special issues
Subscribe
Judge OKs Creationism in Library Meeting Room
Judge OKs Creationism in Library Meeting Room