"Some books are to be tasted, others to be swallowed," said philosopher Francis Bacon (d. 1626), "and some few to be chewed and digested." Here is Christianity Today's list of 1999 books most worth chewing on. A couple of things were different in this year's selection process. First, we returned to a system in which books competed in categories. (How do we weigh a commentary against a work of fiction?)We asked dozens of publishers to nominate books for one or more categories (as a result, some significant books were simply not nominated—a flaw we'll fix next year). We then polled about 160 pastors, scholars, and general readers, asking them to vote for the books they believed were "the most significant books of the year," meaning books that "have brought, or will eventually bring, insight to an issue or prompt a significant segment of the Christian world to believe or act differently."Second, we asked voters to mark the nominated books they had also read. When we added the votes, the "read" votes weighed more heavily. (It is one thing to vote for a book based on reviews, a writer's reputation, or a colleague's judgment; it is something altogether different to support a book actually read.)This system has its disadvantages. For one, it weighs fiction (which received the fewest number of votes) equally with books on Christianity and culture (which garnered the most votes). Thus the Awards of Merit, our wild-card winners: books (listed by category in order of votes received) that amassed a significant number of votes but not enough to win their respective divisions.Every system has a bias. Ours bias tilts toward the concrete: these awards favor books that made a difference and that people actually read. Yet to evangelicals like us—who long to make an impact on the world—that is not a bad bias. So, taste, chew, and digest.
Apologetics/Evangelism
IS THE BIBLE TRUE? How Modern Debates and Discoveries Affirm the Essence of the Scriptures
Jeffrey L. Sheler
ZONDERVAN
Biblical Studies
A COMMENTARY ON THE GOSPEL OF MATTHEW
Craig S. Keener
EERDMANS
Christianity and Culture
INTELLIGENT DESIGN: The Bridge Between Science and Theology
William A. Dembski
INTERVARSITY
Christian Living
THE BIBLE JESUS READ
Philip Yancey
ZONDERVAN
The Church/Pastoral Leadership
LEADERSHIP THAT WORKS: Help and Hope for Church and Parachurch Leaders in Today's Complex World
Leith Anderson
BETHANY
Fiction
A NEW SONG
Jan Karon
VIKING
History/Biography
SAINT AUGUSTINE
Garry Wills
VIKING
Missions/Global Affairs
THE DESECULARIZATION OF THE WORLD: Resurgent Religion and World Politics
Edited by Peter L. Berger
EERDMANS
Theology/Ethics
THE STORY OF CHRISTIAN THEOLOGY: Twenty Centuries of Tradition and Reform
Roger Olson
INTERVARSITY
Spirituality
THE UNKNOWN GOD: Searching for Spiritual Fulfillment
Alister McGrath
EERDMANS
Awards of Merit
Christianity and Culture
JUST GENEROSITY: A New Vision for Overcoming Poverty in America
Ronald J. Sider
BAKER
HOW NOW SHALL WE LIVE?
Charles Colson and Nancy Pearcey
TYNDALE
BLINDED BY MIGHT: Can the Religious Right Save America?
Cal Thomas and Ed Dobson
ZONDERVAN
History/Biography
ABRAHAM LINCOLN: Redeemer President
Allen C. Guelzo
EERDMANS
Theology/Ethics
EVANGELICAL TRUTH: A Personal Plea for Unity, Integrity, and Faithfulness
John Stott
INTERVARSITY
Related Elsewhere
These books are available for purchase at the Christianity Online bookstore. Click here for our special CT Book Awards page.Christianity Today's book awards for 1999, 1998, and 1997 are also available online.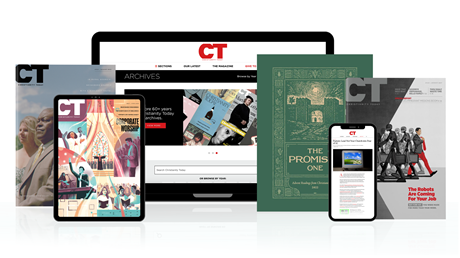 Annual & Monthly subscriptions available.
Print & Digital Issues of CT magazine
Complete access to every article on ChristianityToday.com
Unlimited access to 65+ years of CT's online archives
Member-only special issues
Subscribe
2000 Christianity Today Book Awards
2000 Christianity Today Book Awards