It seems movie stars are growing less reliable these days. Christian critics, at least, were happier with a guy in a rubber suit (Godzilla 2000) and several TV comics (The Original Kings of Comedy) than they were with such star vehicles as The Art of War (Wesley Snipes), The Cell (Jennifer Lopez), or The Crew (Richard Dreyfuss). As an interesting counterpoint, Us Weekly reports that stars are finding more fulfillment in their families than their celebrity these days.
What's Hot
Bring It On, a high-school cheerleading comedy that reveals cheering as a grueling sport, topped the box office with an unexpectedly robust $17.4 million. Mary Draughon of Preview writes that "unlike many teenage films portraying cheerleaders as egotistical and shallow, these high school students work hard and learn that competing fairly is more important than winning. … [It also delivers] laughs in the comical mishaps of teenagers struggling to meet the challenges of competition." Focus on the Family's Lindy Beam highlights a strong lesson in fair competition, as the squad's decision to drop its stolen routine and create an original one "gives hearty affirmation to the fact that doing the right thing really feels good." But negatives outweighed positives for most Christian critics. "It's 99 minutes of ogling underdressed and underaged girls who behave like future tabletop dancers," argues the Dove Foundation. Crosswalk.com's Holly McClure adds that "this is an irreverent look at high school, so there's plenty of colorful language, crude dialogue, jokes about gay cheerleaders, locker room scenes with girls in their underwear, lots and lots of sexual remarks and a couple of implied sexual situations." Michael Elliott of Crosswalk.com found himself easily bored: "Ordinarily, any movie centering around a competitive situation will have enough built-in tension to hold interest, but this film is so dependent upon cliché-riddled plot twists and character non-development that interest wanes fairly early on."
Even less impressive was The Art of War, which found nothing but bad press. The title is taken from the famed book by Chinese general Sun Tzu, which details ways that deception and strategy can win wars without actual battle—but you'd never know that from the film's body count. "Not only are bodies strewn throughout the seemingly endless nonsense," writes the Dove Foundation, "but the camera enjoys lingering on corpses. In one scene, the grisly discovery of decaying Asian aliens in an abandoned truck gets the close-up routine." The U.S. Catholic Conference agrees that the film shamelessly "presents brutal violence as exciting." The movie's plot and its politics also rankled reviewers. Wesley Snipes plays an elite spy for the United Nations who tries to stop a saboteur from destroying precarious trade negotiations with China. Michael Elliott of Crosswalk.com calls it "an incomprehensible mess of a movie. … For most of the film, we have a hard time following the story, but once it is made clear, then we have a hard time believing it." Preview's Paul Bicking objected to the spies' immoral actions, even if they might prevent a war: "[The] team uses extortion and blackmail to force a leader back to the negotiation table, which seems to justify their illegal acts." Movieguide wasn't pleased with the upholding of U.N. values, nor with the blame placed on "right-wing" conspirators. "Snipes is out to save the United Nations from destruction so that it can engage in 'aggressive peacekeeping' around the world. This globalist agenda supporting godless world government is matched by an attack on the 'right-wing' ideologues in the movie. … The filmmakers needed to consult with someone who knows what conservatives really believe."
Moving from bad to worse, The Cell reaped some of the most horrified reviews in recent memory. Crosswalk.com's Holly McClure writes that "despite all of [the] accolades I can give this psychological thriller for it's [sic] style, the core of demonic evil that is tapped into in this story is so dark and depressing it will take you days to forget the things you don't want to remember from this movie." The Cell takes a psychologist (Jennifer Lopez) inside the mind of a killer (Vincent D'Onofrio) in order to discover the whereabouts of his last victim, who might still be alive. The set-up allows former music-video director Tarsem Singh to present striking images of the murderer's mindscape. "When he's not focusing on the killer's perverted eccentricities, Tarsem Singh's visuals can be quite beautiful," writes Movieguide. "In order to experience this beauty, however, viewers must subject themselves to an array of disturbing, often bloody, sadomasochistic images, such as an actual disembowelment, a corpse sitting in a tub filled with blood and women being drowned in a locked cell. … Too many of its images seem to become a celebration of sadomasochistic fantasies, rather than a revulsion." Jeffrey Overstreet of GreenLake Reflections agrees that the film gives evil too much power. "It reminds me of Rick Moranis in Spaceballs saying, 'Evil will always triumph because good is dumb.' Good, in this movie, is very dumb, and evil gets all the best lines, the best costumes, the best lighting, the best music, and on and on and on. … By the half-way point in this movie, I felt as though I had been beat senseless by images of violence, and I didn't care anymore about the half-baked 'real-world' characters trying to reach this villain." A majority of mainstream reviewers also found themselves repulsed by the sick visuals. Kenneth Turan of the Los Angeles Times calls it "all torture, all the time, all photographed … as if it were a TV spot for Chanel," and the San Diego Union-Tribune's David Elliott complains that "it depends on viewers falling into a gazing stupor so tranced that they can duck moral issues of whether we should be slumming this way." A notable exception was Roger Ebert of the Chicago Sun-Times, who names it one of the year's best and can't understand critics' revulsion. "I dunno: I guess it just overloads the circuits for some people." Strange, since Ebert is usually a critic who picks up on the hokey use of religious elements that The Cell roots itself in. Christian reviewer J. Robert Parks of The Phantom Tollbooth asks why the film suddenly dips into Catholic imagery. "Why a Catholic motif? I have no idea (no one seems to be Catholic), particularly when that transitions into a full-body baptismal sequence. It might seem petty to point out that Catholics practice baptism by sprinkling, not immersion, except that it's so indicative of the movie's use of imagery. Throw something striking on the screen, even if it doesn't fit." Mainstream reviewer Lisa Schwarzbaum of Entertainment Weekly also complained about its tiresome exploitation of religion. "Christian ritual has created yet another monster. How old-fashioned of the art of the future."
The Original Kings of Comedy, a film version of the immensely popular comedy tour with Steve Harvey, D.L. Hughley, Cedric the Entertainer, and Bernie Mac, received ample praise for its humor (along with warnings about its obscenities) from Christian critics. "While the foul language is repelling," says the U.S. Catholic Conference, "the humor is never mean-spirited as director Spike Lee aptly splices behind-the-scenes takes with the on stage performances as the four acerbically poke fun at themselves, their African-American culture and race relations." Hillari Hunter of Christian Spotlight agrees that "each of these comedians are very talented, and if you don't mind graphic language (numbering in the hundreds) you may appreciate this hard-edged comedic documentary." Other critics felt that the film perpetuated stereotypes. "Believe me, I want to promote filmmakers of every race," says the Dove Foundation's Phil Boatwright. "I enjoy seeing the perspective of others. But that said, crudity and constant foul language do not represent all black people. … From discussions with friends, I know racial groups are frustrated by how they are portrayed in the cinema. … Here's hoping that someday everyone will be represented in the movies." Crosswalk.com's Michael Elliott also complained that the film serves a niche audience only, yet comes to the dubious conclusion that the solution is to make movies more homogeneous. "The best comedians, the real kings of comedy, find a way to transcend race to reach the hearts, minds, and funny bones of a multi-colored, multi-gendered audience. Even though popular with the predominantly African-American audience who shared the theatre with me, the humor contained in the film did not bridge the cultural divide to attain a universal appeal." Is it really a wise idea to suggest that African-Americans shouldn't talk about their experience in our country without making it relevant to white people? Seems as silly as those Entertainment Weekly music reviews that complain that Christian bands talk about God too much to hold their interest.
What's New
Debuting farther down the box office charts is the dud The Crew, about four retired mobsters who try to avoid eviction from their senior citizen home in Florida by staging a murder to drive the property value down. Movieguide was intrigued by this set-up, but "regrettably, the makers of The Crew squander its promise. The Crew has some decidedly hilarious moments, but the bulk of the movie suffers from mediocre writing and surprisingly poor comic delivery from its set of seasoned actors." Crosswalk.com's Michael Elliott says it's "just one more piece of cinematic fluff released in the throwaway month of August … [a] formulaic and unsurprising tale." Preview's Paul Bicking laments that, despite the comedic premise, The Crew features the same "casual sexual relations, vulgar language, and severe violence" of most mob films. The Dove Foundation writes that "this disappointing and often depressing film simply serves to remind viewers that the elderly are outliving their financial resources. It does contain a few yaks, but the screenplay fails to ignite. And the characters are not very likable."
With so little to like on the big screen right now, many reviewers latched on to the intentionally cheesy Godzilla 2000 as something worth watching. Not a sequel to the poorly reviewed 1998 Hollywood version, but the 23rd in the series from Toho Studios of Japan, the film finds Godzilla battling an alien spaceship and crushing large sections of Tokyo. "Complete with corny dialogue poorly dubbed into English, Godzilla 2000 is pure escapism fare for the end of summer," says Paul Bicking of Preview. Bob Smithouser of Focus on the Family agrees that "fans who have grown up watching this silly escapism don't seem to mind. It has become a form of pop art that defies the seamlessness of Hollywood moviemaking." Christian Spotlight guest reviewer Douglas Downs suggests the film is great entertainment for nostalgic parents and their kids. "Godzilla 2000 has a few negative objections. The language is mild and the violence is similar to the Saturday morning fare. I took my nine-year-old son along to do the review. He has watched all the old Godzilla films with me." Parental guidance is still suggested, says Holly McClure of Crosswalk.com, because of the "constant put-downs, [from] men and woman alike, [who] are rude, crass and curse at each other." Movieguide notes a "semi-pagan, evolutionary worldview, but also some moral content and one positive reference to God." (Although the line, "God must be punishing me for being ambitious," might not seem positive to everyone.) The only truly harsh criticism aimed at Godzilla 2000 comes from the U.S. Catholic Conference, which says that "lifeless characters and dopey plotting make director Takao Okawara's overlong creature feature lack even a campy sense of humor."
What's Noteworthy
Stardom seems to be losing its sparkle, at least according to Us Weekly's cover story for Aug. 28, which asks the question: "Are fame, riches, success and worldwide adoration enough or do all human hearts need more?" The magazine reports that Hollywood stars are turning to parenthood, religion, and marriage as means of fulfillment instead of celebrity perks, and are actually quite worried about the toll fame takes on their relationships. "Maybe you caught Gwyneth Paltrow, looking ecstatic in white leather pants on national television, incongruously proclaiming that the weeks after winning the Oscar had been incredibly difficult for her. … Or maybe it was the usually all-smiles Britney Spears you saw, admitting to a reporter that she fears success will drive a wedge between herself and her friends and family. … It seems that when it comes to happiness, celebrities have it no better than the rest of us." Stars are investing themselves in families, with late-in-life parents Sharon Stone, Michael Douglas, Madonna, and Richard Gere all taking care of newborns. Demi Moore, Jane Fonda, and Madonna have been exploring spiritual paths. Gary Oldman and Marie Osmond have patched up relationships with their respective spouses and families. But what's even more intriguing is that most Americans already recognize the limitations of celebrity: a poll reveals that 68 percent of Americans consider themselves "happier than most movie stars." Although celebrities still fascinate us, we don't equate fame with the good life anymore. The article suggests that more aggressive journalism in the past few decades have lowered stars' pedestals. "Most of us have watched enough episodes of Behind the Music and E! True Hollywood Story to know that, star status notwithstanding, we're all human." Score one for the cheesy tabloids, then.
Steve Lansingh is editor ofthefilmforum.com, a weekly Internet magazine devoted to Christianity and the cinema.
See earlier Film Forum postings for these other movies in the box-office top ten:
Space Cowboys, What Lies Beneath, The Replacements, Nutty Professor II: The Klumps, and Autumn in New York.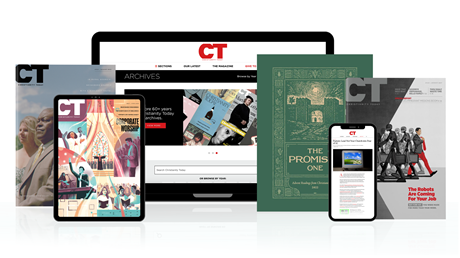 Subscribe to Christianity Today and get access to this article plus 65+ years of archives.
Home delivery of CT magazine
Complete access to articles on ChristianityToday.com
Over 120 years of magazine archives plus full access to all of CT's online archives
Subscribe Now
Cheerleaders Voted Most Popular at the Cinema
Cheerleaders Voted Most Popular at the Cinema