Tired of stories about Lieberman, faith, and politics yet?
If not, there are still reams of articles and columns being published every day on the subject. As Chicago Tribune religion columnist Steve Kloehn says in today's paper, "Despite the tanker cars of ink devoted in the last week to Joe Lieberman's Jewishness, the political experts are having a hard time making much of it. In the end, the race between Al Gore and George W. Bush will not turn on Lieberman's faith. But religion watchers are having a field day." Kloehn's article is a fine roundup of what's being said about Lieberman's faith from the perspective of mainline Protestants ("That's nice"), evangelicals ("Yippee!"), Louis Farrakhan (does anyone really ever understand what he says?), orthodox Muslims ("uh-oh"), and Jews (you name it, it's been said). But there are a few comments Kloehn misses. Almost every media commentator in the last few days has suggested that the Democrats are getting away with a lot more God-talk than a Republican ever could. "God is back in, as if you haven't noticed," writes Tribune showcase columnist John Kass in a cynical dispatch from the Democratic Convention. "If you're a Democratic candidate, it's now OK to publicly mention God's name 20,000 times an hour. And it's fine to reflect on the relationship between faith and public policy, as long as it's just talk and you still take Hollywood's money." The Tribune's Kathleen Parker harshly condemns a perceived double standard: "Were a devout Christian wearing a fish symbol on his lapel added to the Republican ticket, Democrats and pundits would sponsor a national fish-fry. Put a devout Jew wearing a kipah (skullcap) on the Democratic ticket and suddenly menorahs are on back-order. … While we're all hugging ourselves for our high-minded tolerance at inviting a Jew to the White House, might we expect in the next few months the same religious tolerance toward those who cleave to the New Testament as toward those preferring the Old?" Two of those who cleave to the New Testament, Cal Thomas and Jim Wallis, are saying "enough already" with the examinations of religious belief alone; it's time to talk policy. "We are not electing a rabbi," says conservative columnist Thomas. "We are electing someone on the basis on their policies." But Michael Barone says, in a U.S. News column, "Don't expect talk of religious faith to disappear from the campaign. Americans are more comfortable with it than in the Eisenhower era, partly because the historic hatreds between denominations have dissipated. But, partly in the wake of the Clinton scandals, many voters express a vague desire for government policies with a moral component. 'God talk' has become, for better or worse, part of our politics, and candidates will learn by trial and error how much voters want to hear about their personal religious beliefs."
"The latest media hubbub against capital punishment relies primarily on bogus statistics and the misleading claims of the political left," writes Daniel J. Rabil in The Washington Times. "Christians opposed to executing murderers should not adopt such a flawed approach to advance what should be a moral case against executions." But Rabil doesn't think there is such a moral case. "We also hear that 'too many' poor people are on death row. This sounds compassionate but is really just proletarian mush. … To intimidate Christians, the 'mercy' crowd hurls the all-purpose 'race grenade.' " They may be disproportionately black and poor, Rabil says, but they're guilty and should be killed. "Rather than obsessing over saving the earthly lives of murderers, Christian activists should redirect their moral energy toward saving the heavenly souls of those who await execution." For Christianity Today's different perspective, see our April 6, 1998, editorial. In a related story, the Russian Orthodox Church's "social doctrine" calls for the end of the death penalty.
"In some aspects, the Orthodox position is similar to the Catholic: The social doctrine condemns abortion as murder and euthanasia as murder or suicide," writes Andrei Zolotov Jr. in The Moscow Times. "But watch for the details." The new social doctrine, approved by the church's Council of Bishops this week, encourages leniency for women who have had abortions, for example.
"Since God's pattern is for people to marry, if you haven't got that relationship, you're depressed," says Ellen Varughese, author of Freedom to Marry. "God said, 'It is good for man not to be alone.' And when singles go for help, people tell them to 'embrace their singleness.' What kind of help is that? Instead of helping people become 'satisfied, successful singles,' churches should develop programs for 'future-married' people. Instead, people have subscribed to the idea that God's will regarding marriage is unknowable—as if fate determines who will and who won't marry. And in Sunday school classes for older singles, it is assumed that people will never marry. Well, just because you're single doesn't mean you're called to that. God does not call people by default. And He calls very few people to be single. So, if you aren't called to be single, then you are called to be married." For a better book, which claims that most churches overemphasize marriage and family and that "God designed human beings to live in relationship with one another, but this does not mean that God's will for all is marriage," click here.
Syed Hasan Ur Zama, a Muslim, has been arrested for a series of church bombings in India. "Information gathered from the accused in the bomb blast cases … has revealed a deep-rooted conspiracy to blast places of worship to create enmity among various religious groups in the country," says a police statement. If true, it worked. Indian Christians blamed militant Hindus, not Muslims, for the bombings. (See more from Indian newspapers The Hindu, The Hindustan Times, and The Times of India.)
The Bureau of Alcohol, Tobacco and Firearms and police will investigate a fire "of suspicious origin" that destroyed St. Philips Benizi Roman Catholic Church and School in Fullerton, California.
It's World Youth Day again, and this time (the 15th annual celebration) ground zero is Rome. Actually, "Youth Day" is a week of activities, characterized by the Associated Press as offering "catechisms, confessions, Masses and wandering." The Chicago Tribune says some are calling it Popestock. ABCNews notes, "The Vatican's strict dress code for visitors to St. Peter's Basilica has collapsed under the weight of 20,000 young people. … Stern Swiss Guards and ushers … stood back and gazed in amazement at the throngs of young people in hot pants, miniskirts, tube tops and other revealing clothing who had waited in line for up to two hours in the blazing heat to reach the cool sanctuary." See more from CNN, The Times, BBC, and the official Vatican site.
The Anglican Church of Nigeria is demanding an investigation into the shooting of a woman on the steps of St. Peter's Anglican Church in Lagos July 16. A paramilitary anti-crime unit pursued a woman into the sanctuary, where she grabbed the officiating priest and pleaded for help. The men pushed down the priest, dragged the woman to the steps of the church, and killed her. They then reportedly ransacked the vicarage and fired sporadically throughout the church. "To our dismay, this catalogue of show of brutality, harassment and lack of respect for a holy place was not counted enough by men of the Rapid Response," says Peter Adebiyi, Lord Bishop of Lagos West Diocese. "Before they left, they shot canisters of tear-gas into the church to complete the sacrilege and defilement of the church."
"Religion on campus has become a form of counseling—and is just about as effective," writes Donna Schaper, senior pastor at Miami's Coral Gables Congregational Church. "What it does not address is the sacred. God. … We are so mired in the self that we are losing sight of the sacred. Religion, and its many imperfect institutions and spiritual expressions, promotes belief through its ancient practices and liturgies. Religion steeps people in its long history of reflection on ethics. At its best, religion offers time and space for spiritual experience. Spirituality gives us a quick fix that fits into our fast-paced, insular lifestyle."
"In a city better known for encouraging sin rather than salvation, dozens of churches are making it tough for new bars or nightclubs to set up shop," says the Associated Press. It seems that there are so many churches in west Las Vegas that a law restricting taverns within 1,500 feet of a church means no more taverns. Next thing you know, Vegas will be a dry town.
See our past Weblog updates:
August 17 | 16 | 15 | 14 August 11 | 10 | 9 July 27 | 25 | 24 July 21 | 19 | 18 | 17 July 13 | 12 | 11 | 10 July 7 | 5 | 3 June 30 | 29 | 27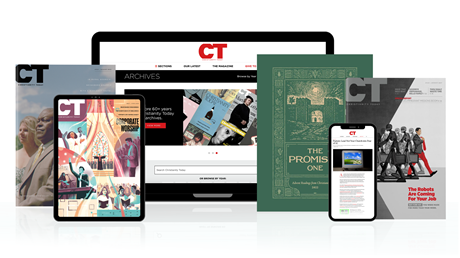 Annual & Monthly subscriptions available.
Print & Digital Issues of CT magazine
Complete access to every article on ChristianityToday.com
Unlimited access to 65+ years of CT's online archives
Member-only special issues
Subscribe
The Race for Priest-ident Continues
The Race for Priest-ident Continues