With a controversial salvage operation ongoing and a major exhibit at Chicago's Museum of Science and Industry, the Titanic has resurfaced in the news. The doomed ship even made an appearance at the Billy Graham Evangelistic Association's Amsterdam 2000 conference this month, as the backdrop to an inspirational video shown to attendees. The subject: Scottish evangelist John Harper.
Harper was born into a Christian family May 29, 1872. He became a Christian 13 years later and had already started preaching by age 17. He received training at the Baptist Pioneer Mission in London, and in 1896 he founded a church, now known as the Harper Memorial Church, which began with 25 worshipers but had grown to 500 members by the time he left 13 years later. When asked about his doctrine, he stated it was simply "the Word of God."
While his spiritual growth followed a fairly direct uphill path, his personal life wasn't so smooth. When he was only two and a half, he fell into a well and almost drowned. At 26 he was nearly swept out to sea, and at 32 he found himself on a leaky ship in the middle of the Mediterranean. Most tragically, his wife died after only a brief marriage, leaving him alone with their daughter, Nana.
In 1912 Harper, the newly called pastor of Moody Church in Chicago, was traveling on the Titanic with his 6-year-old daughter. After the ship struck an iceberg and began to sink, he got Nana into a lifeboat but apparently made no effort to follow her. Instead, he ran through the ship yelling, "Women, children, and unsaved into the lifeboats!" Survivors report that he then began witnessing to anyone who would listen. He continued preaching even after he had jumped into the water and was clinging to a piece of wreckage (he'd already given his lifejacket to another man).
Harper's final moments were recounted four years later at a meeting in Hamilton, Ontario, by a man who said: "I am a survivor of the Titanic. When I was drifting alone on a spar that awful night, the tide brought Mr. Harper, of Glasgow, also on a piece of wreck, near me. 'Man,' he said, 'are you saved?' 'No,' I said, 'I am not.' He replied, 'Believe on the Lord Jesus Christ and thou shalt be saved.'
"The waves bore him away, but, strange to say, brought him back a little later, and he said, 'Are you saved now?' 'No,' I said, 'I cannot honestly say that I am.' He said again, 'Believe on the Lord Jesus Christ, and thou shalt be saved,' and shortly after he went down; and there, alone in the night, and with two miles of water under me, I believed. I am John Harper's last convert." He was also one of only six people picked out the water by the lifeboats; the other 1,522, including Harper, were left to die.
Elesha Coffman is associate editor of Christian History.
This story is told in the book The Titanic's Last Hero (Moody Press, 1997), which has also been adapted for video.
The most historically reputable page with information on Harper is at the Billy Graham Center Archives site. There are also two historical documents related to Harper's death republished on the site, a letter from Moody Church to Harper's Walworth Road Baptist Church in London, and a news clipping about his death.
John Harper's story has been reprinted several places online, including the sites of The Dick Staub Show and True Life Stories.
Harper Memorial Church in Glasgow, Scotland, is named for the evangelist, who pastored there before moving to a church in London.
USA Today published a story earlier this week about the disintegration of the Titanic.
Click here for the Chicago Museum of Science and Industry's fantastic Titanic exhibit.
More Christian History, including a listing of events that occurred this week in the church's past, is available at ChristianHistory.net. You may also wish to subscribe to the illustrated quarterly print magazine.
Christian History Corner appears every Friday at ChristianityToday.com. Previous Christian History Corners include:
Colonial Soul | The Cross and The Tomahawk series examines our nation's past from many perspectives (Aug. 4, 2000)
The Fifth Evangelist | Johann Sebastian Bach was a musician "who lived the Bible." (July 28, 2000)
A Cure for Cliophobia | While not for "dummies" or "complete idiots," a new guide introduces church history to the beginner. (July 14, 2000)
New Stabs at Old Wounds | Why Northern Ireland doesn't always love a parade. (July 7, 2000)
Camp Fire | The earliest recorded Methodist camp meeting in America took place 200 years ago this week. (June 30, 2000)
For Better or Worse | The diaries of a frontier missionary couple reveal starkly differing perspectives. (June 23, 2000)
Like Father, Like Son | The Mather men followed the faith—and career paths—of their fathers. (June 16, 2000)
Agent of Grace | PBS's Bonhoeffer film shows us a theologian in action. (June 9, 2000)
Revive Us Again | Two recently translated books recount searches for recapturing Pentecost. (June 2, 2000)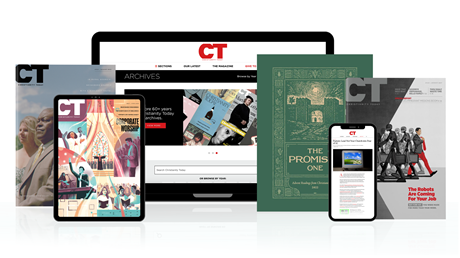 Annual & Monthly subscriptions available.
Print & Digital Issues of CT magazine
Complete access to every article on ChristianityToday.com
Unlimited access to 65+ years of CT's online archives
Member-only special issues
Subscribe
Sacrifice at Sea
Sacrifice at Sea