Faced with more than 350 lawsuits over alleged physical and sexual abuse at church-run schools, the Anglican Church of Canada (ACC) is making significant cuts to budgets and staff. The ACC's general synod—the church's national governing body—and eight of its 30 dioceses are named in lawsuits claiming that indigenous people suffered cultural, physical and sexual abuse as children at residential schools operated by the church on behalf of Canada's federal government.In some cases the church is named directly, while in others it has been forced into the suit as a third party by the Canadian government, which is also being sued.The federal government set up about 130 residential schools for aboriginal children, almost a century ago, entrusting their day-to-day operation to four mainstream churches until 1969, when contracts ran out. The biggest numbers of schools were run by the ACC and the Roman Catholic Church, while others were managed by the United Church of Canada and the Presbyterian Church.All four churches face legal action from alleged victims of abuse, and the churches' leaders now meet monthly to review the situation.Archdeacon Jim Boyles, ACC general secretary, told ENI in a telephone interview: "It is very difficult for the staff people involved in the cuts and for those overseas and in the north who will be affected by it. The mood among the staff here was very somber on Monday [August 14] when the announcements were made."As of August 31, eight full-time national office positions will be cut, and grants to northern Canada and overseas ministries will be reduced by $500,000 Canadian dollars (or $335,000 US dollars). The church's budget for this year, $10.9 million Canadian dollars, is 11 percent below last year. Proposals for further cuts in 2001 will go to the general synod's council meeting in November.Archdeacon Boyles said the reductions would balance operating expenditures in 2000, but assets were being depleted to pay for increasing litigation costs. The number of claims varied from day to day, he said. "Some are withdrawn and new ones are filed."The cuts will have a heavy impact both at home and abroad. Grants to partner churches in the developing world will decline by almost $400,000 Canadian. "It means that the work that those grants have supported will no longer be possible," Archdeacon Boyles told ENI. "It creates hardship for those on the ground in our partner churches."Grants to support ministry across Canada's north will decline 5 percent, with a similar reduction recommended for 2001. The budget cuts also mean a reduction in the ACC's support of national ecumenical coalitions involved in environmental and social justice issues; a reduction of 40 percent in the size of the Anglican Journal, the ACC's national newspaper, and the elimination of the national resource center which supplied videos and print resources to parishes.Despite the budget cuts, financial support for indigenous ministries is being doubled to $547,000 in Canadian currency a year."Our council [meeting] in May indicated that we need to give additional and higher priority to our work in healing and reconciliation," Archdeacon Boyles said."We have a Healing and Reconciliation Fund that has been in existence since 1991 [administered by the Anglican Council of Indigenous Peoples], and has made grants to communities totaling more than $500,000 Canadian for programs at the local level. The fund does not support individual grants, but to communities as they develop programs—healing circles, perhaps a counseling center, reunions of former school residents and so on."The churches are continuing to urge the federal government to find ways to validate and compensate out of court the thousands of claims involved, rather than allowing them to be dragged through the legal system. Archdeacon Boyles told ENI: "I met with the deputy prime minister, Herb Gray, last week for a full discussion of the issue. He indicated a willingness to meet with church representatives again. So I continue to be hopeful that we will find a way to work together so that the claims can be resolved in a more efficient and effective way than is currently the case through litigation.""We—the four churches—would like an opportunity to meet with government to discuss alternative methods … that will be more humane and compassionate than the legal system," Archdeacon Boyles said.He added that the Law Commission of Canada, which had been asked by the federal Department of Justice to explore the matter, had proposed that an alternative redress model be developed "that would take into account several aspects and concerns of aboriginal people that are not easily confronted in the normal litigation model.""They indicated several principles that should be in place in an alternative model - including acknowledgement, apology, compensation, memorialization, and steps to ensure that abuse not happen again in programs operated by the government or church, and that education and therapy were needed."Archdeacon Boyles added: "We have told the government that we could make a substantial commitment, both financially and in other ways, to supporting such a redress program." But as yet there had been no response from the government.Konrad Raiser, general secretary of the World Council of Churches (WCC), sent a letter last month to the Anglican, United and Presbyterian churches—all are members of the WCC—commending them for their efforts and giving his support."You are not alone in having to struggle with the moral, ethical, theological and financial implications of the enormous claims involved in this case," Dr Raiser wrote. "Churches in many parts of the world are likely soon to have to confront similar challenges."We hope to learn from and share your experience as you seek ways to build reconciling communities through mediation and other creative alternatives which favor restorative justice over acts of retribution."Commenting on the letter, Archdeacon Boyles told ENI: "This was a letter of support that we welcomed, and [we] realize that people around the world are watching our situation. I would hope that the churches can move through this situation with integrity and with a search for justice and with a primary emphasis on our concern for aboriginal people and their healing journey - from the damage that has been done to their lives."I believe that the way we approach this situation will test the churches in their faithfulness and their conviction that the mission of the church is that of healing and reconciliation among peoples of different cultures."The archdeacon told ENI: "I think this is a major issue for Canadian society. My hope would be that more vision could develop on the part of the government as to where we want to go in our relationship with aboriginal people over the next 20 years. Residential schools are one of several major issues facing Canadian society regarding aboriginal people, and I would hope that we could vision a society where there would be increased justice and equality, respect and honor for different cultures, and ways in which we can move towards a fuller partnership between aboriginal people and the rest of Canadian society."
Copyright © 2000 ENIVisit the official Anglican Church of Canada site. Soon to be affected by cuts is the Anglican News Service.The Canadian Government homepage offers information in both French and English.Canada's Aboriginal Relations Office is mainly focused on helping Natives find jobs, but all kinds of government agreements and contact information is also available.Don't miss the Anglican Journal article about the church being held responsible for past abuse.Previous Christianity Today coverage of Canadian church lawsuits includes:Canada Meeting Gives New Hope for Unity Between Anglicans and Catholics | Churches come closer together, but not close enough to share Eucharist. (May 26, 2000) Canada's Anglican Church Considers Possibility of Financial Ruin | Court costs, settlements surrounding abuse allegations could mean bankruptcy. (Jan. 31, 2000) Arctic's Anglican Bishop Looks for Priests to Brave the Cold | Nine vacancies in Anglican Communion's largest diocesan territory, but no prospects. (Jan. 27, 2000)News about the Anglican Church of Canada's response to lawsuits is also available from The Sunday-Times, The Age, and The New York Times.News about how other denominations are handling the lawsuits is available from The Montreal Gazette and the National Post.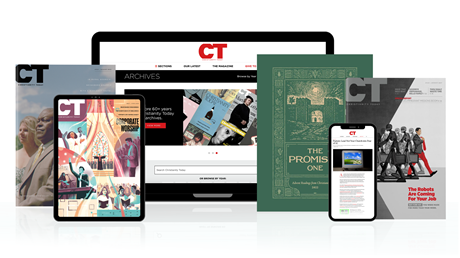 Subscribe to Christianity Today and get access to this article plus 65+ years of archives.
Home delivery of CT magazine
Complete access to articles on ChristianityToday.com
Over 120 years of magazine archives plus full access to all of CT's online archives
Subscribe Now
Lawsuits Force Anglicans to Cut Staff and Programs
Lawsuits Force Anglicans to Cut Staff and Programs