As this lackluster year for movies begins to wrap up, Christian critics are finding more and more quality among the latecomers, including the Disney cartoon The Emperor's New Groove and Ang Lee's martial arts epic Crouching Tiger, Hidden Dragon. But the box-office leaders What Women Want and Dude, Where's My Car? just added to the recent malaise.
What's Hot
Christian critics couldn't decide what they wanted from What Women Want, a romantic comedy starring Mel Gibson as a chauvinist who suddenly finds himself able to read women's minds. Crosswalk.com's Holly McClure was happy to see "a male character that understands women the way women want men to," but others complained that all Gibson's character learns to understand is about sex. "The emphasis seems to be more on sexual activity than gender differences," says Preview, complaining of the shallow revelation that "women are people too." Michael Elliott of Crosswalk.com agrees that it "doesn't offer anything new in terms of insight into the male/female relationship," but he doesn't mind. "What Women Want is not a think piece. It is what it is: an enjoyable, light and frothy romp." The U.S. Catholic Conference, though, says it isn't even that enjoyable: "The one-joke premise soon wears out its welcome in contrived and pathetically predictable situations." Planet Wisdom, too, says the movie "delivers lots of big laughs early on," but as the protagonist "begins to 'learn his lesson,' What Women Want gets a lot more predictable and a whole lot less interesting." Critics were split even about the film's PG-13 rating—Movie Reporter Phil Boatwright calls it "a nice romantic film, diminished only by two irreverent uses of Christ's name and a few minor obscenities evidently placed in the script to avoid the dreaded G-rating," while Elliott says "since much of the humor is sexually-oriented and more appropriate to an R-rated film, parents should be advised that the PG-13 rating given to What Women Want is debatable and misleading."
The pothead comedy Dude, Where's My Car? features two losers who are so stoned they can't remember where their car is (or anything that happened the day before). Most Christian critics ignored the film, and those who saw it wished they had ignored it. "Would the Marx Brothers stoop to doing drug-infested, sex-infused farces just so they could make a few box-office bucks?" asks Focus on the Family's Steven Isaac, lamenting the bygone comedy era. "Would Laurel and Hardy fondle women's breasts, look up ladies' skirts and fantasize about oral sex?" Isaac says it has no positive elements whatsoever: the main characters "don't even mend fences with their girlfriends for the right reasons; they just want the girls' 'special treats.' ... It would take a severely disjointed case of circular logic to read any anti-drug messages into [their] weed-crazed existence." The U.S. Catholic Conference says that "with a story line based on alcohol abuse and topped with lame jokes and bad performances, it is no wonder director Danny Leiner's film is a loser." The New York Times, meanwhile, criticizes the film for not being filthy enough: "Dude, Where's My Car? is a surprisingly sweet, mild-mannered movie for a teenage comedy spoof, and that's not a good thing. ... The mad excesses and gleeful tastelessness of a genre that calls to what remains of the dirty-minded brat in all of us are largely missing."
What's New
Although The Emperor's New Groove was surrounded by bad buzz and received half-hearted promotion from Disney, Christian critics say this new animated film is actually one of the best things to come out of the Mouse House in years. "I am flabbergasted to find myself calling this ... one of the best movies of the year," says Jeffrey Overstreet of Looking Closer. "No pop-song interruptions. No self-important new-age moralizing. No annoying obnoxious animal sidekicks. No love story! ... You can sense the enthusiasm of the animators for this project, as though they've just been given new liberties, new modes of expression, and they can't wait to splash them across the screen. ... Comic timing is its masterstroke. Lickety-split banter between brilliantly conceived characters, chase scenes that leave you breathless with laughter and surprise, and how-will-they-get-out-of-this-one predicaments that pay off in the end." Even Thomas A. Carder of ChildCare Action Project, who typically does not offer an opinion but only reports on a movie's content, says, "Let me break with policy again and answer a question I've been asked a thousand times if once: 'Which movies do you like?' Well, I liked this movie!" The Emperor's New Groove tells the story of an egomaniacal despot, Emperor Kuzco, who learns humility after being turned into a llama by a former employee who was trying to kill him. "[David] Spade is extremely funny as the selfish ruler," says Movie Reporter Phil Boatwright, adding that the film "promotes the biblical teaching of loving those who persecute us." Movieguide echoes that it's "a hilarious, exciting animated romp that also teaches many positive character traits and moral values in a redemptive fashion." Focus on the Family loved the character of Pacha, a family man who'd been banished by Kuzco but helps his emperor anyway. "Pacha is convinced that there's good in everyone. He's a devoted husband and father of two (with one on the way) who shows the transmogrified emperor undeserved kindness and forgiveness." Holly McClure of Crosswalk.com praises it as a film adults will enjoy as much as their children. "I went by myself to this movie and laughed harder and louder than most of the kids." Crosswalk.com's Michael Elliott says the film also has the nostalgia factor going for it, calling it "an animated comedy reminiscent of the simple, yet witty, cartoons of days gone by." The artistry gets plenty of praises, too; the U.S. Catholic Conference marvels over the way this "sprightly film tickles with crisp animation, bouncy music and an excellent ensemble cast of voices."
In Chocolat, Vianne Rocher (Juliette Binoche) opens a chocolate shop in a small French village during Lent, frightening the Roman Catholic mayor (Alfred Molina), who believes the temptation of indulgence will ruin the town's religious observance. Movieguide wasn't happy with the "politically correct and anti-Christian elements," but called it "an interesting, richly made parable" that contains "a strong Christian sense of the proper roles of Law and Grace." Movieguide notes that "the movie clearly shows that a pagan, sometimes occult, lifestyle has not been able to fully satisfy either Vianne or her young daughter." Movie Reporter Phil Boatwright, however, concluded that the movie still sides with Vianne. "It is the heroine, a nonconformist who never attends church, who becomes the community's savior. While the town leaders are stuck in church dogma much like the Pharisees, it is the film's humanist who is both wise and righteous." Still, he agrees with Movieguide that there's something vital said about law and grace. "Somehow religious dogma had become so strict among the citizens of Lansquenet that exclusion became more important than inclusion. For once these characters turned their backs on vice, they also began turning their backs on those with vices. ... Chocolat brilliantly reminds us of how easy it is to become so sanctimonious that we neglect to love one another. And it does so with exceptional performances and a storyline complete with enough twists and turns to keep you glued to the screen."
What's Noteworthy
The overseas hit Crouching Tiger, Hidden Dragon is performing so well in America that it nearly broke into the top ten this week despite playing on only 31 screens. Christian critics are saying Ang Lee's film combines the most impressive stunts and choreography from the martial arts genre with the nuanced acting and layered storylines of the art-house genre. "[It's] one of the great cinematic pleasures of this past year," says the Phantom Tollbooth's J. Robert Parks. He marvels at the "eye-popping, gasp-inducing, jump-out-of-your-seat, I-can't-believe-I-just-saw-that fight sequences that are liberally sprinkled throughout the film," but praises it equally as "a fantastic 'date' movie, with not one but two moving love stories and enough lush images of China (both Beijing and the desert wilderness) to sweep us into another realm." Movieguide was impressed with how it "explores the mythic themes of love and enlightenment, family and duty, morals and revenge," and, unlike many martial arts movies, "there's very little bloodshed" and "eastern mysticism is refuted. ... An ardent Taoist would be upset that love is given prominence over self-realization." Stephen Liggins of Culture@Home says it's a good old-fashioned epic with a modern twist. "Crouching Tiger, Hidden Dragon is an 'epic' in the classic sense—love, hate, honor, revenge, action and romance. ... Consistent with the 'epic' concept, the story could be described as revolving around two romances, or around two women struggling with their fates, or around the struggle between good and evil. Less consistent with some of your classic epics is the fact that the two heroines are not your stereotypical passive celluloid females." Parks elaborates on the role of women in this typically male-dominated genre: "Here's the difference between Hollywood's ever-growing exploitation of women and the powerful feminism of Ang Lee. Despite the fact that he has two genuinely gorgeous women in leading roles, the movie never focuses on their beauty or sex appeal. Instead it portrays them as strong, extraordinarily effective women who can do anything a man can do, while at the same time overcoming the obvious prejudice against them."
Steve Lansingh is editor of TheFilmForum.com, an Internet magazine devoted to Christian conversation about the movies.
Related Elsewhere
See earlier Film Forum postings for these movies in the box-office top ten: How The Grinch Stole Christmas, Vertical Limit, Proof of Life, Unbreakable, 102 Dalmatians, Dungeons & Dragons, and Rugrats in Paris.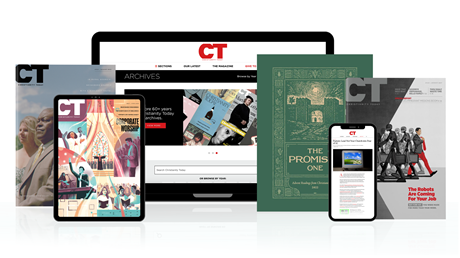 Subscribe to Christianity Today and get access to this article plus 65+ years of archives.
Home delivery of CT magazine
Complete access to articles on ChristianityToday.com
Over 120 years of magazine archives plus full access to all of CT's online archives
Subscribe Now
Dude Where's My Humor?
Dude Where's My Humor?