Henry Lyons's replacement turns himself in on probation violations
Joaquin Marvin, pastor of Bethel Metropolitan Baptist Church in St. Petersburg, Florida, turned himself in to county police Friday for two 1991 probation violations that were never served to him. Marvin, now 35, was given the probation for forgeryラbut as the St. Petersburg Times discovered, he had also been arrested many times in the years before his forgery arrest for shoplifting, assault, and possession of crack and marijuana. (Police have not yet revealed what Marvin did to violate probation.) What makes it doubly troubling is that Marvin was chosen to replace Henry Lyons as pastor of the church. Lyons, you'll recall, is the former president of the National Baptist Convention who is currently serving time for racketeering, grand theft, fraud, and tax evasion. The church is standing by Marvin. "Whether he was arrested Friday or he was not, nobody has changed his mind," assistant minister Joseph Harvey (once a very close ally of Lyons) tells the Associated Press. "The man is the pastor. He is going to be the pastor." But as Bethel member Maggie Davis once told the St. Petersburg Times, "If this was going to happen, we could have waited for Dr. Lyons." Meanwhile, Marvin was released on $5,000 bail.
Voucher battle is about to go national
"Bush is headed to Washington, and so are vouchers," reports the San Francisco Chronicle. Clint Bolick, one of the country's strongest voucher supporters, tells the paper, "Over the next few years, a lot of the action on school choice will take place in Washington, D.C.ラa complete shift. Most action has been in the states." It's clear that the Chronicle's writer, Nanette Asimov, hates the idea of school vouchers. "Despite broad public disapproval, vouchers may be coming soon to a school district near you," she begins. But take away the slant, and the bottom line is that the battle for school vouchers is about to take the national spotlight.
Greek Orthodox patriarch of Jerusalem dies at 77
Diodoros I, who last Christmas hosted dozens of Eastern Orthodox patriarchs and bishops in an unprecedented display of unity, died yesterday from complications of diabetes. The Greek Orthodox Church is the largest Christian denomination in Israel, and controls many of the Christian holy sites there. Diodoros had been patriarch since 1981.
When Jesus Met Harry and Sally
Evangelistic ministry Vision Orlando sent out more than 500,000 copies of the Jesus film on video to residents in Orange, Osceola, and Seminole counties. At least, they're pretty sure it was the Jesus film. Several families have complained that when they put the video in the VCR, they got the R-rated When Harry Met Sally instead. The Web allows you to compare: watch the Jesus movie, or read the script of When Harry Met Sally (though Weblog can think of at least one scene that's going to lose something in the transcription). Vision Orlando is blaming the dubbing house, which says only about 100 or so mislabeled copies of the Billy Crystal-Meg Ryan romantic comedy went out.
Related Elsewhere
See our past Weblog updates:
December 19 | 18
December 15 | 14 | 13 | 12
December 8 | 7 | 6 | 5 | 4
December 1 | November 30 | 29 | 28 | 27
November 22 | 21 | 20
November 17 | 16 | 15 | 14 | 13
November 10 | 9 | 8 | 7 | 6
November | 3 | 2 | 1 October 31 | 30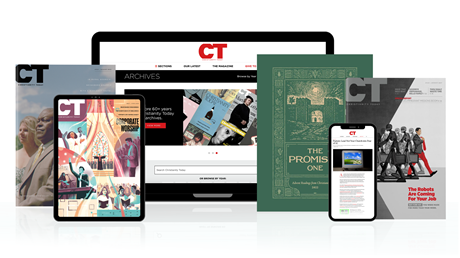 Subscribe to Christianity Today and get access to this article plus 65+ years of archives.
Home delivery of CT magazine
Complete access to articles on ChristianityToday.com
Over 120 years of magazine archives plus full access to all of CT's online archives
Subscribe Now
Bethel Metropolitan Baptist Church's Unfortunate Ministry to Convicts
Bethel Metropolitan Baptist Church's Unfortunate ...