During the past two weeks, Turkmenistan's political police have launched another harsh crackdown against its Protestant Christian citizens. At least four known believers in the capital of Ashgabad have been subjected to repeated beatings, electric shocks, partial suffocation and other forms of torture while under interrogation, prosecution and ongoing harassment.
The four Turkmen Christians were identified as Batir Nurov, 23; Babamurat Gaebov, 27; Shokhrat Piriyev, 27; and Umit Koshkarov, 25. Although Gaebov is single, the other three men are married and have children. All are members of a Protestant house church group in Ashgabad pastored by Piriyev.
According to accounts relayed to Compass from several sources, the crackdown was triggered on the morning of November 22 when police officers of the National Security Committee (KNB) investigating a car wreck found a box of Christian videos dubbed in the Turkmen language.
The previous evening, Nurov, Gaebov and Koshkarov had been driving from Tejen to Ashgabad with an American visitor when two tires blew out, flipping the car over. They all climbed out of the overturned car unharmed, except for a minor head injury sustained by Koshkarov, and flagged down a passing vehicle to return to their homes in Ashgabad.
When Nurov and Gaebov returned with Piriyev to the wrecked car the next morning to assess the damage, they were promptly put under arrest and taken to the nearest KNB offices for questioning. Later that day, the police traced Koshkarov from his treatment record at a local hospital the night before and arrested him at his home.
For three days the men were subjected to what one source described as "repeated sessions of beatings, electric shock and suffocation to the point of blacking out." They were allowed to return home each evening, In a judge's decision handed down on November 24, the four were excused from prison terms in exchange for oppressive fines, which they were forced to state in writing were "voluntary" donations of everything they owned as a "gift to the president of Turkmenistan."
All the identity documents of the four, as well as the ownership papers of their homes and cars, were confiscated by the authorities. Under threat of deportation, they also had to sign papers promising to leave Ashgabad and go back to their towns of official residency. Piriyev, who had recently bought a house, commented the night of the verdict, "I can stay in my house for now, but I don't know for how long."
They were released, one source said, with "a promise of harsher treatment in the future," which they admitted left them fearful for their families. Nevertheless, they walked out of the KNB building "telling their interrogators that they loved them," the source said.
Meanwhile, the American passenger in the car, a resident of Kazakhstan named Linda Buckley, was questioned the night after the wreck by eight KNB officers who came to Nurov's home where she was staying. Buckley told Compass they accused her of bringing in the banned Christian videos and distributing them, neither of which she had done.
Along with Bibles and any other Christian literature in the Turkmen language, "Jesus" videos are contraband in Turkmenistan and subject to confiscation.
"They accused me of spying, and they threatened me with trial and imprisonment," Buckley said from her home in Almaty, where she is a volunteer with the Spiritual Life Center, a registered organization with the Kazakh government.
Buckley, who was also present when the KNB questioned Nurov's wife, said they tried to intimidate her. "It was pretty clear that they were just trying to make her afraid, saying things like, 'We're beating up your husband now.'"
After she returned to Almaty on November 25, Buckley said the Turkmen Ministry of Foreign Affairs asked the tourist agency that had arranged her trip to supply them with a copy of her passport.
Compass has confirmed that some if not all of these believers were again summoned on November 30 and subjected to another extended session of torture and intimidation. "We have been promised more of the same," one said the next day. "We do not know how long we can withstand such treatment," he admitted.
The house church that Piriyev pastors was raided last February by KNB agents, who enforce the government policy criminalizing all unregistered religious groups. The police temporarily seized Piriyev's car as well as his Ashgabad residency permit.
The pastor had previously been labeled a "criminal" in a press attack in Adalet, an Ashgabad newspaper. He was listed in a September 24, 1999, article as being one of several religious minority leaders "involved in such criminal activities as illegal delivery and distribution of (imported religious books and videos) and conducting regular meetings in private flats."
Turkmenistan has the most repressive religious policy of any of the Central Asian republics. Only the Russian Orthodox Church and government-sanctioned Sunni Islam have been permitted to obtain official registration.
During the past two years, all foreign Christians known to be involved in religious work in the country have been expelled. One Protestant church and two Hare Krishna temples have been destroyed and members of the Baptist, Pentecostal, Seventh-day Adventist and Baha'i faiths subjected to police raids and large fines.
Copyright © 2000 Compass Direct
Related Elsewhere
Previous Christianity Today stories about religious persecution in Turkmenistan include:
Turkmenistan Refuses To Register Bible Society | Government confiscating Turkmen, Russian Scriptures. (March 16, 2000)
Turkmen Secret Police Deports Baptist Couple | More expulsions expected as efforts continue to stop 'illegal' religious activity. (March 15, 2000)
Turkmen Baptist Pastor Threatened with Prison | Two church members in Turkmenabad fired from jobs. (Feb. 8, 2000)
Turkmenistan Deports Two Baptist Pastors | Christians arrested last week sent to Ukraine (Dec. 29, 1999)
Pastor Faces Thursday Trial In Turkmenistan | Baptist minister accused of teaching children religion without parental consent. (Dec. 10, 1999)
The U.S. Department of State Annual Report on International Religious Freedom examines Turkmenistan religious freedom from political and societal perspectives, and remarks on what the U.S. government has done in response to human rights infringements in the country.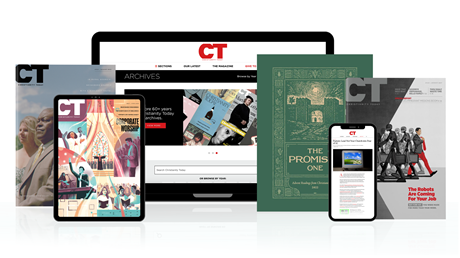 Subscribe to Christianity Today and get access to this article plus 65+ years of archives.
Home delivery of CT magazine
Complete access to articles on ChristianityToday.com
Over 120 years of magazine archives plus full access to all of CT's online archives
Subscribe Now
Turkmenistan Police Torture Four Christians
Turkmenistan Police Torture Four Christians