It's very tough for us North Americans to imagine Mary and Joseph trudging to Bethlehem in anything but, as Christina Rosetti memorably described it, "the bleak mid-winter," surrounded by "snow on snow on snow." To us, Christmas and December are inseparable. But for the first three centuries of Christianity, Christmas wasn't in December—or on the calendar anywhere.
If observed at all, the celebration of Christ's birth was usually lumped in with Epiphany (January 6), one of the church's earliest established feasts. Some church leaders even opposed the idea of a birth celebration. Origen (c.185-c.254) preached that it would be wrong to honor Christ in the same way Pharaoh and Herod were honored. Birthdays were for pagan gods.
Not all of Origen's contemporaries agreed that Christ's birthday shouldn't be celebrated, and some began to speculate on the date (actual records were apparently long lost). Clement of Alexandria (c.150-c.215) favored May 20 but noted that others had argued for April 18, April 19, and May 28. Hippolytus (c.170-c.236) championed January 2. November 17, November 20, and March 25 all had backers as well. A Latin treatise written around 243 pegged March 21, because that was believed to be the date on which God created the sun. Polycarp (c.69-c.155) had followed the same line of reasoning to conclude that Christ's birth and baptism most likely occurred on Wednesday, because the sun was created on the fourth day.
The eventual choice of December 25, made perhaps as early as 273, reflects a convergence of Origen's concern about pagan gods and the church's identification of God's son with the celestial sun. December 25 already hosted two other related festivals: natalis solis invicti (the Roman "birth of the unconquered sun"), and the birthday of Mithras, the Iranian "Sun of Righteousness" whose worship was popular with Roman soldiers. The winter solstice, another celebration of the sun, fell just a few days earlier. Seeing that pagans were already exalting deities with some parallels to the true deity, church leaders decided to commandeer the date and introduce a new festival.
Western Christians first celebrated Christmas on December 25 in 336, after Emperor Constantine had declared Christianity the empire's favored religion. Eastern churches, however, held on to January 6 as the date for Christ's birth and his baptism. Most easterners eventually adopted December 25, celebrating Christ's birth on the earlier date and his baptism on the latter, but the Armenian church celebrates his birth on January 6. Incidentally, the Western church does celebrate Epiphany on January 6, but as the arrival date of the Magi rather than as the date of Christ's baptism.
Another wrinkle was added in the sixteenth century when Pope Gregory devised a new calendar, which was unevenly adopted. The Eastern Orthodox and some Protestants retained the Julian calendar, which meant they celebrated Christmas 13 days later than their Gregorian counterparts. Most—but not all—of the Christian world now agrees on the Gregorian calendar and the December 25 date.
The pagan origins of the Christmas date, as well as pagan origins for many Christmas customs (gift-giving and merrymaking from Roman Saturnalia; greenery, lights, and charity from the Roman New Year; Yule logs and various foods from Teutonic feasts), have always fueled arguments against the holiday. "It's just paganism wrapped with a Christian bow," naysayers argue. But while kowtowing to worldliness must always be a concern for Christians, the church has generally viewed efforts to reshape culture—including holidays—positively. As a theologian asserted in 320, "We hold this day holy, not like the pagans because of the birth of the sun, but because of him who made it."
Elesha Coffman is associate editor of Christian History.
Related Elsewhere
More Christian History, including a listing of events that occurred this week in the church's past, is available at ChristianHistory.net. Subscriptions to the quarterly print magazine are also available.
See more on how December 25 became Christmas at Britannica.com and U.S. News.
One of the church's earliest and best Christmas sermons, preached by Gregory of Nazianzus (A.D. 329-389) in Constantinople's Church of the Resurrection on December 25, A.D. 380, appeared on the Christianity Today Web site last Christmas.
Christian history lovers might also be interested in what C.S. Lewis said about Christmas.
A great, but pricey, resource on the history of Christmas is The Encyclopedia of Christmas.
Christian History Corner appears every Friday at ChristianityToday.com. Previous Christian History Corners include:
One Book Everyone Should Buy | Or at least know about, anyway. (Dec. 1, 2000)
The Saga of St. Chad | A tale of political maneuvers and positioning. Sound familiar? (Nov. 22, 2000)
Accidental Radical | Jan Hus's ideas seem normal now, but in his age they were revolutionary enough to merit death. (Nov. 17, 2000)
Top 10 Reasons to Read This Book | A list of Christian books that changed the century introduces authors and their impact on evangelicalism. (Nov. 10, 2000)
The Un-Denomination | The Southern Baptist Convention has been historically Un-Conventional. (Nov. 3, 2000)
Soul Crisis at the Conference on Faith and History | Academics gather asking questions like, "What does 'Christian history' actually mean?" (Oct. 27, 2000)
Case of the Missing Relic | A piece of Jesus' cross is stolen from a Toronto cathedral—or is it? (Oct. 20, 2000)
The Politicians' Patron | Is Thomas More a saintly model? (Oct. 13, 2000)
General Revelations | Reconsidering Robert E. Lee and Ulysses S. Grant. (Oct. 6, 2000)
Olympia Revisited | Christianity and the Olympic Games were once competitors, but at other times have been on the same team. (Sept. 29, 2000)
Weighty Matters | Gwen Shamblin's teachings sound an awful lot like some in the early church—and not in a good way. (Sept. 22, 2000)
In Errancy | Want to know what's wrong with the Western church? Start with a list. (Sept. 15, 2000)
"Kill Them All" | The medieval church was deadly serious about eliminating 'heretical' Cathars. (Sept. 11, 2000)
All Together Now | What qualifies as an ecumenical council anyway? (Sept. 1, 2000)
Soviets, Schism, and Sabotage | How the government manipulated division in the Russian Orthodox Church. (Aug. 18, 2000)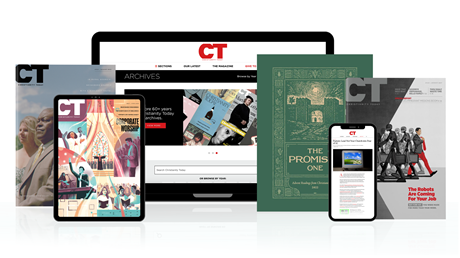 Subscribe to Christianity Today and get access to this article plus 65+ years of archives.
Home delivery of CT magazine
Complete access to articles on ChristianityToday.com
Over 120 years of magazine archives plus full access to all of CT's online archives
Subscribe Now
Why December 25?
Why December 25?