Superman is most assuredly a Protestant, writes Andrew Smith, who pens a "Captain Comics" column for the Scripps Howard News Service. But there's a lot of debate over Batman (I've read enough of his pontificating over man's fallen nature to swear he's some breed of Calvinist). Overall in Smith's rundown of superhero religion, Judaism comes out on top. "Captain Comics" doesn't note that this makes more sense when you consider the "fathers" of the modern comic superhero, Superman's Jerry Siegel and Joe Shuster, were both Jewish.
The Star's three-part series on priests with AIDS has been garnering headlines worldwide. But in an article for Newswatch, a site by the Center for Media and Public Affairs (CMPA), David Murray (research director at the Statistical Assessment Service and S. Robert Lichter (president of CMPA) say the newspaper's survey results are too flawed for to make the assertions the paper made. "There may or may not be a distinctive problem with AIDS among US Catholic priests, but this study cannot provide the evidence needed to determine whether this is so," they report.
It took several days, but Salon.com and its sex columnist Dan Savage are being taken to task for his article about trying to infect presidential candidate Gary Bauer with the flu—which also included a note that he voted in the Iowa caucuses despite his official residence in Seattle. Polk County, Iowa Prosecutor John Sarcone " is looking into" voter fraud charges. Meanwhile, Salon editor David Talbot says the site didn't send Savage out to infect Bauer, but that he considers it "a kind of spirited and funny gay hyperbole. … An Internet magazine, unlike establishment publications, ought to embrace such 'gonzo journalism.' "
The state's Public Health Council ruled that last year's summer camp regulations unduly burden church Vacation Bible Schools (VBS), which are "too small and short-lived" for the rules. One caveat, though: churches can't call VBS "camp" in any way. (But can they call it "school" without being subject to state education guidelines?)
"We had to fight to deny tax-exempt status to Bob Jones University unless it changed that policy [prohibiting interracial dating]," Bill Bradley said in a speech Thursday. "And yet the Republican candidate for president yesterday goes to Bob Jones University to make a speech about what conservatism is in this county. Well, ladies and gentleman, that is what conservatism is, Bob Jones University, and it should be rejected."
The World Evangelical Federation's Task Force on Abuse Against Women is targeting sexual trafficking and abuse against women inside and outside the church. One astonishing finding of the task force is that the rate of spousal abuse in India's evangelical community may be as high as 75 percent.
"Hundreds of thousands of single Christians are estimated to gather in such groupings," reports staff writer Christina Nifong in a story that tries to be fluffy and inoffensive but ends up terribly annoying. "They gather for many of the same reasons that brought you here tonight. Because they are lonely. Because they are searching for an uplifting experience. Because they are looking for a mate who shares their values." She doesn't mention those crazy people who go to church for any spiritual reasons. It's just an alternative to the bar scene.
A Washington Post story highlights obligatory Beliefnet and iBelieve.com, but apparently ChristianityToday.com isn't as newsworthy as Church World Service's disasternews.net. Oh well.
Related Elsewhere
See our past Weblogs: February 3 | 2 | 1 | January 31 January 28 | 27 | 26 | 25 | 24 January 21 | 20 | 18 | 17 January 14 | 13 | 12 | 11 | 10 January 7 | 6 | 5 | 4 | 3 December 30 | 29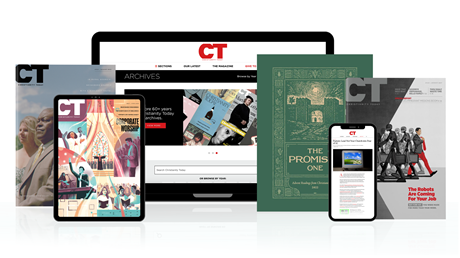 Annual & Monthly subscriptions available.
Print & Digital Issues of CT magazine
Complete access to every article on ChristianityToday.com
Unlimited access to 65+ years of CT's online archives
Member-only special issues
Subscribe
Sure Superman's Protestant But What's Batman?
Sure Superman's Protestant But What's Batman?