"Since JFK, candidates have been Mormon (Orrin Hatch), Jewish (Arlen Specter), Eastern Orthodox (Michael Dukakis), and Catholic (Ted and Bobby Kennedy, Bruce Babbitt, Pat Buchanan, and—surprise—Alan Keyes, among others)," writes David Plotz,. "[But] there are good reasons to believe that the Protestant monopoly will persist." Prejudice has little to do with it, writes Plotz, who asked a couple weeks ago if God cares about the Superbowl. Mainly it's demographics, politics ("Most Catholics are Democrats and are pro-life, but a pro-lifer can't win the Democratic nomination"), and other such reasons. "By itself, none of the obstacles to a Catholic or Jewish president is insurmountable. But collectively, they block most potential candidates from even considering a run, and they cripple those who make the attempt. Democrats would have to find a fairly conservative Catholic or Jew, who's not from the Northeast, who is pro-choice but also publicly religious, who is comfortable talking about personal faith, and who is connected to lots of cash. Republicans would have to find a well-connected Catholic who can thrill Southern evangelicals with his conservatism but won't scare away moderates with his strong pro-life views. Good luck!"
At a South Carolina rally, Bush said "his public musings on his Christian faith were not an argument that his devotion made him a better presidential candidate or a finer man," reports the New York Times.
"South Carolina is not the kind of place where religious issues hover silently beneath the surface, and the fervent campaign for the religious right is as likely to veer into predestination as it is into tax cuts," reports David Firestone in The New York Times.
Patriarch Alexy II of Moscow accused the Vatican of "expansionism" Friday, at a time when Pope John Paul II is trying to improve relationship between Orthodox and Catholics. Recent evangelistic efforts have "blackened our relations with the Roman Catholic Church," Alexy told Religions Info, a Greek magazine. "Religions must come into contact with each other, but not fight for occupation and dominance."
Ralph Nader hooks up with Phyllis Schlafly! Jim Wallis seen with Arianna Huffington! The Dallas Morning News takes a look at the latest items in the "politics makes for strange bedfellows" ledger and finds the tie that often binds is past failure. "Those of us on the left and the right lose all the time," said Gary Ruskin, director of Nader group Commercial Alert. "In our frustration, we began to notice what we had in common." According to activists, reports Christine Wicker, "the number of strange bedfellows engaging in a few careful cuddles around shared principles appears to be growing."
As Pope John Paul II prepares a trip to Israel next month, the Catholic church is seemingly stepping up its support of an independent Palestinian state. "All people must enjoy the same rights and statehood, an Israeli and Palestinian state where Palestinians can live in freedom," Jerusalem Patriarch Michel Sabbah, the highest ranking Catholic official in the Holy Land, told the Associated Press. The Roman Catholic Church forged official relations with the PLO in 1994.
Rowan Smith, Dean of Cape Town's St George's Cathedral, appeared in an ad for the area's Gay and Lesbian film festival fully dressed in his vestments—with a devil's tail peeping out beneath his robes. Archbishop Njongonkule Ndungane (one of the archbishops involved in the controversy over the irregular consecrations of two American bishops) issued a stern rebuke and Smith, who is openly homosexual, apologized.
So says a recent survey commissioned by Total Living Network, a religious broadcasting company. Only a third?
"Churches don't get the rap thing," says Eugene Rivers III, the conference's featured speaker. "They still don't get rock 'n' roll 50 years later. They still don't get Elvis Presley."
"When they log on to the internet, users of the free access service are directed to the church's portal, which offers traditional information for the faithful such as mass times and a gospel of the day," reports Financial Times. "As well as links to an insurance company, visitors can also buy a range of Catholic memorabilia, such as a marble bust of … Brazil's patron saint, or a porcelain angel with a bunch of grapes." But more than e-commerce, the site is seen as a new way of evangelizing the country.
Related Elsewhere
See our past Weblogs: February 14 February 10 | 9 | 8 | 7 February 3 | 2 | 1 | January 31 January 28 | 27 | 26 | 25 | 24 January 21 | 20 | 18 | 17 January 14 | 13 | 12 | 11 | 10 January 7 | 6 | 5 | 4 | 3 December 30 | 29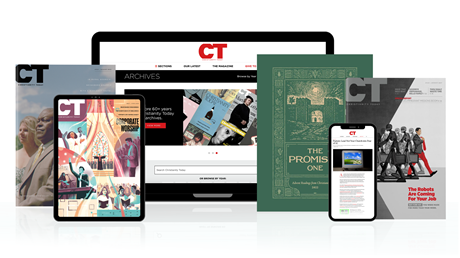 Subscribe to Christianity Today and get access to this article plus 65+ years of archives.
Home delivery of CT magazine
Complete access to articles on ChristianityToday.com
Over 120 years of magazine archives plus full access to all of CT's online archives
Subscribe Now
Why the Presidency Will Stay Protestant
Why the Presidency Will Stay Protestant