Today's New York Times contains a column by William Safire denouncing World Magazine's current cover story of John McCain: "When its editor is Bush's trusted Austin adviser; when its reporter bears the name of the school being abused as a Bush tool in the campaign; when its not-for-profit's funds are used to print, illustrate and distribute a hatchet job on a political opponent to a list of officials and media biggies on a primary election eve—then such backdoor backing of candidate Bush strikes me as religio-political sleaze in action." Expect the magazine to respond in its next issue. And the one after that. …
The Call to Renewal conference attendees vow to "prioritize people who are poor." "We want to put poor people on the national agenda—they're not there now," says Call to Renewal founder Jim Wallis. (The Covenant to Overcome Poverty is available on the Call to Renewal site)
The Barrington, Illinois church already seats 4,500. But the church has grown 20 percent over the last five years, and so it's rushing to build a $50 million auditorium that will seat nearly 9,000.
So says the lead sentence in a Times of Zambia article about a conference on "The role of religion/church in the fight against HIV/AIDS." The Times coverage of the conference echoes the current Christianity Todaycover story.
The U.S. Commission on International Religious Freedom wants to stop Sudan from using American stock markets to finance its projects. But the Treasury Department says trade sanctions can't be applied against capital markets. Expect this battle to heat up.
According to an opinion piece in yesterday's Chicago Tribune, that's what South Carolina board of education member Henry Jordan said about potential Muslim and Buddhist opposition to posting the Ten Commandments in schools. The article was written by Steven Lubet, a law professor at Northwestern University.
"Some evangelical clergy enforce such demanding preparation courses that all but the most determined parents are put off churchgoing for good," says the London Times. "Liberal clergy will baptise almost any baby with no preparation for the parents, which can mean that the parents feel no obligation to return." The upcoming General Synod will face a motion aimed at making baptism preparation more consistent.
Easther Bennett, of the British gospel group Eternal, was taping a religious program for the BBC when a member of the audience shouted, "You should be more modestly dressed in the House of the Lord!" Bennett, dressed in a low-cut top according to UK Web site dotmusic, immediately left the show in tears. The incident will be edited out of the BBC airing.
"These incidents do not reveal a sectarian strife," said Egyptian Organization for Human Rights President Abdelaziz Mohammed of his organization's preliminary report about the January riots in Al-Koshh that left 23 dead. "These incidents were spontaneous, and they were transient. Things of the sort happen every day in the villages of Upper Egypt … which is known for its zealousness and for people being hot-tempered." Things of the sort happen every day? From the UPI story, the EOHR report seems to contradict everything that's known about the riots.
First it was the National Council of Churches. Now it's K.A. Paul, founder of Gospel to the Unreached Millions. Paul, in Miami for a series of "Good News Crusades," called a news conference to say Elián should stay in the U.S. "He sat beside local pastors of various denominations who have said they do not want Elián to return to Cuba," reports The Miami Herald.
"Unlike in past elections, my phones haven't been ringing off the hook from moral concerns groups; my mailbox isn't stuffed with their postcards," says often-quoted scholar of the religious right James Guth, a political scientist at Greenville's Furman University in Greenville. "I've seen absolutely nothing this year. And I'd be surprised if it was different in any other state." Some activists are frustrated. Others are tired. Others ask why they should push their agenda when the candidates seem to be doing a fine job of answering their concerns without much need for activists.
The fight over whether or not U.S. House leadership were swayed by anti-Catholicism in choosing the next House Chaplain only illustrates why something as divisive and personal as faith should be privatized, not institutionalized in an official government office, says Post columnist Richard Coen. "The members have a chaplain, but if this fight continues much longer, they're going to need a medic as well," he says.
Related Elsewhere
See our past Weblogs: February 16 | 15 | 14 February 10 | 9 | 8 | 7 February 3 | 2 | 1 | January 31 January 28 | 27 | 26 | 25 | 24 January 21 | 20 | 18 | 17 January 14 | 13 | 12 | 11 | 10 January 7 | 6 | 5 | 4 | 3 December 30 | 29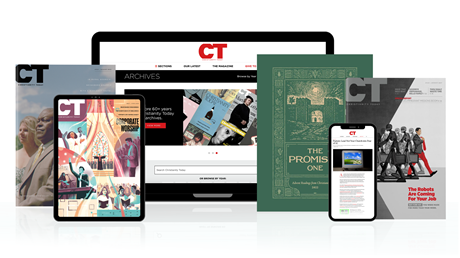 Annual & Monthly subscriptions available.
Print & Digital Issues of CT magazine
Complete access to every article on ChristianityToday.com
Unlimited access to 65+ years of CT's online archives
Member-only special issues
Subscribe
Church finally taking stand on AIDS says Times of Zambia
Church finally taking stand on AIDS says Times of Zambia