As I read Anne Fadiman's book, The Spirit Catches You and You Fall Down (Farrar, Straus and Giroux, $14, paper), which describes the clash between a Hmong immigrant family and their California health-care providers, a nagging thought gnawed at my conscience. Will the sick aliens I care for with slim-to-no command of English and little appreciation of American medicine see the love of God mirrored in the way I carry out my art of practice? Despite vestigial remnants of Judeo-Christian ethics in American health care, loving the sick stranger in our medical midst is the exception today, not the rule. When health care is functioning at its secular best, human tolerance is substituted for divine love, and government entitlement is offered instead of godly neighborliness. In the end, all too many recipients of health care today feel neither tolerated nor entitled, let alone loved.Award-winning journalist Fadiman (who succeeded Joseph Epstein as editor of The American Scholar) tells the story of Lia Lee and her family with gusto and uncommon literary grace. When Lia was three months old, she began to suffer from chronic seizures. Her family attributed the malady to evil spirits, in keeping with the animistic beliefs of traditional Hmong culture. Hence the arresting title of Fadiman's book, a translation of quaug dab peg, the Hmong term for epilepsy: the spirit catches you and you fall down.As Fadiman chronicled the family's medical misadventures, she chose to stand at a point of cultural tangency where she hoped to see both sides more clearly than if she were to stand in the middle. Come to a modern American hospital if you want to see faith marginalized. The separation of church and hospital today often feels like a higher barrier than the separation of church and state. Don't expect most American hospital workers to think about your faith when next you roll through the Emergency Room door, unless you're a member of a sect notorious for not seeing eye-to-eye with the medical profession. Even then it's a toss up whether the legal department gets a call before the department of pastoral care.Fadiman did not expect to find God in the Hmong American medical story. Nor did she find anyone or anything in Merced Community Memorial Hospital who brought a loving God to her mind. Most of the spirits Fadiman describes are anything but holy. And too often, the alien experienced the unholiest aspects of an impatient health care system."Love the alien as yourself," God told the Jews when they were almost to their own promised land. The alien was special. "You were once aliens in Egypt" (Leviticus 19:34). By the time the Jews had finished their wandering, they had learned firsthand what it meant to be both insider and outsider. They were not to treat aliens who chose to live with them the same way they had been treated by the Egyptians. In the name of God, the alien deserved their love. The alien also deserved the health benefits of the dietary and hygenic laws that Yahweh had given them. Yahweh's people were to be a light to the nations.Several historians have pointed to the remarkable analogies between the diasporized Jews and the wandering Hmong. For one brief period in their history, the Hmong had an independent homeland in China, but for most of their history they have migrated throughout Southeast Asia, resisting assimilation. With the fall of Indochina to the communists, 150,000 Laotian Hmong highlanders fled to Thailand, and later resettled in the United States.One Catholic missionary called the Hmong "allergic to all kinds of authority." Perhaps it was inevitable that this allergy would intensify when they wandered to a country where medicine has taken on a godlike form of authority.Like every other immigrant group, Hmong Americans live within short view of two dramatically different cultures. And where the edges meet, change is bound to happen. The author portrays the Hmong as a people resistant to change. Here, Hmong Americans would disagree. There are assimilators in their midst as well, newcomers who listen and measure and wait for someone who can listen to their struggle.As generous as Fadiman is in her tolerance of animistic beliefs, she permits her own stereotyped opinions to flavor her account of any Christian interaction with the Hmong. Without further research, she accepts at face value a social worker's assertion that there is no such thing as a genuine Hmong conversion to Christianity. A network of Hmong Christian churches throughout the part of central California where Fadiman performed her research was in easy reach.Not only are Christians set in a critical light at every mention, but also Fadiman fails to recognize how the Christian story fulfills the Hmong belief that a messianic figure will come and save them. This "good leader" will be a savior sent to earth from heaven by the "King of kings" to save all the world. The relevance of this "shadow truth" to the Christian message has not escaped the notice of animistic shamans who wish to control the Hmong with threats of evil spirits, or communist ideologues who feel threatened by the message of hope that the Hmong find in "welcoming the King."Among their own gods, the Hmong have not found a welcome:
They believe in a lot of spirits but none of them is a solid god. Familiar spirits always cause trouble and bring them all kinds of mischief and problems. They demand all kinds of offerings and sacrifices. The smallest offering is a chicken, then a goat, a pig and the biggest will be a buffalo. But even though they offered all kinds of sacrifices nothing was solved. They were still sick, poor and hungry from one generation to the next. They never dared to quit worshipping them. Evil spirits exist in their lives just like cohabitants or monstrous animals and are both a nuisance and costly for their lives. They only hate but never love or admire them.
According to the postmodern paradigm to which Fadiman apparently subscribes, all beliefs—including those of the animists—become truth for the believer. No one story is ascribed more validity than another. But not all stories are equally helpful, much less true. It is no wonder that postmodernism has not only challenged religion but medicine as well. The growing belief in alternative health modalties that have not been subjected to scientific methodology is one reflection of this new challenge to our culture. Postmodernism elevates shamanistic beliefs of primitive cultures to equal status with the best that Western medicine has to offer. But does it make a difference that sacrificing a chicken does not control epileptic seizures? Are doctors who believe in medication rather than sacrifice disrespectful to the immigrant culture when they clearly and persistently make their belief in Western medicine known?Fadiman calls her tale one of collision of cultures, and surely it is. What we don't learn in her narrative is the impact on health when medicine is practiced as a gift from a loving God. Ironically, it takes a willing alien to demonstrate the healing miracles that can result from such an approach to medical practice.Famed leprosy specialist Paul Brand chose to be an alien amongst aliens. In The Gift of Pain, written with Philip Yancey (Zondervan. $12.99, paper), Brand tells of an encounter his missionary parents had with an animistic shaman in the hills of India. On the surface, there is a conflict of cultures.Suspecting that these Christians might undermine his livelihood, the village priest threatened that any new converts to Christianity would incur the wrath of the evil spirits. To fulfill his prediction and demonstrate his spiritual powers, he poisoned their cows.In 1918, a deadly flu epidemic that was circling the globe reached that highland. The Brand family traveled from village to village on horseback with soup and purified water, caring for the sick and dying. When the shaman and his wife themselves fell sick, these "enemies" nursed them back to health. None of the villagers had cared enough to help. As a result, the shaman chose to have his children raised as Christians.In praising Brand's thematic autobiography, Dr. Richard Selzer, a self-professed unbeliever, describes the missionary doctor as "a revered living icon." Selzer uses the word "icon" in its most precise meaning, not our pop perversion of the term. He means neither hero nor idol. An icon is an object on earth that reminds us of God. The way Paul Brand did his work as a doctor, even an unbeliever could see a reflection of the God he served.In her preface, Fadiman poses a question she has pondered ever since she began her study of the Hmong people: What is a good doctor? Nowhere in Fadiman's book does she offer even a hint that she has found an answer. A decade after her studies first began, Anne Fadiman is still gnawing. But there was a hint of an answer in a story told to her by an anthropologist: A Hmong patient who required special care didn't ask his primary care doctor to refer him to a skilled or famous specialist. Instead, he asked for "someone who would care for me and love me."That is the way medicine was intended to be practiced. We need to replace our health-care system's soul-robbing "evil spirits" with the Spirit of a loving God. When the Holy Spirit catches you, even the alien will know that there is love.Diane Komp is professor of pediatric oncology at the Yale University School of Medicine and the author of a number of books, including Anatomy of a Lie (Zondervan).
Related Elsewhere
Visit Books & Culture online at BooksandCulture.comBooks & Culture Corner appears Mondays at ChristianityToday.com. Earlier Books & Culture Corners include:Frankenstein's Monster Returns | A discussion of recreating consciousness reminds us not to skip the footnotes. By John Wilson The New Age Is Over | Now that Neopaganism has replaced the New Age Movement, flaws in evangelicals' criticism are obvious. By Irving Hexham The Grove Press Bible | A former porn publisher gets in the Good Book biz. By John Wilson Everything Old Is on TV | Antiques Roadshow asks, 'What do you want to know today?' By Elesha Coffman Cockroaches for Jesus | America's most respected newspaper stoops to cartoon history at millennium's end. By John Wilson 1984, 50 Years Later | Stop the spinning, I'm getting dizzy. By John Wilson See earlier features by Diane Komp in both Christianity Today and Books & Culture:Spinning the Truth | Why we find a multitude of ways to avoid telling painful truth. (CT, Dec. 7, 1998) The Anatomy of a Lie (B&C, September/October 1998) The Battle over Assisted Death Is Just Starting (B&C, Nov/Dec 1997, page 33, print only) Life Wish | In the debate over physician-assisted suicide, is anyone listening to the soft voices of the dying and infirm? (CT, March 3, 1997)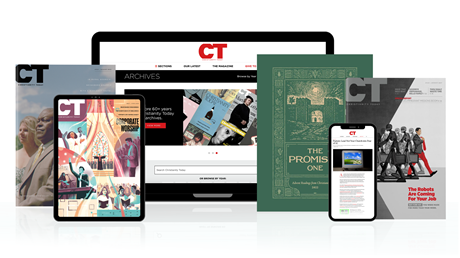 Annual & Monthly subscriptions available.
Print & Digital Issues of CT magazine
Complete access to every article on ChristianityToday.com
Unlimited access to 65+ years of CT's online archives
Member-only special issues
Subscribe
Loving the Alien in Sickness and in Health
Loving the Alien in Sickness and in Health