Coptic Orthodox Christmas was celebrated in the southern Egyptian village of Al-Koshh in the evening of January 6 in an empty church. The main church building in this village with a Christian majority, 323 miles south of Cairo, was draped in black. Villagers were grieving the loss of at least 21 Christians who had been brutally murdered in a shoot-out on Sunday, January 2. The death toll could still rise because some people are still missing and others are fighting for their lives in local hospitals.The killings were ignited by a conflict between a Christian trader and his Muslim customer in Al-Koshh. Friends of both parties joined in along religious lines and the conflict quickly developed into a communal conflict. There was fighting in the streets, shops were looted of the generally wealthier Christians in the village but, until Sunday, the material damage did not result in loss of lives. Eyewitnesses say the police intervened on Friday and stopped the fighting. The skirmishes, however, broke out again on Saturday and again the police intervened and stopped the fighting.Christians went to the village church on Sunday for a funeral of someone who had died a natural death. Rumors were spread that the person who was going to be buried was in fact killed by a Muslim, and when the church bells rang at around 10.30 a.m., shooting from the rooftops erupted; both Muslims and Christians were using fire arms. One Christian went up into and started firing from the church tower.Father Gabriel of the Coptic Orthodox Church in Al-Koshh says the barrage of gunfire lasted some three hours. On one moment it was in one side of the village and at another moment it was at another location in the village. At the end of it 20 Christians, including children, women and teenagers were dead. Later one person died in a hospital of his wounds. Christians who survived the attack say they know their attackers and they had seen their own neighbors involved in the killings. They also believe they had been deliberately targeted because of a previous incident in 1998 (in which two Christians were killed), which was followed by massive arrests of Christians at that time.Hours after the attack, Pope Shenouda, head of the Coptic Orthodox Church, sent Bishop Marcos and Bishop Serabamun from Cairo to Al-Koshh to investigate the matter. They presented a report to the Pope, Dr. Usama el-Baz, President Hosni Mubarak's advisor for Political Affairs and General Salah Salama, the head of Egypt's Central Security Agency.The report describes the horror in Al-Koshh. Bishop Marcos said he had still heard some distant shooting and saw people looting burned out houses during his investigation. Bishop Marcos firstly blames the poisoned atmosphere between the Muslim and Christian inhabitants of Al-Koshh for the incident. "How else can one explain that the fight between a Christian and a Muslim results in such an outburst of communal violence?" asks the bishop.Just one week prior to the massacre the Egyptian weekly Al-Musawwar wrote a lengthy article about the peace and harmony between Muslims and Christians in Al-Koshh. Al-Musawwar is known for its moderate stance on sensitive religious issues. It is also known for its sincere desire to bring Muslims and Christians together, but its last article on Al-Koshh was perhaps more of an example of the widespread belief in Egypt that discussing tensions tends to fuel them while illustrating harmonious relations helps to further the cause of unity between Muslims and Christians.The Al-Musawwar is indicative of the tendency to neglect underlying signals in society: although outward appearances may appear peaceful, inwardly villagers may be burning with anger and even hatred. After the massacre, Egyptian authorities reported again that "peace has been restored." There is indeed no more fighting and several Muslim and villagers visited each other during the Christian and Muslim feast days but feelings of distrust, anger and hate among many of them are greater then ever.Both local Muslims and Christians say Muslims and Christians were living in peace in this predominantly Christian village before August 1998 when two Christians were killed in a fight during a gambling brawl. This is widely seen as the moment when tensions between the two communities started. Days after the killing, Christians accused a Muslim family of the murders without being able to provide convincing evidence.The local police feared the accusations could lead to communal conflict and believed the killer was a Christian. In an effort to find the murderers, hundreds of Christians were interrogated. The Christians of Al-Koshh were in September 1998 less upset about the killing than the massive and often brutal arrests of villagers by the police. Many of them claimed to have been tortured. It was a charge the police denied but Egyptian Muslims and Christians argued heavy-handed tactics must have been used because Egyptian police are known for their rough interrogation methods.Christians responded to the torture by making their allegations public in the West. The Egyptian Organization for Human Rights (EOHR) and others supported their claims about maltreatment and torture. Several of the villagers' stories, however, were exaggerated and thus did not lend credibility to their claims. The EOHR, Bishop Wissa (the local bishop responsible for Al-Koshh)and others firmly believed that the police involved have not been appropriately reprimanded and this situation has led to a feeling of mistrust among villagers concerning their personal safety in Al-Koshh.Pope Shenouda's secretary, Bishop Yo'annis, said in November 1998 that some of the international reporting about Al-Koshh had exaggerated the situation to such an extent that these reports themselves contributed to communal tensions in Egypt. The Egyptian media generally explained the negative foreign reporting as an attack on Egypt. They often accused foreign Copts and Western Christian human rights organizations of instigating this negative press coverage.The area's Coptic Orthodox Bishop Wissa was often seen by government officials in Egypt as the source most responsible for feeding exaggerated negative reports to the foreign press and human rights campaigners. These, in turn, were criticized in the Egyptian media, which also helped to fuel negative feelings among Muslims in Al-Koshh, who, more than Muslims elsewhere, felt they were targeted for attack by these foreign media reports.Christian anger in turn increased because they felt that their complaints about the rough police interrogation had been brushed away by the government. Some of the officers who had been responsible for the brutal interrogation of hundreds of villagers had not even been removed from their posts and were still in position when the recent killings happened.A Protestant pastor from the area said days before the killings that he felt Christians in Al-Koshh had become proud because they had been able to garner so much international attention for their case. He also said Christians were rebuilding a church in Al-Koshh without even bothering to ask for government permission, which is required by law but often not carried out because such permits are difficult to obtain. When Bishop Wissa was asked about the church building he responded with an indignant "So what?" The Protestant clergyman said he believed such attitudes helped to inflame feelings among local Muslims and the authorities.Egyptian journalist Mohammed Salah says in the January 6 issue of the Los Angeles Times that Muslims apparently felt that the Copts were getting uppity, so it was time to "knock them down hard."A Muslim journalist from Belyana, the seat of Bishop Wissa, said both Muslim leaders and Bishop Wissa had been speaking against one another. A government official in Cairo even went as far as to say that Bishop Wissa should be removed. This, however, would not be possible in the Coptic Orthodox church structure. Several bishops commenting on the situation said, "each bishop is a king in his own bishopric and remains in function until his death."Bishop Wissa is also highly controversial in his own church. Several bishops called him undiplomatic. Some, such as Bishop Bachoum of Sohag, do this in public while most others prefer to voice their criticism off the record. Some Christians call Bishop Wissa emotional and say he has been using inflammatory language.But the criticism is not universal. Many, mainly among ordinary Coptic believers and priests, call him a strong man who defends the rights of his people and who doesn't hesitate to call a spade a spade. Why, some say, should Bishop Wissa not use "undiplomatic" language because some Muslim sheikhs are also undiplomatic or even use aggressive language which, as long as it is not turned against the government, rarely has consequences for them.The activists among the Copts also believe that they have achieved important changes when they confronted the Egyptian government with human rights violations against Christians. Joseph Assad of the Washington, D.C.-based Freedom House has argued that international attention has improved conditions for Coptic Christians. "People are able to repair churches. More permits are being given," he said in a January 5 article for the online news site Newsroom.Christian leaders in Egypt confirm Assad's words but caution he should distinguish between improvements on the level of the central government and feelings at the grassroots level. "These feelings are not addressed by international attention but they need to be addressed in Egypt" says Bishop Marcos.Eyewitnesses, local priests, Bishop Marcos, Hafez Abu Seada of the Egyptian Organization for Human Rights and journalists who visited the scene believe the killings were not only the result of a poisoned climate but also the virtual absence of the local police at the time the murders took place. The fighting began on Friday while the murders took place on Sunday.Such observers have asked why the police failed to call for reinforcements from the provincial capital Sohag and why they remained idle when Christians were killed. But officials responded that the shootings were mainly on the rooftops and each time in a different part of the village, which made it extremely difficult for them to interfere.Nabil Osman, head of Egypt's State Information Service, said it is too early to accuse anyone. He added it was imperative to wait for the results of the investigations. "Once the perpetrators are found, they will be brought before court and they will be severely punished," Osman said, his voice full of anger about the murders. 86 people have thus far been arrested. Among them are people who have been identified by their victims.Bishop Marcos has confidence in the current investigations:
"This time President Mubarak is listening with two ears. He is informed by the church and his own security service which is unlike the previous time about Al-Koshh when he was only informed by his own security service."
The Egyptian Cabinet discussed the tensions and it is expected stiff measures will be taken. Pope Shenouda has not made any formal public statement on the murder and waits for further official government response. Meanwhile some Muslim businessmen from the governorate promised to repair the lost property of Christians in el-Koshh. Some Christian traders told journalists they wanted to leave Al-Koshh for Cairo. The priests asked Bishop Marcos and Bishop Serabamun to be removed to Cairo. The massacre could very well trigger a movement of Christians to Cairo and other cities, which in turn would reduce the percentage of Christians in the area in the coming years.It is not the first time in Egypt that a poisoned social climate caused a civil conflict to develop into communal violence. But the killing in Al-Koshh was on a scale Egypt has not seen since the late 1970s. A conflict between a Christian and a Muslim trader in the Delta village of Dimyana in the summer of 1995 brought thousands of Muslims to the streets and led to the death of seven Christians. False rumors in another Delta village, Kafr Damyan, in February 1996 brought a mob of thousands of Muslims to the streets demolishing and looting Christian property on a large scale."Our main problem is the poisoned climate between Muslims and Christians among large parts of the population. We should not neglect this but deal with it. After all, Christians only have a future in Egypt if Muslims and Christians live together in harmony and we should work towards that end" concluded Bishop Marcos.Cornelis Hulsman is Editor-in-Chief of Religious News Service of the Arab World, which is supported by a team of scholars and religious leaders.
Related Elsewhere
For more on violence against Copts, see our August 11, 1997 news story, " Church of the Martyrs | Copts thrive in the face of bloody carnage, legal restraint, and discrimination"See also other past articles about Egypt:Did Carey Really Deny that Copts Are Persecuted? | Was the Archbishop of Canterbury misquoted? What did he really mean? (Dec. 20, 1999) New Coptic Church Forcibly Closed (Oct. 5, 1998) Extremists Kill Coptic Christians (Apr. 28, 1997) The Culture of the Market: A Christian Vision | A Coptic bishop explains biblical economics to a Muslim newspaper (Dec. 21, 1999)The U.S. Department of State and Freedom House have both issued reports criticizing the persecution of Christians in Egypt.For more news articles and resources about Egypt and the recent violence between Christians and Muslims, see Yahoo!'s Full Coverage site on Egypt.For more information about the Coptic church, see Coptic.net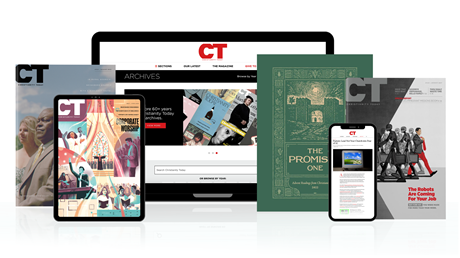 Subscribe to Christianity Today and get access to this article plus 65+ years of archives.
Home delivery of CT magazine
Complete access to articles on ChristianityToday.com
Over 120 years of magazine archives plus full access to all of CT's online archives
Subscribe Now
Egypt's Christians seek answers after deadly riots
Egypt's Christians seek answers after deadly riots