In what Zondervan Publishing House was calling "the largest distribution of Bibles to date," the maker of Cheerios and other breakfast cereals is including the New International Version of the Bible on several CD-ROMs attached to the cereal boxes. Now the cereal-maker is apologizing. "While inclusion of the Bible may be seen as added value by some," says a statement, "it is the company's policy not to advance any particular set of religious beliefs. Inclusion of this material does not conform to our policy, and we apologize for this lapse." The statement goes on to say that the Bible was placed on the CD "without our knowledge or consent." But Gregory Swann, the founder of the Christian software company that helped create the CDs, calls that "a flat-out lie." Meanwhile, the American Jewish Committee's James Rudin is calling the CDs offensive. "I eat General Mills products myself, and I don't think it's right for any American to pick up a box of cereal in the morning and feel excluded. This is one particular version of the Bible they're offering—and America is multi-religious, multi-ethnic. When Muslims, Buddhists, Hindus, Taoists and millions of other Americans pick up this box of cereal and look at this Bible—they are excluded." It's not General Mills' first conflict with evangelicals—after years of criticism by prolife activists for the company's contributions to Planned Parenthood, the company was praised when the contributions stopped.
Next week, an estimated 10,000 evangelists will meet in Amsterdam to discuss how to evangelize the world. A Memphis convention last week had only 200 evangelists, but the focus was much narrower: these evangelists were street preachers. While Amsterdam will have seminars on postmodernism, mentoring, and discipleship, the Memphis group discussed hecklers and protecting one's voice. "You have to go out there with something to say," Terrell Bear, a preacher from Decorah, Iowa, tells the Associated Press. "If you can't think of anything to say, quote the basic John 3:16. Quote that four times very slowly and then give your personal testimony how Christ saved you."
Here's how George W. Bush wrapped his up to the Washington Post's Hanna Rosin: "If you don't know already, I can't describe it. It's just hard to describe unless you've gone through it. I'm not really the type to wander off and sit down and go through deep wrestling with my soul. I just quit drinking. Enough. Totally. I stopped. Not that complicated. Can we talk about something else?" It's part of a front-page story, actually the second in a four-part series, on "Understanding Bush." Bush starts off his interview with the Post's religion reporter saying, "I hope this isn't another story where you doubt my authenticity. I'm getting a little nervous about writers snooping around my heart." Not to worry, Governor. It's actually a pretty decent profile. And Bush gets an intriguing last word: "What troubles me is, when you mix religion and politics it's a very dangerous mix. I don't want people voting for me because I'm more religious—'Vote for me. I quit drinking!' … If [evangelicals] like me, they like me."
Since ChristianityToday.com has recently discussed the prevalence of Christian kitsch and "Jesus Junk," readers may be interested in Chicago Tribune religion columnist Steve Kloehn's piece on Christian comic books and cosmetics. "While the naïve and superstitious peasants of Geoffrey Chaucer's Canterbury Tales sought otherworldly comfort in the bones of saints, the market today is all about the here-and-now: looking better, feeling better, being amused," he writes. "A charitable understanding of Christian comic books and Christian cosmetics would see them as savvy and creative channels to the hearts of post-modern folk, a way for the products' creators to make the best use of the gifts God has given them. An uncharitable interpreter might remember that Chaucer's peasants ended up buying chicken bones, not holy relics, led astray by their own folly and the corruption of their society. But perhaps that is a question best left to that future scholar, long after the dust has settled."
It's not that controversial a question, is it? Still, Fox News even has a poll (92.6 % say yes) to go with its article about what happens when publications like Christianity Today, Jewish Week of New York, Minnesota Christian Chronicle, and others report bad news about one of their own.
See our past Weblogs: July 21 | 19 | 18 | 17 July 13 | 12 | 11 | 10 July 7 | 5 | 3 June 30 | 29 | 27 June 23 | 22 | 21 | 20 | 19 June 15 | 14 | 13 June 9 | 8 | 7 | 6 | 5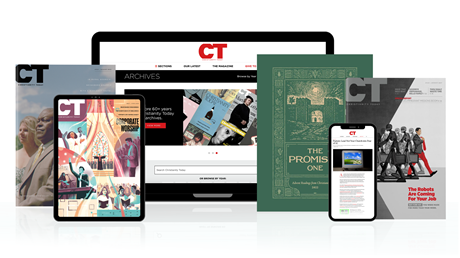 Annual & Monthly subscriptions available.
Print & Digital Issues of CT magazine
Complete access to every article on ChristianityToday.com
Unlimited access to 65+ years of CT's online archives
Member-only special issues
Subscribe
Uh-Oh Cheerios: General Mills Apologizes for Giving Away Bible CDs
Uh-Oh Cheerios: General Mills Apologizes for ...