In the largest-ever gathering of its kind, about 10,000 evangelists from 190 countries have gathered in Amsterdam for encouragement, networking, and training. But the man behind it all - and the evangelist most of the conferees were hoping to hear from - is nowhere to be found.Organizers announced July 20 that Billy Graham was too ill to attend the conference personally, but that he would deliver his remarks via satellite. But even that plan was scrapped at the last minute, and Graham's son, Franklin, delivered an abbreviated message from the 81-year-old evangelist."I deeply regret the circumstances that have kept me from being with you in person," Graham's remarks said. "Although I am deeply disappointed, I have accepted this as the plan and will of God. Be assured, however, that I will be with you in spirit and prayer throughout the conference."Graham, who is continuing outpatient treatment at the Mayo Clinic in Rochester, Minnesota, actually is involved through more than spirit and prayer. The Billy Graham Evangelistic Association has set up a satellite feed of the conference exclusively for Graham's use. Graham "has been enjoying every minute of the opening session of Amsterdam 2000," says A. Larry Ross, Graham's spokesman. But "after a sleepless night, he felt he didn't have the strength or energy to deliver his remarks well." While Ross suggested that Graham, who suffers from Parkinson's disease and normal pressure hydrocephalus, was likely to deliver a closing message on Sunday, August 6, Mark DeMoss, Amsterdam 2000 Director of Media and Communications, is doubtful."From a conference perspective, it's not likely he'll address the conference," DeMoss told reporters Sunday afternoon. "But of course if he wants to address the conference we're willing and ready to accept him at any time."But despite such ominous announcements, Graham's family and associates repeatedly insist that he's doing well - better, in fact, than in the last five to ten years."The doctors feel he can have a very productive ministry the next couple years," says Franklin Graham, who will be flying back to Amsterdam after delivering a prayer at the Republican National Convention this evening. "But this was never intended to focus on him. He never wanted that. He wanted the focus to be on the evangelists."The evangelists don't seem to be focusing on Graham's absence, though many were disappointed and surprised that Graham did not even appear by satellite."Clearly the delegates feel a sense of loss," says Franklin Graham, but adds that for some, expectations were too high. "Some delegates had a sense that they would be able to sit down with him and tell him about their ministry."Tom Simbo of the Evangelical Fellowship of Sierra Leone says Graham will be missed, but "the great God who is behind it all is here nevertheless and he is going to do his work."
Crusade-like opening
Though Graham was absent, his influence permeated the opening session, which seemed as drawn from Graham's crusade meetings as from any major conference. Longtime Graham associate Cliff Barrows led the service, and George Beverley Shea, 91, sang several standards, including "I'd Rather Have Jesus" and "How Great Thou Art."Even the opening plenary session, given by Billy Kim, the Korean senior pastor of Suwon Central Baptist Church in Suwon, Korea, was an apparent adaptation of an evangelistic sermon, noting "the lawlessness of our world," "the lostness of a person without faith in Jesus Christ," and how "it was agape love which motivated God to send His only begotten Son into the world." But rather than call listeners to conversion, Kim, also president of the Baptist World Alliance, called his to evangelism. "We have spent no sleepless nights in prayer for those who are lost," he said. "May God forgive us for not being deeply concerned over the lost hellbound souls."See our earlier coverage of Amsterdam 2000, "Billy Graham Too Ill For Amsterdam 2000 | Evangelist will deliver address via satellite" (July 21, 2000).
Other media coverage of Amsterdam 2000 includes: In Amsterdam, Billy Graham Torch Will Pass to Multitude -- The New York Times (July 30, 2000) Evangelicals meet to convert to West -- BBC (July 30, 2000) Graham forced to cancel speech via satellite to evangelists -- News and Observer (Raleigh, N.C.) (July 30, 2000) Preachers Converge on Amsterdam -- Associated Press (July 29, 2000) Evangelicals Open Big Conference -- Associated Press (July 29, 2000) Graham too ill for conference -- BBC (July 29, 2000) Billy Graham passes torch to followers in 'great peace' -- The Telegraph (UK) (July 29, 2000) Graham Unveils Evangelism Conference (Nov. 16, 1998)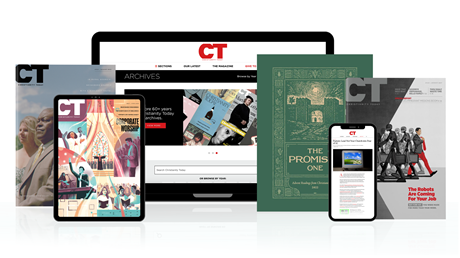 Annual & Monthly subscriptions available.
Print & Digital Issues of CT magazine
Complete access to every article on ChristianityToday.com
Unlimited access to 65+ years of CT's online archives
Member-only special issues
Subscribe
Billy Graham a No-Show at Amsterdam 2000
Billy Graham a No-Show at Amsterdam 2000