The tech-focused news service has been issuing daily dispatches from last weekend's " Bioethics in the New Millennium" conference at Trinity International University's Center for Bioethics and Human Dignity. Friday's article, "Religion Grappling With Tech," is a basic introduction to why the conference exists. "A lot of people in religion don't know much about science," the article quotes Arthur Caplan, director of the University of Pennsylvania's Center for Bioethics, as saying. "It hinders their credibility in the scientific community." Charity Bishop, an organizer of the Trinity conference, agrees. "We're providing the cutting-edge information while at the same time an ethical analysis of how we should react to these technologies. It's good to be informed of what the science is capable of so you can make decisions based on reality, but you don't have to be a biochemist to understand the field." Sunday's article, "Bioethicists Man the Pulpit," lamented that the conference was dominated by the same political hot buttons that have been floating around for decades. "Despite the complex ethical issues posed by burgeoning technologies such as human genetics, artificial life, and xenotransplantation, Christian scientists somehow can't stop talking about a well-argued issue: abortion," wrote Jordan Lite, author of Wired News's conference coverage. "The weekend Bioethics in the New Millennium conference brought together a seemingly diverse group of speakers from Vanderbilt University, the Mayo Clinic, Oxford University, and Francis Collins, the head of the Human Genome Project—but the evil of paganism was on everyone's lips." Yesterday's article, " Where's God in the Machine," profiled Collins, who is also a devout Christian. "God gave us … a curiosity to understand his creation," he tells Wired News. "I don't think we need to worry that we will move into an exploration that will embarrass him." The Boston Globe and The Cincinnati Post have older articles on the human genome project and religion, and the BBC profiled Collins's work and faith in May. See also ChristianityToday.com's Books & Culture Corner on the announcement of the rough draft of the human genome, which has many more links to related resources.
As Colorado's Board of Education made waves by encouraging schools and other public buildings to display "In God We Trust," Colorado Rep. Bob Schaffer introduced a resolution in the House supporting the display of the motto, which the resolution says "recognizes the religious beliefs and practices of the American people as an aspect of our national history and culture." It passed by voice vote. The text of the resolution, Schaffer's press release about its passing, and what was said on the House floor (including the only speech against the resolution) are all available online.
Victor Crasto, a Catholic priest in India's northeastern state of Tripura, was killed when his vehicle was shot at Tuesday morning. Two others were seriously injured. K Salim Ali, Inspector-General of the Tripura police, says he thinks the shooting was a mistake. Meanwhile, a Bombay court freed Hindu nationalist leader Bal Thackeray hours after his arrest for inciting violence in 1993, saying the statute of limitations had run out. Thackeray was accused of ordering Hindus to kill during widespread violence that left more than 2,000 people dead (see also the BBC's coverage)
"It's always better to listen to people than to spit on them. The Jewish community does spit on the messianics. That's terrible, really," said Dan Cohn-Sherbok, also a professor of Judaism at the University of Wales, at the international conference of the Union of Messianic Jewish Congregations. "If I were to give my colleagues within the movement advice, I would say instead of criticizing messianic Judaism, come and see what goes on and learn from it. There's something to discover." The Reform rabbi says he's impressed with the "deep sense of spirituality," vibrancy, and charisma of messianic congregations.
See our past Weblogs: July 24 July 21 | 19 | 18 | 17 July 13 | 12 | 11 | 10 July 7 | 5 | 3 June 30 | 29 | 27 June 23 | 22 | 21 | 20 | 19 June 15 | 14 | 13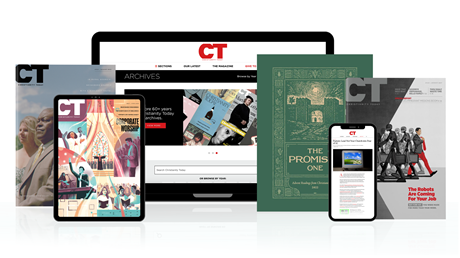 Annual & Monthly subscriptions available.
Print & Digital Issues of CT magazine
Complete access to every article on ChristianityToday.com
Unlimited access to 65+ years of CT's online archives
Member-only special issues
Subscribe
Christian Bioethics Conference Gets Wired
Christian Bioethics Conference Gets Wired