The Episcopal Church's House of Deputies (its House of Representatives) narrowly rejected a proposal to create a rite for blessing same-sex unions. However, it did approve a resolution to support unmarried couples. The House of Bishops (the church's Senate) is expected to approve the resolution today.
Just after a church in Bangalore celebrated an annual feast, something exploded outside, shattering windows and leaving a small crater in the church floor. It follows two other church bombings last week.
"In the name of the church of Rome I cannot not express bitterness for the affront to the Grand Jubilee of the year 2000 and for the offense to the Christian values of a city that is so dear to the hearts of Catholics across the world," said Pope John Paul II. There's an excellent commentary on the pope and the World Pride festival by George Weigel (who recently wrote a biography of the pope) in today's Wall Street Journal, but you'll have to be a subscriber to read it.
"The stained glass ceiling has been pierced," said Vashti Murphy McKenzie, pastor of Baltimore's Payne Memorial A.M.E. Church, last night as she became the first woman elected bishop in any of the three primarily black Methodist denominations.
He was at Minnesota's Mayo Clinic for treatment related to his Parkinson's disease. He should be well enough to attend Amsterdam 2000, a convention of evangelists from around the world.
By a 416-1 vote, the U.S. House of Representatives passed a resolution "strongly objecting to any effort to expel the Holy See from the United Nations as a state participant by removing its status as a Permanent Observer." As noted earlier in ChristianityToday.com Weblog, Catholics for a Free Choice has been lobbying the United Nations to revoke the Vatican's status. The resolution was sponsored by Rep. Chris Smith (R-N.J.). The single "nay" vote was cast by Rep. Pete Stark (D-California), who also spoke against the resolution.
Neil Steinberg's Tuesday column, "What's with Sex and Religion?" is only 574 words long, but is clearly one of the most outrageous, from a religious standpoint, ever published in the Chicago tabloid. So unbelievable are some of the comments that ChristianityToday.com Weblog was unable to compute an exact offense-to-word ratio. In order to let off a little steam, here's the first-ever ChristianityToday.com Weblog Contest. Your challenge? Best chronicle everything offensive about Steinberg's column. Rules: 1) It's for the best response, not the most outraged or the one noting the most outrageous comments (though both of those will certainly help). 2) Entries must be received by Monday, July 17. Send them here. 3) ChristianityToday.com Weblog will post the winning entry on Tuesday, July 18. The winner's name will be on it, so please identify yourself along with your entry. 4) No whining if you lose. Whiners may be spammed with every subsequent Steinberg column.
See our past Weblogs: July 11 | 10 July 7 | 5 | 3 June 30 | 29 | 27 June 23 | 22 | 21 | 20 | 19 June 15 | 14 | 13 June 9 | 8 | 7 | 6 | 5 June 2 | 1 | May 30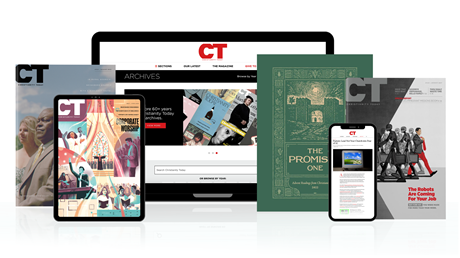 Annual & Monthly subscriptions available.
Print & Digital Issues of CT magazine
Complete access to every article on ChristianityToday.com
Unlimited access to 65+ years of CT's online archives
Member-only special issues
Subscribe
Episcopal Church Won't Create Same-Sex Union Rite
Episcopal Church Won't Create Same-Sex Union Rite