"No one seems sure exactly how many change ministries there are today," writes Scott Gold. But he's found enough to suggest it's the next big thing among Christians. And, for a front-page news story, it's pretty clear where Gold is coming from. "Gay activists denounce them as fraudulent, and psychologists say the ministries are proceeding on a false premise that homosexuality is a disorder that can--or should--be reversed," he writes. "The groups rarely claim conversion rates above 30 percent, and even those conversions are not independently verified. Yet the groups are finding new acceptance, and drawing new vigor, from mainstream and conservative Christian denominations." Then there's this spectacularly ill-informed comment: "Having lost several political battles on the abortion and school-prayer fronts, conservative Christians have focused on homosexuality as a crusade, theologians and religious leaders say."
Despite Wheaton College president's claim that he is "tone deaf" to political correctness, the Los Angeles Times' Roy Rivenburg fears that the school's dropping of its Crusader mascot was motivated by P.C. thinking—and that the school may never be able to find an inoffensive replacement. "Indeed, many of the suggestions for a new Wheaton mascot carry their own potentially negative baggage," he writes. "The Chargers? That's an insult to the credit-impaired. Cyclones? An unrelievedly negative symbol to trailer park residents and/or wicked witches of the West. Rams? Upsetting to Los Angeles football fans. Ambassadors? Offensive to political donors who can't afford to buy a diplomatic post. Even the Eagle, which Christianity Today magazine describes as the most common mascot among religious colleges, could be regarded as an icon of U.S. imperialism. … Is it possible to find a name that communicates unconditional love, gentleness and athletic prowess? How about the Exorcists? No, that discriminates against demons. Or maybe the Meek? It's humble, yet also formidable (since they're supposed to inherit the Earth). Then again, inheriting the entire Earth could be interpreted as a monopoly under antitrust laws. … "
The Black Clergy of Philadelphia and Vicinity really don't like the paper's Wednesday headline, " Clergy: Pleas for calm will end." Vernal E. Simms Sr, pastor of Morris Brown A.M.E. Church and newly elected leader of the organization, told the media, "We are just outraged at the headline in The Philadelphia Inquirer this morning, which says that the black clergy is no longer calling for peace. Being clergy persons in the city of Philadelphia, we will always call for peace and calm." But was the Inquirer justified in its headline? Here's what Simms said earlier in the week, responding to the beating and arrest of Thomas Jones, a 30-year-old African American man who had stolen a police car, was shot, pulled from the car, and beaten at least 59 times: "When this incident first happened, we tried to stay within our role as black preachers. We tried to stay within our role as religious leaders. We came out asking the community to be calm, asking them to take it easy, that we would try to work with it and try to deal with it and try to oversee the investigation. But how long--how long--can we tell black folk to be quiet and to take it easy when the Police Department is doing the kinds of things they did? We're not going to continue to tell them to be calm. Let's everybody be calm. Let the police be calm; let the community be calm. But we're not going to tell our folk to be calm and then the police continue to do dumb stuff."
"For all its enmity towards western Christianity and contempt for its alleged lack of spirituality, the Russian Orthodox Church has often struck me as comfortably worldly itself," writes Marcus Warren for the Telegraph." And its true involvement in matters of this world, rather than the next, is only disguised by the code of silence observed by most clerics. Some of that secrecy has now been breached by a study by Moscow academics who specialise in corruption and the shadow economy. Its most alarming conclusion is that the Orthodox Church is tainted by all the vices of the 'secular' Russian economy, not least bribery, money-laundering and tax evasion." The accusations get worse from there.
It should have been the paper's headline, but it's probably too obscure for most readers. Instead, the pun is buried in the middle of the story on the 101st annual convention of the Gideons in Chicago. Though the paper duly notes the organization's Bible distribution, the focus seems to be on how quiet they are: few interviews, can't use the Gideon logo on business cards, and speak of their work in individual churches rather than through other public means.
See our past Weblogs: July 19 | 18 | 17 July 13 | 12 | 11 | 10 July 7 | 5 | 3 June 30 | 29 | 27 June 23 | 22 | 21 | 20 | 19 June 15 | 14 | 13 June 9 | 8 | 7 | 6 | 5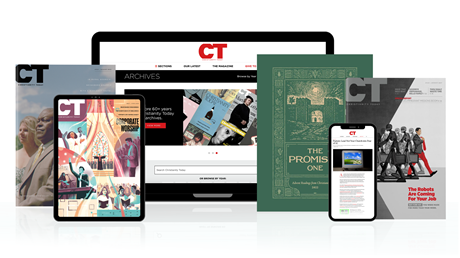 Annual & Monthly subscriptions available.
Print & Digital Issues of CT magazine
Complete access to every article on ChristianityToday.com
Unlimited access to 65+ years of CT's online archives
Member-only special issues
Subscribe
Are Ex-Gay Ministries the Next Big Thing?
Are Ex-Gay Ministries the Next Big Thing?