Hard as this is to believe, some people just do not like history. You may have experienced this yourself: A friend from church, or even your own 13-year-old daughter, spies a copy of Christian History on your coffee table and either ignores it completely or—horror of horrors—asks, "Why do you read that boring stuff?" Shocking, yes, but the all-too-common response from anyone inoculated against good history by years of bad social studies classes.
Timothy Paul Jones, a pastor and author with several educational titles to his name, has attempted to rectify this situation with Christian History Made Easy (Rose Publishing, 1999). In 12 short chapters he traces church history from AD 64 to the present, highlighting significant people, events, and ideas in a primarily narrative (and frequently humorous) style. His favorite history book is Dave Barry Slept Here, if that helps you get a handle on the tone.
While Jones's book is entertaining, its primary objective is to educate history-phobes and neophytes. The cover promises "13 Weeks to a Better Understanding of Church History" (how that matches up with the 12 chapters I'm not exactly sure), and the book contains many familiar elements of Sunday-school curriculum: a leader's guide, puzzles and worksheets, discussion questions, and review activities. Youth Sunday school or home school is probably the book's best usage, but the material could be adapted for an adult class or for very structured individual study.
On the one hand, the book's quick pace is one of its main strengths. For church history novices, one page on Nikolaus Zinzendorf is likely sufficient, and reading his story in a context including Jonathan Edwards, John Wesley, and George Whitfield fights the habit of picturing historical figures as separate exhibits in a vast museum. On the other hand, sweeping overviews tend to display a sometimes-disturbing lack of nuance, and this one is no exception.
Because we just finished the editorial for our forthcoming issue on Augustine (you subscribers should receive your copy in about three weeks), I read Jones' page on Augustine with particular interest. I was a little disappointed. Augustine is called the "finest early medieval theologian," even though he fits much better with the early church than the Middle Ages, and he's also called an "overseer" rather than a "bishop"—a choice I hope was made as an attempt at clarity instead of as a quiet attack on churches that use the title (Jones's background, incidentally, is Baptist). An off-hand comment about Ambrose's Alexandrian approach to preaching being "flawed" also threw me; this judgment comes out of nowhere, adds nothing to my understanding of Ambrose or Augustine, and reads as a high-handed criticism of something the author has made scant effort to explain.
There's a bit too much editorializing and spiritualizing throughout the book for my taste, but, that said, it's generally quite good. The Augustine section, for example, does give a lively account of his conversion, show how his doctrine of original sin arose in response to Paul and Pelagius, and summarize his main argument in City of God. Not bad for nine paragraphs.
Elesha Coffman is associate editor of Christian History
More Christian History, including a listing of events that occurred this week in the church's past, is available at ChristianHistory.net. You may also wish to subscribe to the illustrated quarterly print magazine.
To find out more about the book and some companion curriculum resources, see Christian History Made Easy's Web site. The book is also available at the Christianity Online Bookstore.
Christian History Corner appears every Friday at ChristianityToday.com. Previous Christian History Corners include:
New Stabs at Old Wounds | Why Northern Ireland doesn't always love a parade. (July 7, 2000)
Camp Fire | The earliest recorded Methodist camp meeting in America took place 200 years ago this week. (June 30, 2000)
For Better or Worse | The diaries of a frontier missionary couple reveal starkly differing perspectives. (June 23, 2000)
Like Father, Like Son | The Mather men followed the faith—and career paths—of their fathers. (June 16, 2000)
Agent of Grace | PBS's Bonhoeffer film shows us a theologian in action. (June 9, 2000)
Revive Us Again | Two recently translated books recount searches for recapturing Pentecost. (June 2, 2000)
Asking the Wrong Questions | The Christian History staff's field trip to see the Dead Sea Scrolls (May 19, 2000)
Glorified Gore | The early church wouldn't have been pleased with Gladiator (May 12, 2000)
Maniac or Martyr? | Two centuries after his birth, John Brown remains a divisive figure (May 5, 2000)
Dietrich's Friend Eberhard | A fellow resister of the Nazis, editor, and biographer dies half a century after his subject and companion (April 28, 2000)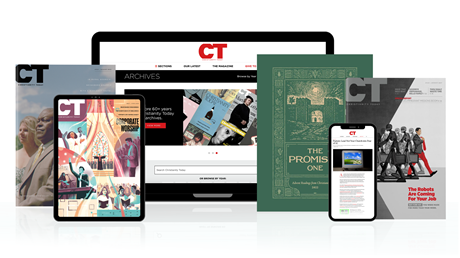 Annual & Monthly subscriptions available.
Print & Digital Issues of CT magazine
Complete access to every article on ChristianityToday.com
Unlimited access to 65+ years of CT's online archives
Member-only special issues
Subscribe
A Cure for Cliophobia
A Cure for Cliophobia