Two hundred years ago this week, on July 1, 1800, the earliest recorded Methodist camp meeting in America was held in Logan County, Kentucky, near Gaspar River. No one had expected the annual "Presbyterian Communion" to turn into a revival, and the widespread spiritual renewal that followed the event was even more surprising. During the six years preceding 1800, the Methodist Church declined in national membership from 67,643 to 61,351 (heirs of organizational genius John Wesley, the Methodists always kept excellent records). In the 1790s the population of frontier Kentucky tripled, but the already meager Methodist membership decreased. Churches and pastors did not merely wring their hands; they clasped them in prayer. James Smith, after traveling through Kentucky, wrote, "I trust he [God] will yet bring good out of this evil, and that the glory of scriptural religion, obscure for the present, will shine forth hereafter with redoubled luster."Religion began to "shine forth" in Kentucky when James McGready arrived in Logan County in 1798 to pastor three small churches: the Red River, Gaspar River, and Muddy River congregations. He brought with him from North Carolina a well-deserved reputation for fiery preaching. Barton Stone, pastor of the Cane Ridge Church (and leader of the famous Cane Ridge Revival in August 1800), said of McGready after hearing him preach, "My mind was chained by him, and followed him closely in his rounds of heaven, earth, and hell with feelings indescribable."McGready's preaching so stirred his congregations that when the Red River church sponsored its annual Communion in June 1800, the spiritual climate was charged. Local ministers were invited to participate, as were Presbyterian William McGee and his Methodist brother John, whose preaching had been exciting churches in Tennessee.Friday, Saturday, and Sunday passed quietly—as these Presbyterian Communions were wont to go. On Monday, though, as one local minister preached, a woman who had long sought assurance for her salvation began shouting and singing. The preacher concluded his sermon, and all the ministers left the church—except the McGee brothers. William sat on the floor near the pulpit weeping. Soon the congregation was weeping, seeking full security for salvation. Then John rose to preach; a witness said he exhorted people to let "the Lord God omnipotent reign in their hearts, and to submit to him."People began to cry and shout. Then the woman who had first started singing let out a wail of anguish. John, seemingly entranced, made his way to comfort her. Someone (probably his brother) reminded him this was a Presbyterian church; the congregation would not condone emotionalism! Later John recalled, "I turned to go back and was near falling; the power of God was strong upon me. I turned again and, losing sight of the fear of man, I went through the house shouting and exhorting with all possible ecstasy and energy and the floor was soon covered with the slain" (people falling in ecstasy).McGready and the other ministers, convinced this was the work of God, immediately laid plans for another sacramental service to be held the next month. Hundreds flocked to Gaspar River; fortunately most came prepared to camp. (Large outdoor meetings had a long history, but this was probably the first meeting of its kind—though the term "camp meeting" would not be coined for another two years.) One minister remarked, "The news of the strange operations which had transpired at the previous meeting had run throughout the country in every direction, carrying a high degree of excitement to the minds of almost every character."In the months following this second weekend of ecstatic services, camp meeting revivals spread through Kentucky and Tennessee. Each seemed more dramatic than the last. As the movement grew, the period from 1800 to 1835 began to be known as the "Second Great Awakening." By 1850, membership in Protestant denominations had soared to 3.5 million, and many lasting institutions—including The American Board of Commissioners for Foreign Missions, the American Bible Society, the American Sunday School Union, and the YMCA—stood ready to carry the evangelistic flame into the future.
Mark Galli is managing editor of Christianity Today and former editor of Christian History.
For more stories of untamed faith on America's early frontier, see issue 45: Camp Meetings & Circuit Riders, available online in the Christian History Store. More Christian History, including a listing of events that occurred this week in the church's past, is available at ChristianHistory.net. You may also wish to subscribe to the illustrated quarterly print magazine. CampMeeting.com offers more history about the revivals, as does Britannica.com, Cumberland Presbyterian Church, and Christian Word Ministries.Young, enthusiatic minister Richard McNemar's 1808 account of the Cane Ridge Revival, The Kentucky Revival, is online (see chapter two for the account of the 1800 Gaspar River revival.)Christian History Corner appears every Friday at ChristianityToday.com. Previous Christian History Corners include:For Better or Worse | The diaries of a frontier missionary couple reveal starkly differing perspectives. (June 23, 2000) Like Father, Like Son | The Mather men followed the faith—and career paths—of their fathers. (June 16, 2000) Agent of Grace | PBS's Bonhoeffer film shows us a theologian in action. (June 9, 2000) Revive Us Again | Two recently translated books recount searches for recapturing Pentecost. (June 2, 2000) Asking the Wrong Questions | The Christian History staff's field trip to see the Dead Sea Scrolls (May 19, 2000) Glorified Gore | The early church wouldn't have been pleased with Gladiator (May 12, 2000) Maniac or Martyr? | Two centuries after his birth, John Brown remains a divisive figure (May 5, 2000) Dietrich's Friend Eberhard | A fellow resister of the Nazis, editor, and biographer dies half a century after his subject and companion (April 28, 2000) When Is Easter This Year? | It may be hard to tell when Easter will fall, but it was even harder for the church to create its calculations. (April 20, 2000)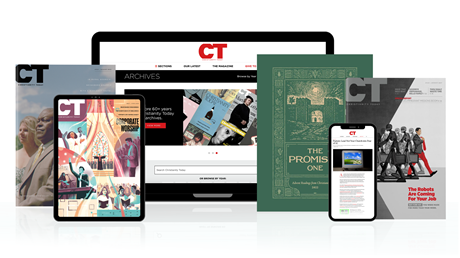 Subscribe to Christianity Today and get access to this article plus 65+ years of archives.
Home delivery of CT magazine
Complete access to articles on ChristianityToday.com
Over 120 years of magazine archives plus full access to all of CT's online archives
Subscribe Now
Camp Fire
Camp Fire