Leading African Christians have warned churches that they risk being displaced by new religious groups offering a "false gospel of prosperity" unless they provide "more credible forms of support" to local communities."Mainstream churches are losing ground—people are worshipping at them in the morning, but going to the new preachers in the evening," said Baffour Amoa, of Ghana, who is secretary-general of the Fellowship of Christian Councils of Churches of West Africa. "Violence, corruption and moral degradation are on the rise, and this is a serious challenge to anyone brought up believing in good behavior, love of neighbor, and respect for the Ten Commandments. The young are no longer being nurtured on these values, and people no longer have time to teach them."Amoa was addressing Colloquium 2000, an international inter-faith symposium which opened on June 10 at Hofgeismar, Germany.Speaking to ENI after his speech, Baffour Amoa said that Africans had faced a growing menace from the "theology of prosperity" spread by new Western missionaries and religious sects, which told them they could "get rich by trusting God and paying tithes."He said the new "theology" represented a "well-developed form of oppression," which "prides itself on keeping the psyche of people in captivity.… Those who say we are poor through our own fault and guilt speak from ignorance—if they knew anything of our history they wouldn't propound such cheap arguments."The truth is that the conditions imposed on us deny us resources and bar us exercising our God-given talents, and every leader who argues for alternative solutions is challenged, hammered down and even eliminated. Even today, our governments are fundamentally constrained and unfree. But the God of history has shown empires rise and fall—the springs of the mighty will one day dry up."Of the mainstream churches, Amoa, a Presbyterian, said: "The churches used to be at the forefront of the provision of social services—the place where people always went in search of comfort and support. But today resources are being diverted away from the churches to social justice movements which are not institution-based and no longer provide for the needs of the people. In areas of poverty, people are naturally asking what the churches are doing for them."Earlier he told participants at the colloquium: "When you have a common enemy, it's very easy to break down barriers—and the religious barriers created under colonialism are being dismantled because of the need to address social issues. But the churches could have done much more, and they are still not monitoring economic upheavals. The ecumenical movement has focused on other things and needs to open its eyes to the daily sufferings of countless mothers and children, young and old."Another African speaker, Georgine Kengne Djeutane, said her country, Cameroon, had experienced similar developments, and churches were now unable to offer social help. Traditional African values were being replaced by a "globalized language and culture."Western governments and international institutions had imposed, she said, "democracy with their own label," fuelling a drastic decline in education, health and family bonds, as well as establishing a "direct link" between structural adjustment programs and civil war."The North is still growing by exploiting the South, and we need help from churches in realizing alternatives," Kengne Djeutane, an evangelical Christian, told the gathering. "We believe God will help us change this situation. If Western countries wish to be part of this change, this will be good. But if they stand outside or against it, they will have to live with the consequences."Kengne Djeutane, head of research at the Ecumenical Service for Peace, in Yaounde, said her country had an infant mortality rate of 13.5 percent and currently spent 40 percent of public revenue on servicing its external debt, which had tripled in 15 years.The Africans were speaking at a colloquium on "Faith—Theology—Economy: Churches and Social Movements Facing Globalization," co-sponsored by the World Council of Churches (WCC), World Alliance of Reformed Churches and Pax Christi International.Asked about criticisms of the ecumenical movement, Martin Robra, a senior WCC staff member, told ENI that his organization had issued a declaration on faith and economics in the early 1990s, which had contained a "clear critique of the prevailing economic paradigm."However, he added, all churches had faced a "time of uncertainties and tensions," during which they had been forced to "ask new questions and search for new approaches.… In the mid-1990s, we again began to find the language for a much-needed prophetic critique. But this was not so strong then as now, and we witnessed the anger of many churches who were really hit by these realities at the [WCC's] Harare general assembly [in 1998]," said Robra."There is greater clarity now about the role of trade, regulatory mechanisms and financial capital, and the questions raised here are valid and important. It is very helpful that this critique is being mounted today."Copyright © ENI. Used with permission.
Related Elsewhere
Can you read German? Here's Pax Christi's page on Colloquium 2000.Bong Rin Ro, academic dean and professor of church history and missions at the Torch Trinity Graduate School of Theology in Seoul wrote an article for Christianity Today about how "prosperity gospel" preachers were influencing religious life in South Korea.An article from South Africa's News24 discusses the growing power of Christianity (and prosperity teachings) in Africa.If you can find it (it's not online), check out Paul Gifford's article "Prosperity: A New and Foreign Element in African Christianity," in the journal Religion, Vol. 20 (1990).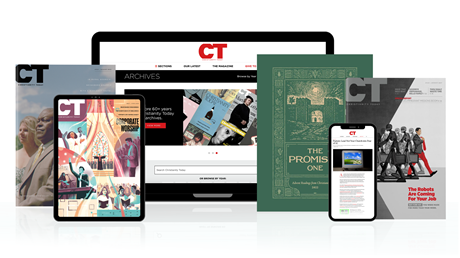 Annual & Monthly subscriptions available.
Print & Digital Issues of CT magazine
Complete access to every article on ChristianityToday.com
Unlimited access to 65+ years of CT's online archives
Member-only special issues
Subscribe
Africans Warn 'False Gospel of Prosperity' May Displace Churches
Africans Warn 'False Gospel of Prosperity' May Displace Churches