With more than 1,000 dead in the wake of Nigeria's religious riots between Christians and Muslims, an uneasy calm has returned. The country, led by a Christian but with several states adopting Islamic shari'a law, is "under threat of another civil war," reports the (UK) Independent. Meanwhile, Nigeria's most populated state, Kano, is going ahead and adopting shari'a law despite the violence.
"Religious authority has never been a easy thing to exercise in Vermont," writes Brooks Egerton of The Dallas Morning News. Still, he looks at the religious dimension of the state's clash over gay marriages, and Operation Rescue founder Randall Terry is a main character.
Christians don't have a monopoly on fasting, says The Los Angeles Times. In fact, evangelical Protestants have been slow to accept the practice. But there's a growing movement. Some do it to change the moral direction of the country, others "yearn for a more tactile and traditional expression of an inward search for holiness." Kevin W. Mannoia, the new president of the National Association of Evangelicals, tells the paper, "The virtue of going without food or other things somehow moves God to do something extraordinary."
"The entry of evangelical students and faculty into the ivied halls of mainstream higher education is slowly changing both communities, as the interaction between two once-estranged groups leads each to a more nuanced view of the other," reports The Boston Globe. The article reads as a who's who of the well-known evangelical intellectuals.
"In the ecclesiastical fashion stakes, the divide between clerics is as great as that over women priests or homosexuality," reports the second of two articles in The Times of London about the public's image of clergy. The articles are occasioned by a report by the General Synod of the Church of England, which claims, according to The Times'first article, "that young people in particular would respond better to a more masculine image from male clergy." A brief note at the end of the second article, which focuses on the church's fashion debates, notes that after a long debate, the Church of England has decided to change its translation of a line from the Nicene Creed from "by the power of the Holy Spirit he [Jesus] became incarnate from the Virgin Mary" to "was incarnate from the Holy Spirit and the Virgin Mary."
For the second time so far this year, the Supreme Court allowed a state to observe Good Friday. This time it was Indiana, and the court issued its ruling without comment. In January the court okayed a Maryland law closing public schools on Good Friday. The Indiana appeals court ruling the Supreme court upheld found, "Indiana does not celebrate the religious aspects of Good Friday; for Indiana, the holiday has absolutely no religious significance. To Indiana, Good Friday is nothing but a Friday falling in the middle of the long vacationless spring; a day which employees should take off to rejuvenate themselves." Apparently, according to Indiana, Christ died for your three-day weekend.
"The leading conservative contender to succeed the Pope yesterday warned that the Antichrist was already on Earth in the guise of a prominent philanthropist whose concern for human rights and the environment and advocacy of ecumenicism masks his real aim: the destruction of Christianity and 'the death of God'," reports The Irish Independent.
Americans contributed 2.56 percent of their income to churches in 1997, down from 2.58 in 1996. However, total giving to churches has increased in the past 30 years because incomes have generally gone up.
Saturday's Dallas Morning News asks clergy whether federal funding of religious service providers undermines their freedom. Look for charitable choice, which George Bush and Al Gore have campaigned on, to gain even more attention in the coming months.
Namibia's Lutheran churches have joined the country's Catholics in opposing the government's use of military force. Prime Minister Hage Geingob, in turn, called the church's call for mediation "ill-advised."
"But ours is not to question whether, ours is to wonder why anyone cares," remarks The Washington Post's Marc Fisher. "Why Jane? How does an actress who hasn't made a movie in a decade … maintain her grasp on the nation?" His guess is as good as any out there.
"When we last saw Dylan two years ago, he was singing 'everybody must get stoned,' and no one seemed to think he meant getting pelted by rocks," writes Roy Rivenburg in his thrice-weekly "Off-Kilter" column. The article is pretty asinine stuff, especially when compared to Alan Jacob's articles for Books & Culture and BobDylan.com (Dylan's official Web site).
The couple, both recent divorcees, will get married Friday in Nashville. Grant's ex-husband, fellow contemporary Christian music artist Gary Chapman, got engaged Valentine's Day, reports USA Today.
Related Elsewhere
See our past Weblogs: March 7 February 18 | 17 | 16 | 15 | 14 February 10 | 9 | 8 | 7 February 3 | 2 | 1 | January 31 January 28 | 27 | 26 | 25 | 24 January 21 | 20 | 18 | 17 January 14 | 13 | 12 | 11 | 10 January 7 | 6 | 5 | 4 | 3 December 30 | 29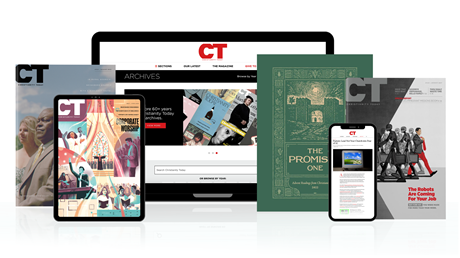 Annual & Monthly subscriptions available.
Print & Digital Issues of CT magazine
Complete access to every article on ChristianityToday.com
Unlimited access to 65+ years of CT's online archives
Member-only special issues
Subscribe
With More than 1,000 Dead Nigeria Faces Possible Civil War Over Religion
With More than 1,000 Dead Nigeria Faces Possible ...