Newsweek's cover story this week looks at Jesus through the eyes of Jews, Muslims, Hindus, and Buddhists. "For Christians, he is utterly unique—the only Son of God and, as the pope puts it, the one 'mediator between God and humanity,'" writes Ken Woodward. "But alongside this Jesus is another, the Jesus whom Muslims since Muhammad have regarded as a prophet and messenger of Allah. And after centuries of silence about Jesus, many Jews now find him a Jewish teacher and reformer they can accept on their own terms as 'one of us.' Jesus has become a familiar, even beloved, figure to adherents of Asian religions as well. … Each of these traditions—Judaism, Islam, Buddhism and Hinduism—is rich in its own right, and each has its own integrity. As the pope calls for better understanding among the world's great religions, it is important to recognize that non-Christian faiths have their own visions of the sacred and their own views of Jesus."
Pope in Israel
There are way (way) too many articles to list here, but you can find regularly updated coverage of the pope's visit at The Jerusalem Post, MSNBC, The New York Times, The Washington Post, The Los Angeles Times, CNN, Yahoo!, and just about any other major media source.
More than 150 evangelicals were run out of their homes in Plan de Ayala, Chiapas, by a mob wielding machetes and guns, reports Adventist News Network. The news service reports that tensions between Protestants and Catholics in the area have repeatedly become violent recently.
Christian recording artist and producer Gene Andrusco, known as Gene Eugene, died Monday morning, reportedly in his Huntington Beach, California, recording studio. Once a child actor, Andrusco led the Christian alternative rock band Adam Again, was a part of The Lost Dogs and The Swirling Eddies, and was one of the most prolific producers in the alternative Christian music scene.
"You make a game that supports Christian beliefs, and the bottom line is that the consumer doesn't buy it," says Robert Westmoreland, executive vice president of the company that produced the spiritual-warfare-themed The War in Heaven. "It is frustrating to see that people don't back up what they say with their wallets." Of course, a lot of Christian parents didn't care for the violence. The article, in the Fort Worth Star-Telegram, doesn't mention that the graphics were about three years behind the rest of the gaming world, or that the game received a ton of free publicity in news reports like this one.
"Questions of meaning, value and judgment are separated from those of lived—or merely observed—experience. The result is the production and consumption of information, but not its assimilation or digestion—what is commonly known as thought," writes Chris McGillion, who also teaches at the School of Communication at Charles Sturt University, in The Sydney Morning Herald.
The Washington Post asked 13 high school juniors to comment on the Virginia legislature's approval of a mandatory moment of silence. Their opinions are predictably diverse, but all agree that it won't do much to stem violence in schools.
"Americans welcome the sight of their presidents—or presidential candidates—seeking spiritual counsel," writes the syndicated columnist. "But voters do not want their presidents taking orders from preachers or rabbis or priests—or going to war against prominent clergymen." His article appeared yesterday next to a ridiculous column by William Pfaff saying George Bush "implicitly endorses" Pat Robertson's beliefs "that world affairs are manipulated against Christian and American interests by a clandestine alliance of international bankers, the United Nations, Communists and other forces of the extreme left, and by a mysterious movement of 'Illuminati' originating in the 18th-Century European Enlightenment." And by appearing in the opinion page of the Chicago Tribune, I guess Pfaff implicitly endorses everything that's ever appeared there as well.
Related Elsewhere
See our past Weblogs: March 20 March 17 | 16 | 15 | 14 | 13 March 10 | 9 | 8 | 7 February 18 | 17 | 16 | 15 | 14 February 10 | 9 | 8 | 7 February 3 | 2 | 1 | January 31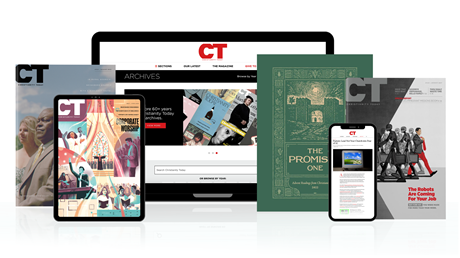 Annual & Monthly subscriptions available.
Print & Digital Issues of CT magazine
Complete access to every article on ChristianityToday.com
Unlimited access to 65+ years of CT's online archives
Member-only special issues
Subscribe
Lunatic Liar Lord or Really Nice Guy?
Lunatic Liar Lord or Really Nice Guy?