A REST FROM WORK
Work comes in many varieties and can take on many guises. Each of us must determine, in conversation with others, what work needs to be relinquished if we are to enter the practice of keeping Sabbath.
Some Christians have been more clear than I am about this dimension of Sabbath keeping. Among the most serious of these were the Dutch Calvinists who settled on farms in the American Midwest. A son of this tradition tells the story of a costly but blessed form of this practice in his poem "Obedience."
Were my parents right or wrong
not to mow the ripe oats that Sunday morning
with the rainstorm threatening?
I reminded them that the Sabbath was made
for man
and of the ox fallen into the pit.
Without an oats crop, I argued,
the cattle would need to survive on town-
bought oats
and then it wouldn't pay to keep them.
Isn't selling cattle at a loss like an ox in a pit?
My parents did not argue.
We went to church.
We sang the usual psalms louder than usual—
we, and the others whose harvests were at stake:
"Jerusalem, where blessing waits,
Our feet are standing in thy gates."
"God, be merciful to me;
On thy grace I rest my plea."
Dominie's spur-of-the-moment concession:
"He rides on the clouds, the wings of the
storm;
The lightning and wind his missions
perform."
Dominie made no concessions on sermon
length:
"Five Good Reasons for Infant Baptism,"
though we heard little of it,
for more floods came and more winds blew
and beat
upon that House than we had figured on, even,
more lightning and thunder
and hail the size of pullet eggs.
Falling branches snapped the electric wires.
We sang the closing psalm without the organ
and in the dark:
"Ye seed from Abraham descended,
God's covenant love is never ended."
Afterward we rode ...
1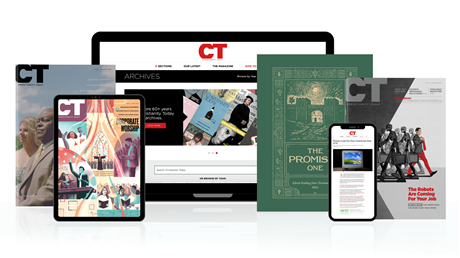 Subscribe to Christianity Today and get access to this article plus 60+ years of archives.
Home delivery of CT magazine
Complete access to articles on ChristianityToday.com
Over 120 years of magazine archives plus full access to all of CT's online archives
Subscribe Now
Receiving the Day the Lord Has Made (Part2)
Receiving the Day the Lord Has Made (Part2)