"For all they who take the sword shall die by the sword." Assistant Clayton County prosecutor Brandon Hornsby quoted Matthew 26:52 in a case where a man was found guilty of literally killing his victim by the sword. He also appealed to the book of Romans and other biblical references to boost his case "that society must deter criminals" with the death penalty. The Supreme Court of Georgia voted 6-1 to uphold the murder conviction, but not the death penalty. "Biblical references inject the often irrelevant and inflammatory issue of religion into the sentencing process and improperly appeal to the religious beliefs of jurors in their decision on whether a person should live or die," Justice Norman S. Fletcher wrote for the majority. A summary of the court's opinion is available at the court's Web site.
On Tuesday, Indiana Governor Frank O'Bannon signed legislation allowing government institutions, including schools, to post the 10 Commandments if they are displayed "with other historical documents." The Indiana Civil Liberties Union is ready to sue at the first posting.
In a few months, all 2 million of Florida's public school students would have been eligible for private school vouchers (see our July 12, 1999 story on the Florida vouchers). Circuit Judge L. Ralph Smith Jr.'s ruling is the latest in a series of ups and downs for vouchers (see related stories by the Associated Press and USA Today).
The Associated Press report implies that the comment by BJU President Bob Jones III ("The diminution of evangelistic enterprise to cults which call themselves Christian, including Catholicism and Mormonism, is frightening"), which has been repeatedly quoted by detractors of the school, was removed to appease critics. But the school says the change is just part of a regular updating of the site.
Catholics for a Free Choice has been lobbying the United Nations to revoke the Vatican's "permanent observer" status. Now prolife groups—including evangelical Protestant groups that reportedly "long resented recognition of the Vatican as a sovereign state"—are lobbying to keep the Vatican's status as it is.
Chinese police burst in on a March 2 home meeting of China Evangelistic Fellowship in Xinyang, Henan. They arrested the 16 members of the fellowship, confiscated their Bibles, and seized money and belongings of the house owner. The Chinese government says the raid is part of a crackdown on " evil cults."
As reported earlier in the ChristianityToday.com Weblog, Greek Orthodox Christians are pressing for a ban of the book M to the Power of N, which describes a sexual relationship between Jesus and Mary Magdelene. A Thessaloniki judge banned the book to prevent violent outbreaks and a court in Athens will consider a nationwide ban April 24. The ban could have been considered sooner, said the Athens court, but the Greek Orthodox proponents of the ban did not file the proper request form.
At least 39 colleges and universities have banned the International Churches of Christ (Boston Movement), reports U.S. News & World Report. Administrators say don't have a problem with the denomination's religious beliefs, just its "destructive behaviors." But they tread a thin line between watchdogging and violating the First Amendment.
Your census taker might ask you how many bathrooms your house has, what your ethnic makeup is, or how much money you make, but questions about religion are deemed too personal. Salt Lake City's Deseret News looks at the history of religious statistic gathering in the U.S.
After quoting some of the most outrageous comments Israeli Jews have made against Christians ("This indefatigable antagonist seeks to 'suck our blood' and 'burn our souls' by 'lying in ambush outside the door of every Jewish family in economic and social distress, seeking to convert them'"), the Post's David Weinberg tells such radicals to cool down, especially in preparation for Pope John Paul II's visit. "Memory is central to Judaism, and we mustn't forget what the Catholic Church has been. But the Jewish people and the State of Israel have no need to make enemies out of potential friends and to spurn goodwill where it is proffered."
Charles J. Liteky is a former U.S. Army chaplain and recipient of the Congressional Medal of Honor. He's also been repeatedly arrested, convicted, and imprisoned for demonstrating outside the U.S. Army School of the Americas, a controversial school that has trained several Latin American dictators and soldiers. He's been convicted again. "I don't think we should do away with the military right away. It takes time," Liteky told the judge at his latest trespassing trial. "But I think we should start."
A dozen statues have been smashed in Brooklyn churches over the last six months. "These are anti-religious attacks," Deputy Inspector Barbara Sicilia, head of the NYPD's Bias Unit, tells The New York Post. "This is definitely a bias case."
Related Elsewhere
See our past Weblogs: March 15 | 14 | 13 March 10 | 9 | 8 | 7 February 18 | 17 | 16 | 15 | 14 February 10 | 9 | 8 | 7 February 3 | 2 | 1 | January 31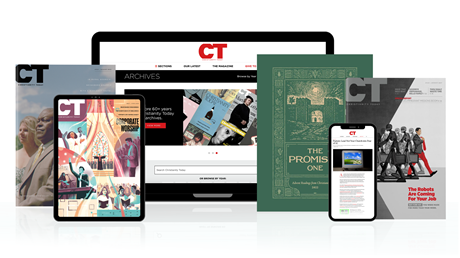 Annual & Monthly subscriptions available.
Print & Digital Issues of CT magazine
Complete access to every article on ChristianityToday.com
Unlimited access to 65+ years of CT's online archives
Member-only special issues
Subscribe
Prosecutor's Bible Quoting Saves Murderer's Life
Prosecutor's Bible Quoting Saves Murderer's Life