The Tufts University student government has banned the school's chapter of InterVarsity Christian Fellowship from using the school's name, meeting in its classrooms, spending its student activity fees, or promoting its events through the university's listing services. Tufts Christian Fellowship (TCF) had refused a leadership position to a bisexual student because of her beliefs on sexuality. The student complained to the administration and student government, and two weeks later, TCF was officially unrecognized. The decision has set off a furor of response from the evangelical community, making Charles Colson's Breakpoint radio commentary, WorldNetDaily, Conservative News Service, and The Washington Times. But the best places to find information about the controversy are the TCF Web site and Tufts Daily, the school's newspaper. A similar situation is going on at Middlebury College, where the administration is deciding whether to force the school's InterVarsity chapter to allow homosexual students in leadership posts. According to a front-page article of The Boston Globe examining the Tufts and Middlebury cases, evangelicals at Grinnell College face a similar battle.
Peter Carnley, who was surrounded by controversy last week over comments he made challenging Christ's uniqueness and resurrection, was installed as head of Australia's Anglicans "to thunderous applause," reports The Age newspaper. Meanwhile, reports the Sydney Morning Herald, Carnley was denounced from Sydney pulpits while parishioners signed a petition asking the synod to reinforce its commitment to doctrine.
If being an evangelical means a commitment to evangelism and to the Bible as final authority, Pope John Paul II is well within the camp, writes Paul Richardson in The Church of England Newspaper. "First and foremost, John Paul is an evangelist filled with a burning desire to bring others to faith in Christ … [And he] constantly emphasizes the need for the Church to keep on re-reading the scriptures to come to a deeper understanding of their meaning in changing circumstances." It's a fascinating (albeit too brief) article. (Scroll down to the third item on the page.)
The Orthodox world celebrated Easter yesterday. But even as the Christian world is divided on its celebration of its risen Lord, much of the Orthodox world remains divided politically, ethnically, and religiously. Sadly, in Istanbul, a small Orthodox church was bombed on Holy Saturday. (Reuters also has a story on Easter in Russia.)
Pop music star Britney Spears, who has essentially built a career on her Lolita image, says she's a virgin and plans to remain so until her wedding night. "I hope I don't make a mistake and manage to remain a virgin," she says. Her spokesman adds, "[Britney] is devoutly Christian and it is entirely her personal choice." As for her … I'll use the word revealing … outfits, she says, "It sounds silly, but it's too hot to wear full-length T-shirts when I'm dancing."
Church of England officials worry that too many churches are performing exorcisms. "A report to be debated at the General Synod in July is expected to describe a huge increase in the numbers of individuals seeking exorcisms," reports The Times. "Some individual churches are even holding exorcisms in the middle of services, without the permission of the Church authorities, leading to people screaming or collapsing in fainting fits as they are dispossessed of their 'demons.' Church leaders are increasingly concerned that large numbers of vicars are failing to follow official guidelines, which stipulate that a diocesan bishop's permission must be sought before an exorcism is carried out." The article is a surprising contrast to the May cover story of Charisma magazine, which argues that not enough exorcisms are being performed. But more on that article when it goes online.
The list of God's "unknown soldiers" to be acknowledged next week at the Coliseum in Rome includes four cardinals, 122 bishops, more than 5,000 priests, and more than 2,000 lay people. (We'll have more on this as the ceremony approaches.)
In even stranger music news, Lou Reed and Alanis Morissette will headline a May Day event with Pope John Paul II. Many of our readers may not know of Reed and Morissette. Of course, there's more to them than anti-Catholicism, but suffice to say that it's an odd matching. Apparently the pope is leaving after he says the Mass.
Related Elsewhere
See our past Weblogs: April 28 | 27 | 26 | 25 | 24 April 19 | 18 | 17 April 13 | 12 | 11 | 10 April 6 | 5 | 4 | 3 March 31 | 30 | 29 | 28 | 27 March 24 | 22 | 20 March 17 | 16 | 15 | 14 | 13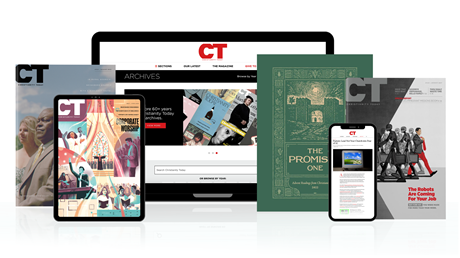 Subscribe to Christianity Today and get access to this article plus 65+ years of archives.
Home delivery of CT magazine
Complete access to articles on ChristianityToday.com
Over 120 years of magazine archives plus full access to all of CT's online archives
Subscribe Now
Fury Rises Over Tufts University's Banning of Christian Group
Fury Rises Over Tufts University's Banning of Christian Group